Imagine a place where sunshine is ubiquitous, a high-quality lifestyle won't cost the earth, and as a retiree, you're treated like a VIP…you'll get a red carpet welcome and be rewarded for your age and experience.
Places like this exist…and International Living has ranked the best of them in the Benefits and Discounts category of its just-released 2021 Annual Global Retirement Index.
These special places actively attract expat retirees by offering benefits and discounts like tax breaks, lower-prices for services, and easy residency requirements.
Below you can read more about why these countries have earned the top spot in our Index this year for their treatment of retirees…
5. Bali (tie)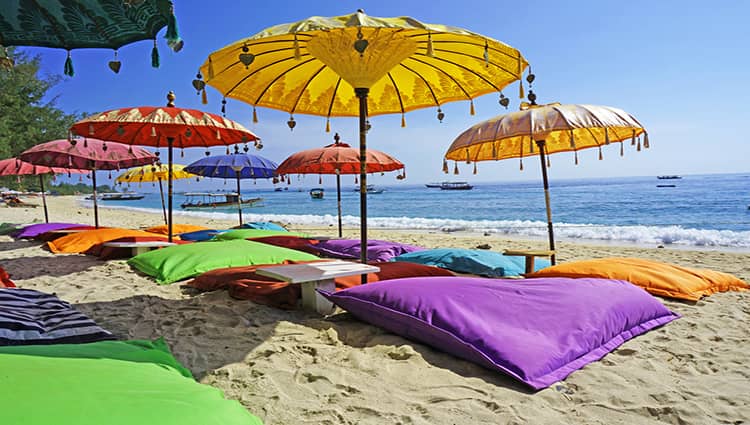 Living as an expat in Indonesia allows for an idyllic life. With an archipelago of some 17,000 islands, there are many places to settle down, but the island of Bali stands out with its sandy beaches, tropical jungles, and warm weather all-year-round, making it an ideal place to live an expat life.
Bali is centrally located and a great base to explore the rest of Southeast Asia. There is an international airport in Denpasar, which makes weekend getaways to Singapore or Malaysia really convenient. The lifestyle in Bali is laidback and you'll have the option to meet others and network, or enjoy solitude when you need it.
The expat community is strong and we have made many new friends," says IL contributor Josephine Brierley. "We can choose to be social and enjoy lunch on the beach, or have a lazy afternoon at home by the pool, instead.
In Bali, a couple can live like royalty in most towns for $1,900. If you choose to live right by the beach in a three-bedroom villa with a pool, it's sure to stretch your budget. Forgo the pool and you could save even more.
"Life in Bali is as cheap and cheerful as you want it to be," says Josephine. "If you choose to enjoy the finer things, you can do that, too. Some of the world's best chefs have opened restaurants in the south of Bali, and there are 5-star hotels all over. Even then, you'll be paying a fraction of what you would at home.
"A weekly shop for essentials will set you back around $60 a week, and a cold beer on the sand will only cost around $2.50."
While you can enter Bali on a tourist visa, the benefits of a long-term visa include discounts on many things. While the initial set-up of a permanent visa might seem costly, the benefits are there for the taking.
"The great bonus to having a KITAS (Kartu Izin Tinggal Terbatas), which is a Residence Permit Card, is the benefits you revive—you can apply for a local driver's license, bypass all the long queues at the airport, be treated by local doctors and hospitals, and open an Indonesian bank account and apply for credit."
5. Colombia (tie)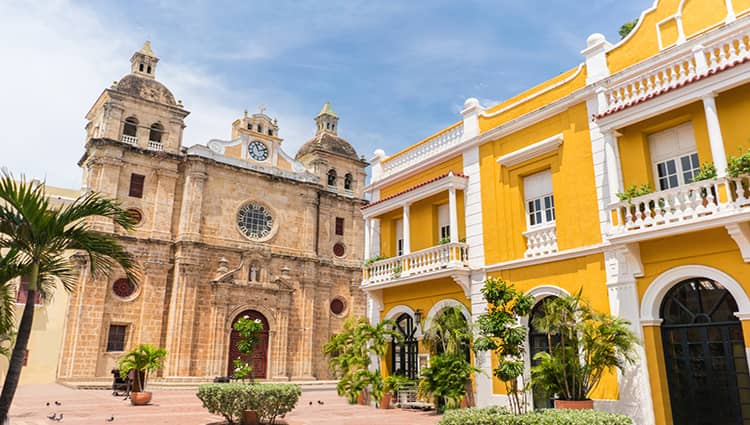 Colombians have the utmost respect for their older citizens. In fact, in Spanish, that phase of life is called la tercera edad (the third age). Multi-generational Colombian families celebrate holidays and events together and the older members are a major focus of the occasion.
The retirement age for Colombians is 57 years old for women and 62 years old for men, so they are able to access their pensions at an age where they have many years to enjoy the fruits of their labors.
Colombia passed a law in 2007 mandating protection and discounts to all residents who are over 62 years of age. This law also applies to foreigners with legal residency. Some of the benefits are courtesies while others save you money. Public buses in all cities, the Transmilenio transport system in Bogotá, and Medellín's metro system have discounted pricing for seniors as well as preferential seating. Bank branches offer a "senior priority" choice when entering information to get a ticket for the queue so they can be attended to more quickly. And all public entities such as government offices, utility companies, and communications companies have preferential queues.
The law also guarantees discounts to seniors for any tourism organization or company that has received financial aid from the State. These benefits include discounts of up to 50% for all state monuments and attractions, and free entry into museums and cultural centers. Public universities offer 50% discounts on fees for bachelor and masterclasses.
Some private universities offer special programs for seniors. "I took advantage of the Saberes de Vida (life knowledge) program at EAFIT University in Medellín," IL Colombia Correspondent Nancy Kiernan explains. "I enrolled in an art history course which was taught in Spanish. The class was low pressure with no exams, no papers to write, and no grades.
"I spent three hours every Friday morning for eight weeks listening to multi-media presentations about the great European masters such as Rembrandt and DaVinci, learning about the mysteries of the Sphynx and the pyramids, and being introduced to social-impact artists like Frida Kahlo and Doris Salcedo.  The course cost $300 and not only did I improve my Spanish, but I also learned a bit about art."
If all this sounds good, you´ll be pleased to know that Colombia has a very low income threshold for obtaining a pensionado (retirement) visa. While the actual dollar threshold will fluctuate based on the exchange rate at the time you apply, the current Social Security minimum to apply for the visa is $700. You should know that the amount increases every year by the Colombia rate of inflation for wages. A couple can have one primary visa holder (requires the threshold) and the other can get a beneficiary visa (tied to the primary holder, no income required).
5. Mexico (tie)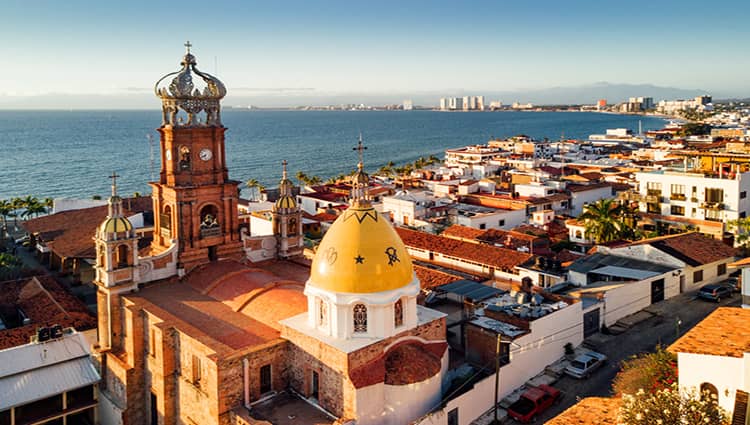 There are many reasons to move to Mexico. A thirst for adventure. A desire to reinvent yourself. An interest in learning Spanish and integrating into a new culture and way of life. You can do all of that if you move to Mexico.
But there are also some practical benefits that mean you'll have an easy transition when you first move and will enjoy life on a daily basis once you've settled in thanks to the conveniences and amenities that are available.
"A retire couple can live well in Mexico for under $2,000, even in the most popular expat destinations," says Jason Holland, IL Roving Latin America Editor.
"You can go out to lunch at a simple neighborhood restaurant and spend less than $8 for two. You can have a nice dinner, with a few rounds of wine or beer, at a mid-range offering Mexican, American, or some sort of international cuisine (Italian, Japanese, and more are common) and pay just $40 to $50. For groceries, expect to pay about $20 to fill your fridge with fresh fruits and veggies, bread, eggs, and other foods you can't get in a box at local markets."
To be sure, you could double or even triple your budget if you wanted to. There are plenty of luxuries in Mexico. But if you want to have a low budget, it's very possible, and you'll have a great lifestyle full of fun, with no need for scrimping.
Mexico is still a developing country in many ways. But you will find that it also very modern and First World in many respects. The infrastructure is good, with well-kept roads and highways (less so in remote areas), high-speed internet (including fiber optics), and reliable cellphone service. You also have cable and satellite TV with all the sports and movie channels, movie theaters with films in English, and supermarkets packed with imported and gourmet products.
"All this doesn't mean you're recreating your life back home," says Jason. "Mexico is still very unique, with its own traditions, colonial cities full of historic architecture, beautiful jungle beaches, religious and cultural celebrations, and traditions, and, of course, its famed cuisine.
"But it's nice to be comfortable with modern amenities and have those things from back home when you want them. You don't have to 'rough it' in Mexico or do without."
4. Portugal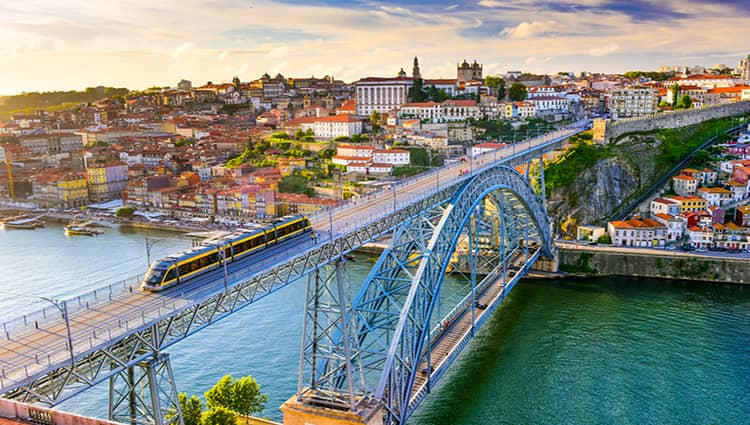 With miles of white, sandy beaches, medieval castles to explore, large cities full of old-world charm, and rugged mountains to climb, Portugal has so much to offer. Sip espresso at a sidewalk café while sinking your teeth into a local pastry for less than one euro for breakfast. For lunch, why not take advantage of the low-price meal of the day that costs anywhere from $6 to $12 euros depending on the location.
Portugal is one of the most affordable places to retire in Europe, yet still offers a first-world lifestyle for less.
"My husband and I love to explore and Portugal has so much to see and do at discount prices," says Terry Coles, IL Portugal Correspondent. "We can explore castles and receive reduced entry fees as retirees. Sometimes the regular prices are so low that at the discount price we would pay less than one euro. Prices vary depending on how restored or not each castle or palace is, and discounted rates also vary by percentage.
"Stroll through an assortment of museums throughout the country and receive discounts from 20% to 50%. Museums featuring art, ceramics, horse-pulled coaches, traditional Portuguese tiles, lace making, history, maritime, oriental, traditional Fado music, archeology, railways, military, or just about anything else you can imagine."
"Bus travel in Portugal is clean, efficient, and speedy. Whenever we needed to go to the airport from our home in Caldas da Rainha, we would take an express bus. We could purchase the tickets online and show up at the scheduled departure time. For a cost of around $7 for my husband who is over 65 and $9 for me, we could take an express bus into Lisbon. The one-hour trip took the same amount of time it would have for us to drive, but without paying for tolls and gas. From the bus station, we would take an inexpensive Uber for just a few dollars to the airport.
For long-distance trains from one major city to another, retirees in Portugal can save a whopping 50% off the regular price.
"Train travel throughout Europe is efficient and fun and here in Portugal retirees can purchase tickets at reduced rates. For those that prefer to live without a car in major cities like Lisbon or Porto, retirees can buy passes that offer reduced rates on all public transportation."
3. Costa Rica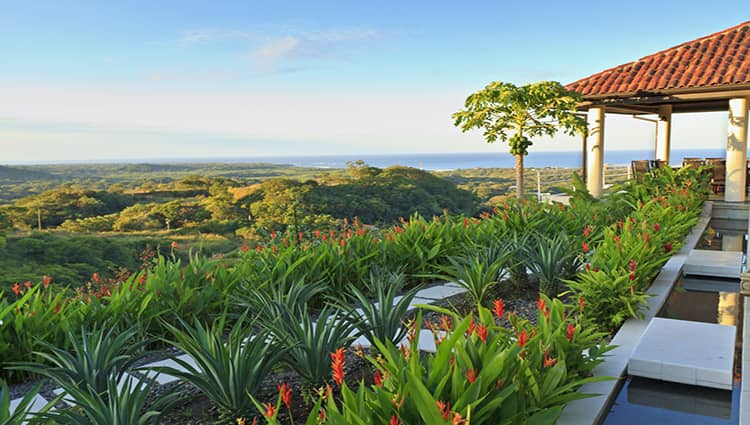 Retirees that have moved to Costa Rica will tell you they are living a much healthier lifestyle than before moving to Costa Rica. Perhaps it's the beautiful weather that beckons you to enjoy the outdoors or learn a new hobby. Or maybe it's the massive selection of fresh, locally grown fruits and vegetables at your fingertips. Or it could be the strong local communities that make it really easy to forge new friendships.
When potential expats research this enchanting country of Costa Rica, the benefits heavily outweigh any perceived drawbacks.
Costa Rica is a country where the older generation is treated with respect by custom. And things like head-of-line privileges at banks and government offices are inscribed in the law. But there is also a government program available to those age 65 or older that gives discounts on a variety of products and services
"Being 'Viejo' or old is a rite of passage, a badge of honor in Costa Rica," says Kathleen Evans, IL Costa Rica Correspondent. "And you will see simple things like seniors going to the front of the line—any line, enjoying special early shopping hours, free bus rides, and the Ciudando de Oro or Golden Citizen card."
The Ciudando de Oro offers discounts from two to 20% from over-the-counter medications to groceries and eyeglasses to clothing. You have to be 65+ and have your residency to qualify.
"Even without residency, some expat community's restaurants will offer a local night cash discount where food and drinks can be as much as 25% off regular prices," says Kathleen.
Costa Rica is also home to the Caja Costarricense de Seguro Social (or simply known as the Caja), the country's national healthcare system, which has been cited as a successful model for Latin America.
"Once you have been approved for residency, you pay a percentage (typically seven to 11%) of your reported monthly income into the system, and then you have access to public healthcare without a co-pay, age restrictions, or denial for pre-existing conditions," says Kathleen.
"If you choose to self-insure out-of-pocket this option can save anywhere from 15 to 80% on the same medical procedure in the U.S. at private hospitals."
2. Ecuador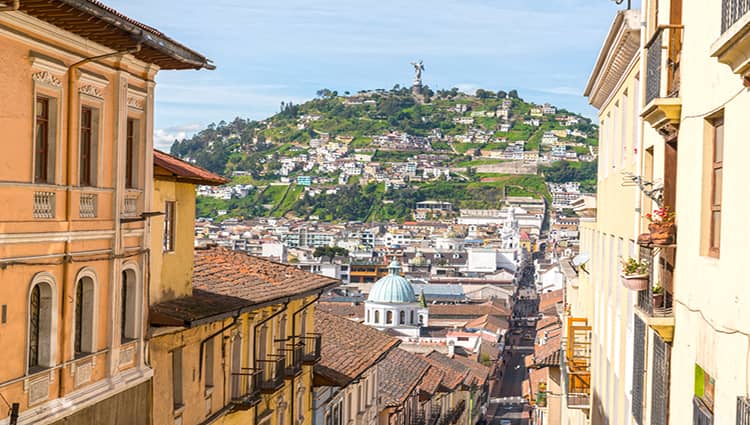 Ecuador, the Land of Eternal Spring, takes second place in this category with 95 points. Here, not only can you retire on little money, you can also live very well.
Although Ecuador does not have a specific incentive program for foreign residents, such as Panama's pensionado program, it does offer significant benefits to all residents age 65 and older.
"When I first got to Ecuador I was left frustrated by a lot of older women cutting in line in front of me at banks, grocery stores, and public services office," says Donna Stiteler, IL Ecuador Correspondent. "Then I realized I was entitled to the same treatment. If you're a senior citizen, you can use the much shorter Preferencia line…so you'll have more time to relax and enjoy your retirement in Ecuador."
"As a resident in Ecuador, the government offers a variety of benefits including 50% off public and private transportation within the country, 50% off tickets for all cultural and sporting events, including movies, a discount on electric and water bills and a reductions in a variety of taxes, including a refund of your 12% IVA (value-added) tax up to $92.64 per month.
The best of the benefits for most expats in this category are discounted rates on international and domestic airline tickets.
"You can also get a discount of 50% off airfare (not including airport fees, fuel surcharges, tax, etc.) for international travel on some airlines. I never thought turning 65 would be so profitable."
For foreign residents traveling to the U.K., Canada, or the West Coast of the U.S., savings can amount to thousands of dollars a year. To take advantage of the discount, international flights must originate in, and return to, Ecuador.
Winner: Panama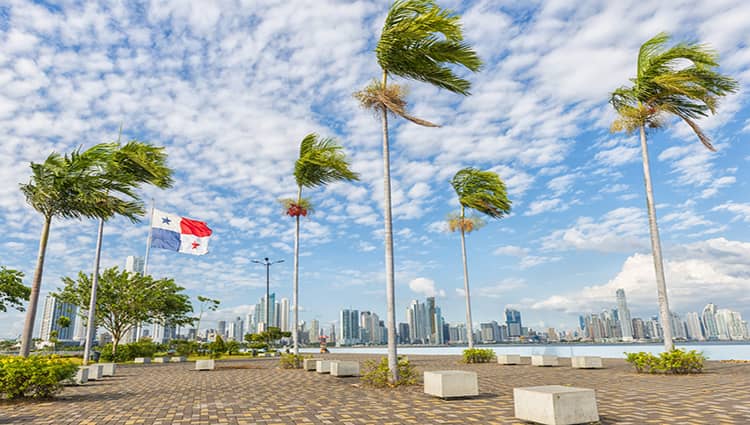 Panama's Pensionado Program requirements are intended to ensure that members are able to live well here, rather than just eke out an existence. That's why being a resident pensionado in Panama also grants you access to a long list of government-mandated discounts. These have been in place for decades, helping locals and foreign residents on fixed incomes live their lives with dignity, as active members of society.
It's not customary for retirees in Panama to live in separate retirement communities. Most remain in their own homes and have busy social lives. They get 50% off entertainment, such as movies, theaters, concerts, and sporting events. Hotel stays, restaurant meals, and transportation—bus, boat, train, and some airline fares—are also 25% to 50% cheaper when you're a retiree resident. It's an important reason why, in Panama, you see people of all ages dining out, going dancing, attending shows, exploring the country, and partying together.
Pensionados often have their own lines at banks and government offices. Even if there isn't a dedicated line, staff and customers alike tend to wave you forward if you look like you're in your tercer edad. There's a certain level of respect and inclusion—two markers of a happy, healthy society. "When my wife, Abbe, and I looked to retire overseas a few years ago, I found that Panama's excellent Pensionado Visa or Retirement Program was a great way to stretch my Social Security pension," says Jim Gault. "We have used the hotel discount several times, recently staying two nights for the price of one at an exotic beach resort."
While the pensionado discounts don't cover every aspect of life, they cover the most important ones. Medical savings include 15% off hospital bills, 20% off prescription medicines, 20% off medical consultations, and 15% off dental and eye exams. Jim and Abbe have saved money on everything from ophthalmologists and orthopedic specialists to lab tests, digital X-rays, a yearly mammogram, and an open MRI.
"When I had a cardiac event and had to have a small stent placed into the right side of my heart, the doctor, hospital, and insurance experience were all exceptional. I believe I had a much different and better experience than I would have had in the U.S.—and at a fraction of the cost," Jim adds. "The doctors in Panama give you their cellphone and WhatsApp number. You can contact them and they will usually respond very quickly. Does that happen where you are from?"
All the things that really matter are discounted so retirees can maintain their pre-retirement lifestyles. And the rest is incredibly affordable—from property taxes and car insurance to tooth fillings and hired help. That's pretty amazing, when you consider everything Panama has to offer. Where else in the world is this warm, safe, modern, and accessible…while also offering a truly cosmopolitan capital, cool mountain town, pristine beaches, and islands…all outside the hurricane belt? Very few places can even come close to providing this kind of value.
Related Articles
The World's Best Places to Retire
The Cheapest Places in the World to Live
Places to Retire to With the World's Best Climate