The Most Colorful City in Nicaragua
By Bonnie W. Hayman
If you like a funky, colorful beach town with a lot of "characters," gorgeous beaches, and unbelievable sunsets, San Juan del Sur may be the place for you. Set on a horseshoe bay, the thatched-roof restaurants, lack of high-rise hotels, dollar beers, and live music to suit any taste will remind you of those simple, fun beach days of your youth. With the city center only three-square blocks, you'll know everyone and everyone will know you. Think of the sitcom Cheers…on the beach.
A couple can live here for $1,500 a month. For $400 a month you can find a one-bedroom, furnished apartment close to the beach. You might spend $250 a month on food and that includes eating out at one of the many restaurants you can find in the town. Look for American barbecue, tapas, Asian wraps, tapas, Mediterranean food, Indian and several authentic Italian restaurants, gourmet food restaurants, handcrafted donuts and beer, Nicaraguan beach cuisine, and more that announce that San Juan del Sur is indeed a place for "foodies."
Your lifestyle can be anything you want in San Juan del Sur. If you like the idea of lying in a hammock with a cold beer in hand, looking at the ocean from your deck, there's no better place than this beach town. If you want something more substantial, it's easy to open a business. We still need a good auto mechanic shop; home design store; acupuncturist; health food store with produce, essential oils, and alternative medicine cures; and a landscaper. Any takers?
If you're looking to retire somewhere with 22 gorgeous beaches, half of them virgin (you won't see anyone the entire day), make lots of new expat friends from all walks of life and from all different countries, eat well and live healthier, and have not a care in the world so you can really enjoy your retirement, San Juan del Sur is the place for you!
Retire in San Juan del Sur, Nicaragua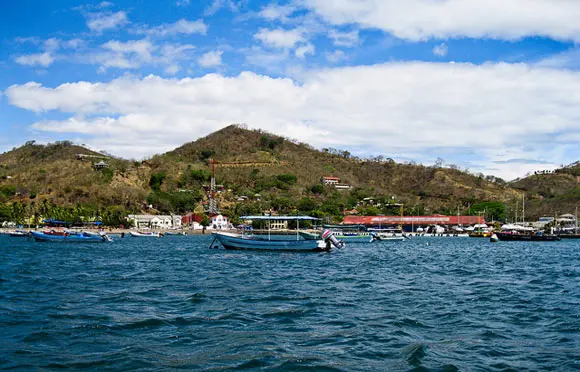 San Juan del Sur is a great place to retire for those of you who love the beach life. Many of those who live there say they felt the call of the "Pied Piper" and just stayed here after a fabulous vacation or left briefly to collect their things in their home country and return immediately. No one is quite sure what the draw is, but it's there. As more expats call this colorful townhome, amenities that people crave abound. Fourteen years ago you could only get the Nicaraguan dry, salty cheese; today you can choose from cheddar, mozzarella, blue cheese, provolone, gouda, and more. Now international restaurants satisfy every craving. Known for its excellent live music, San Juan del Sur will give you a night of rock 'n roll and Latin rock, salsa, merengue, and Latin tropical music; ballad singers, open mic nights, and if you don't hear what you like, start a band!
Considered one of the more expensive places to live in Nicaragua, San Juan del Sur still comes in at a very economical level compared to your home country. With many permanent resident expats (no one knows for sure how many of us there are), you are sure to make new friends immediately. And expat activities draw many people: classes including dance (salsa and merengue and Zumba exercise for example), yoga, art, musical instruments (guitar, marimba, ukulele, etc.); the list goes on and on. You will never be bored in San Juan del Sur even though it's a small three-square block town.
If you ever thought of being a business owner–perhaps that import/export business you always wanted, a beach apparel shop, hand-crafted ice cream store, a tea house…actually anything you can think of…it's easy to do in Nicaragua. The Nicaraguan government provides laws that allow your business to be exempt from taxes for up to 10 years if you open something in the tourism sector. Or if you want to "give back," numerous volunteer opportunities exist such as working with orphans; abused women or teenagers at risk; teaching kids or adults to speak English; building homes for the poor; or constructing water filtration systems. And if you see something, someone, or a group that needs attention, you can start your own NGO.
You must also consider the stress factor. It's very low for an expat in Nicaragua. No stress from traffic jams, keeping up with the Joneses, rushing everywhere, and no bad news in the media here about serial killings, mass murders, or terrorism. You can safely ride the buses that crisscross Nicaragua from city to city if you so choose. Crime in Nicaragua is the lowest in Central America. Yes, there's petty theft, but you can control that easily with the lifestyle you adopt and the friends you make. Bodily harm is pretty much unheard of unless you choose to delve into unsafe activities.
Retirees in San Juan del Sur claim that they live a higher quality life here than they had in their home country. Many have gorgeous ocean view homes that they never could have afforded in the U.S. or Canada. But more and more expats are learning that Nicaragua is actually a great retirement destination, they come to visit, and they are astounded at the beauty of the country, the warmth of the people, and the fun, funky town of San Juan del Sur. So why don't you come for a visit? You might hear the sounds of the Pied Piper calling you, and he just might lead you to make a move to this great beach town.
Real Estate In San Juan Del Sur, Nicaragua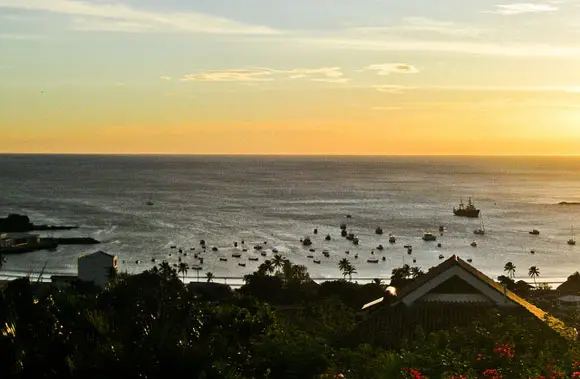 The best thing about buying or building a home in Nicaragua, and particularly in San Juan del Sur, is that the government has made it easy to purchase land or a home. Nicaragua is one of the few places left in the world where you own your land outright. It's not leased, you don't have to give it back to the government after 99 years. It's all yours. You can even will it to your kids. And as a foreigner, you are not prohibited from buying ocean view or oceanfront property, except within five kilometers (three miles) miles of the international borders of Honduras or Costa Rica (for security reasons). If you buy within five to fifteen kilometers, you to get a waiver permit and these can take up to two years to receive. If you buy oceanfront property, your house must be set back 50 meters behind high tide as all land within 50 meters of high tide belongs to the country.
So what kind of house can you expect to find in San Juan del Sur? The answer is…any kind. You can find a two-bedroom, two-bath, ocean-view townhome in a beautiful development with a large pool and restaurant, for less than $100,000. Or if you don't care about the ocean view, you can live in a new Nicaraguan neighborhood in a small home, or your own condo, for about $40,000, which may be only a five-minute taxi ride to the beach. If you've got a bit of money and are hankering for something special, look around for a three- or four-bedroom house with an infinity pool right on the cliffs, overlooking the ocean, for between $245,000 and $700,000. If you want to see the sea, but don't have that much money, you can still buy a two-bedroom, two-bath house, set back in the hills with an ocean view, for between $125,000 and $200,000.
If you decide to build your own dream house, it's easy, and depending on the quality you are looking for, you'll spend anything from $25 to $100 per square foot. For $100, you'll be able to get Italian tile marble floors, the most modern kitchen appliances, beautiful granite countertops, and hardwood accents and furniture. This may sound strange, but if you were thinking of having an odd-shaped house, that's no problem. There are no rules to conform to as far as how your house looks. You can have a star-shaped house, a round one, or one that looks like a wedding cake (we have that here—it's orange and white). There's another house in San Juan del Sur built out of tires, and many more built by the strictest eco-friendly codes. The color doesn't matter, the shape doesn't matter, what you do with your property doesn't matter. This is called freedom, and if you decide to come to San Juan del Sur and build your own home, your imagination is the only limit.
Cost of Living in San Juan del Sur, Nicaragua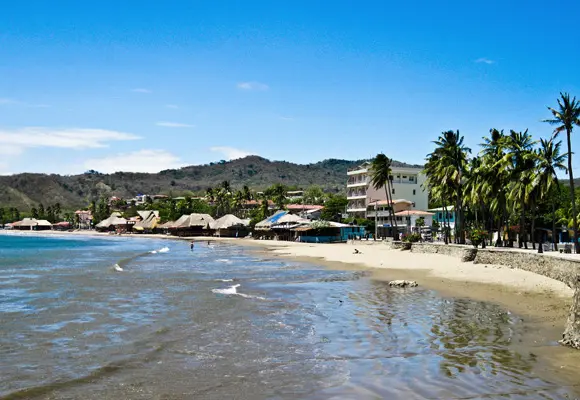 When I tell my friends in the U.S. how much it costs me to live in San Juan del Sur, Nicaragua, they simply don't believe me. It seems I will never be able to convince them. But it's true. Most of us single expats who are on a budget live in this beach paradise for $800 to $1000 a month. Couples can do fine with $1500 a month. I even got to retire 11 years early, with enough in my retirement fund to keep me going in Nicaragua until I die. Had I remained in San Diego, California, my financial advisor told me I would NEVER be able to retire. NEVER!
I made the immediate decision to leave the U.S. when I heard my bad financial news. It was the best decision I've ever made. I've lived happily in San Juan del Sur for almost 14 years now. In San Diego, I lived in a nice, two-bedroom townhouse far from the beach. To pay my mortgage and my expenses, it cost me between $6,000 and $8,000 a month. Why? Because my mortgage was high and so are all prices in California.
A cocktail can cost you $23 in California. In Nicaragua it's generally between $1 (national rum drinks and beer) to $3.50. Restaurant costs are much more expensive in the U.S. Healthcare, services, anything you can think of is at least five times the price of Nicaragua. In California, for example, buying an ocean view house can cost you 10 times more. I bought a two-bedroom, two-bath house on more than half an acre with an ocean view for $132,000 in San Juan del Sur. This would easily have cost much more than $1,000,000 in San Diego.
Let's examine the living costs in Nicaragua. If you buy a house, it's likely you'll have to pay the entire amount, so that is no longer an expense. But if you come to rent on a budget, you can get a one-bedroom, fully furnished house about three blocks from the beach with WiFi, water, and electricity for around $400 to $450 a month. If you spend a little more, you may have a pool, a space to park your car, and maybe air conditioning.
Depending on what you eat, you can keep your food expenses low. If you MUST have Kalamata olives, gouda cheese, JIFF crunchy peanut butter, walnuts and almonds, and other imported goods, you'll pay for it. But if you can switch your U.S. diet to a healthy Nicaraguan one, expect to spend about $25 to $50 a week on fresh, non-GMO (not allowed in Nicaragua) fruits and vegetables, eggs from someone's backyard, butter straight from the cow (the healthiest kind), and meat, fish, and poultry at prices you won't believe. Try $2.50 for a whole red snapper, cleaned, scaled, and freshly-caught that morning.
Water and electricity costs change with the use of course. I've heard of expats spending anywhere from $10 up to $200 per month, depending on whether they are keeping huge gardens watered during the dry season and can't live without air conditioning. Most of us get floor fans and keep the windows open, so we don't have that expense.
Example of Monthly Cost of Living in San Juan del Sur
Maintaining a car can be a big expense. Luckily, if you live within San Juan del Sur's city limits, you don't need a car to walk its three square blocks. Let's take a look at a typical, basic monthly cost-of-living budget for a couple living in San Juan del Sur on a low-budget income:
| | |
| --- | --- |
|  Expenses |  U.S. $ |
|  Rent |  $450 |
|  Water |  $15 |
|  Electricity |  $35 |
|  WIFI |  $45 |
|  Cable |  $30 |
|  Food |  $200 |
|  Eating out |  $150 |
|  Entertainment |  $100 |
|  Monthly Total: |  $1,025 |
Remember that this amount will go up or down, depending on the lifestyle you choose. Throw in those Kalamata olives, special cheeses, and sauces, and you'll still be living on less than $1,500 a month. Now write down your expenses for where you currently live and see the difference. You'll be shocked! All the more reason to retire young, and live healthier and happier in Nicaragua.
Live in This Funky Beach Town of San Juan Del Sur for $1,500 a Month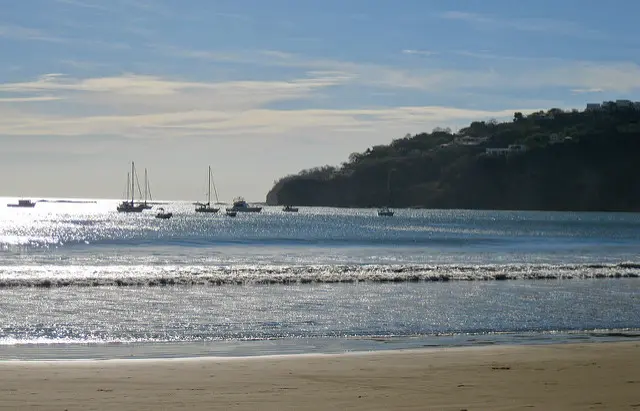 "Where else could we find this life?" says expat Monica Sedgwick of the one she and her husband James have created in San Juan del Sur, Nicaragua. "We're living in paradise, paying $200 a month for a three-bedroom apartment with a super view of the bay."
Stroll through San Juan del Sur and you'll see colorful buildings of all different sizes flanking the ocean. They house surf shops, bakeries, beach clothing stores, hotels, and hostels, from basic to top-dollar. Buy hand-made jewelry from artists from every continent. Kick your shoes off and put your toes in the sand, enjoying an ice-cold beer while you lounge in a blue-and-white striped beach chair in front of beach restaurant El Timón. Take a swim in the beautiful bay; watch the multi-colored sunset.
This little beach town radiates quirkiness—in a good way. You may see tee-shirted Kathy walking her eight dogs with a parrot on her shoulder. Or you may run into BJ twirling on a dance floor at night, in one of her glittery costumes. And then there are the rest of us—expats from all over the world who say they wouldn't live anywhere else.
With a year-round hot climate (about 85 F on average) and gentle sea breezes, no sleeves or long pants needed. Here you can live your life in shorts and flip-flops. Before you know it, you'll be hard-pressed to find appropriate clothes in your closet when you go home to visit.
It won't cost you much to live in the funky beach town of San Juan del Sur. A couple on a budget can find a one-bedroom furnished apartment with water and WiFi, about a block from the beach, for about $450 a month. Add to that about $200 a month for food—and fresh, unprocessed food at that. If you like eating out and entertaining, put a bit more into the budget. You don't need a car, and that will save you the cost of gas and maintenance. All told, a budget of $1,500 a month for a couple is easily doable.
With many expats in San Juan saying they wouldn't live anywhere else, it's obvious that this beach town is a great place to settle.
You can be busy here all day or do nothing but sit by your pool, dine and drink with friends, and enjoy live music at night. It's a good place to eat, too. The town has over 50 restaurants for you to choose from. Think bratwurst and sauerkraut, lasagna, Mediterranean salads, raw-food pizzas, veggie wraps, sushi, fish tacos, fresh-caught fish dishes…most anything you want, usually for under $10. Duck into one of the souvenir shops and negotiate your price for hand-made local ceramics and brightly colored hammocks.
As the sun goes down, this beach town transforms into a cool night party. Lights, music, and laughter pour out of the many bars and restaurants, which cater to all tastes. Have an elegant international dinner at Hush, overlooking Playa Maderas, or just stay in town and watch the multi-colored sunset from El Timon, the quintessential Nicaraguan-owned seafood restaurant on the beach. Try their coco locos.
If it is nightlife you love, you won't lack options in the later hours, either; several bars on the beach street offer different types of entertainment until 2 a.m. Reggae, blues, rock 'n' roll, salsa, merengue, DJs with electronic music —it's all there.
You choose the exact lifestyle you want here. No traffic jams, no stress, no financial worries. What more could you want?
Things to Do in San Juan del Sur, Nicaragua
People often ask, "Honestly, what is there to do all day and night in such a tiny beach town? Aren't you ever bored?" Of course, the answer to this question depends upon you, whether you see the cup half-full or half-empty, if you have an active or passive personality, and how much adventure you seek.
Here are the most popular activities to do in San Juan del Sur (but there are literally dozens more):
View From the Christ Statue
A trip to San Juan del Sur is not complete without a view from the top. Like other locations around the world, the city has a statue of Christ with an outstretched arm, blessing the town below. Built by Nicaraguan businessman Erwin González to honor the Saint Jesus of Mercy for helping him to survive cancer, the statue is 15 meters high and sits on a nine-meter pedestal, making it a total of 24 meters high (the 11th largest statue of Jesus in the world). Weighing four and a half tons, this statue was constructed of 195 pieces created by Costa Rican sculptor and architect, Max Ulloa Rayo in just two years. Situated 142 meters above the sea, this version of Jesus is a welcome sight to many in San Juan del Sur.
There is a $3 entry fee for foreigners; $1 for locals and permanent residents with the card.
La Flor Beach Natural Reserve
If you visit San Juan del Sur from July to January, make sure to see the "arribadas" of Olive Ridley turtles laying their eggs. Each year thousands of large (95 pounds) turtles swarm the beach to lay their eggs. The mother turtle leaves the sea to find a good spot to lay her eggs. After much work making a large enough hole to incubate the eggs, around 100 small white eggs are deposited and covered up with the sand as the mother makes her way back into the ocean. About 50 days later, tens of thousands of hatchlings emerge from their hole, trying to make it to the ocean before land and sea predators get them.
You can find a tour to La Flor Beach in San Juan del Sur (14 miles away). There is a tour fee or an entry fee if you go in your own vehicle.
Latin American Spanish School
Take Spanish lessons! Your experience in Nicaragua will be much richer and more fun if you can speak with the locals. This school can provide private and group lessons at any level. Design your own class (number of hours/which days) to get the most out of this popular school's lessons. Open from 8 a.m. to 5 p.m. and situated across from the central park and church.
Beach Days
If the beach is your "thing," you will be happy to know that there are 22 beaches in all to explore surrounding the bay of San Juan del Sur, where the city is located.
Want a quiet day with your significant other at one of the virgin beaches? Bring your own food and wine and try the beaches at Yankee, Escamequita, Playones, or El Toro. Prefer at least a small restaurant on the beach so you can travel lightly? Visit beaches Majagual, Nacascolo, Marsella, or Peñas Rotas. Want to surf with your own board or take surfing lessons? Beginners can go to Playa Remanso. If you are at an intermediate level, try Playa Hermosa (which also has places to stay and a restaurant). Experts? Playa Maderas is your best bet with consistent waves almost all year round (best in the rainy season from the end of May through December). It also has beach volleyball, a few thatched-roof restaurants, hostels where you can stay, and some expensive hotels up on the cliff. Just want to chill and swim? Playa Coco has a long beautiful beach for families and boogie boarders.
The Art Warehouse
Considered an Art Café, the Art Warehouse offers all types of art supplies for you to create whatever you like. They also provide classes in soap-making, painting, tie-dying, basket weaving, ceramic creations, classes for children, and more. Make this your go-to place for your inner creative streak and while you are at it, take a break at their wonderful healthy food café where you can eat fresh food while sipping a glass of wine or kombucha.
San Juan del Sur Library
There are no bookstores in San Juan del Sur, but there are two places to go to get books if you are an avid reader. The local library has books in English and Spanish, Spanish grammar and language books. Just go there and sign up to borrow books. Another place is the book exchange, located in the offices of Discover Real Estate. Bring a book, take a book. Or bring three and take three. This free exchange was created with all the books left over by tourists over the years.
Surf Lessons
San Juan del Sur is the best place to learn to surf in all of Nicaragua. It doesn't matter if you've never set foot on a surfboard or you are an expert who wants to improve your technique. As one of the world's best-known surf locations because of its consistent offshore winds for most of the year, San Juan del Sur provides surf lessons for children and grandparents alike. Really! Depending on your ability (or not), ask locals to help you select the best beach to learn as each beach has specific surfing qualities. Your teachers will be local surfing champs who can teach you everything you need to know about the sport.
Horseback Riding Beach Tour
Experience your dream horseback riding experience. Let owner Blue take professional photographs of you as you gallop across a virgin beach and explore the forests of Nicaragua. Call Rancho Chilamate horse tours for the thrill of your life.
Nica Sail and Surf Catamaran
Nica Sail and Surf provide a catamaran excursion that most claim to be the best boat ride in Nicaragua. Charters leave from San Juan del Sur at 11 a.m. and 1 p.m. Enjoy snacks and drinks until you get to your destination of Playa Blanca to swim at this gorgeous virgin beach set in a small cove.
Zen Yoga
This wonderful yoga business has been around San Juan del Sur for about 14 years. Sign up for the yoga class that you like at the time that you like. Look for yoga teacher training and other activities sponsored by Zen yoga.
Fishing – Nica style
Yes, you can find fishing charters with radar and rods for the big bucks in San Juan del Sur. But you can also ask the local fishermen to take you out to where they go fishing every day. Using only a bottle or a block of wood with a fishing line and hook wrapped around it, you will experience the extreme fishing adventure. People almost always catch fish when they go with the local guys. Bring your own drinks. The captain will clean the fish for you and the restaurants on the San Juan del Sur beach will cook them. Voila! A fishing adventure and a great meal with your catch of the day.
Just Chill
Doing nothing and just "hanging out" is actually a thing to do in San Juan del Sur and it seems to be more fun here than anywhere else. Lie in your hammock with a cold beer and listen to all the bird songs. Play your favorite music. Read a book. Play an instrument. Sing. Invite friends to "chill" with you. Seriously, "chillin'" is an art in San Juan del Sur and it's very easy to learn how to do it.
Is it Safe to Live in San Juan del Sur?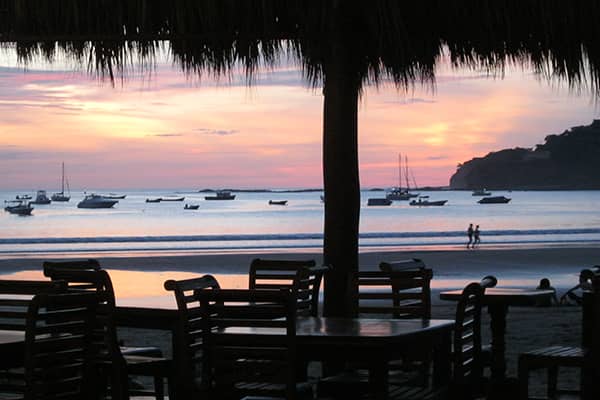 It is difficult for people to believe me when I say this, but it's the truth. I feel safer in Nicaragua than anywhere else I've lived or visited, and certainly feel more comfortable here than being in the U.S. After 14 years' residency in Nicaragua, I can say with confidence that I'm very comfortable going anywhere in the country alone. Nothing negative has happened to me in all the years I've lived here. You are probably wondering how this can be possible in a developing nation that has had a bad reputation in the past. There are several reasons why Nicaragua is actually safer than most places despite the bad hype.
Nicaragua's negative reputation was promoted by the U.S. when the government-backed Nicaraguan president Somoza in the 80s against the Sandinista revolution, led in part by current president Daniel Ortega. A war ensued and the Sandinistas won, sending the U.S. marines back to where they came from and creating bad blood between the U.S. and Nicaragua forevermore.
Gun laws in Nicaragua are surprisingly strict. While you may own a gun here, most don't. The process of gun ownership is lengthy and costly for locals. To own a gun, you must submit to a background check, take a shooting test at the police firing range, certify the firearm within 15 days of purchase, submit and register (with a photo of you) the gun with the police, pay fees of at least $100 and take a psychological test. Expats must have a permanent residence to own a gun and are allowed two in total.
However, there is no reason to own firearms in Nicaragua. In general, Nicaraguans are peaceful people and mind their own business. It is very unusual for locals to interfere in someone else's life. The philosophy of "live and let live" is very strong here. Young children ride their bikes miles away from their homes. They often play safely, innocently, and happily out of sight of their parents. Remember that once upon a time so did the children of the U.S. and Canada.
Am I saying there is NO crime in Nicaragua? Of course not. Opportunistic petty theft is very high here. You don't want to leave your backpack on the beach with all of your valuables while you go for a swim. Take care when drinking alcohol late at night in the bars where thieves may be watching for an "easy" target. Don't hang your purse on the back of your chair and never leave your phone on the table while you head for the "loo" in a restaurant. But gun attacks, rapes, and murders are practically non-existent when compared to developed nations. No matter what you hear, Nicaragua is a safer country to live in than most places.
5 Reasons to Move to San Juan del Sur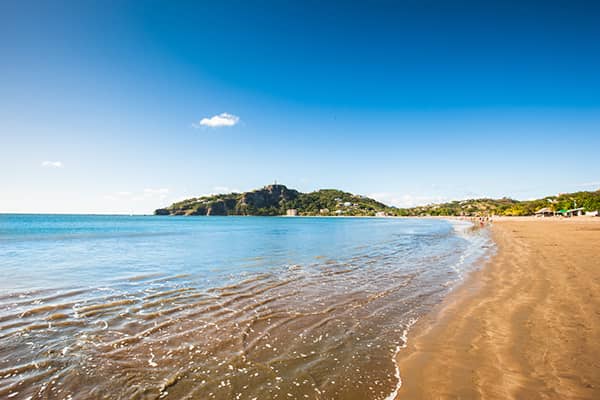 There are plenty of reasons to move to San Juan del Sur. Here are just five of them:
1. No Financial Worries
Imagine living in a country so affordable that you can do it all just using your social security check. It's true. Even in the most expensive place to live, San Juan del Sur, you can still find a furnished apartment in town for $200 a month or around $450 if you want to be close to the beach, have more amenities, or have an ocean view.
Of course, there are luxury apartments that cost more—if you want an ocean view, a pool, all rooms air-conditioned, a washer and dryer, and more. These range from $650 to $1,500 a month—still a bargain if you come from Canada or the U.S. A couple can expect to live on $1,500 a month— including everything: rent, food, WiFi, utilities, and enough left over to eat dinner out at least three times a week. Can you imagine retiring 15 years early when you move to this paradise with 22 beaches, a sunny, warm climate all year round, and wonderful locals welcoming you with open arms? Well many of us have done just that and it was the best decision of our lives. Why live in the rat race when you don't have to?
2. Laidback, Better Lifestyle
Something that people often don't think about is that when they move to a cheaper country, they can live a better life. How many of you think you will ever retire in your home country with a house with an ocean view? Or have that horse ranch you always wanted? Or build a gorgeous B&B hotel with full gardens that you could never afford to do in the U.S. or Canada?
Imagine your life in San Juan del Sur where you have someone to clean your house twice a week for $25? A gardener for the same amount of time costs the same. A chauffeur who drives you anywhere you want to go for $20 per day? And an at-home hour-long massage for $20? Could you ever have these luxuries where you live now? Additionally, many of us can easily dine out when dinner costs $15 per person and includes a couple of beers or rum drinks. So, in the end, things you could never afford to do before are now just part of your new lifestyle and you have fewer things to worry about doing yourself.
3. Healthier Life
Many doctors say "you are what you eat." In San Juan del Sur, produce is probably fresher, tastier, healthier, and cheaper than where you live. GMO'd vegetables are not allowed. Neither is injecting, painting, or waxing of foods so they look beautiful. Without the added chemicals like the U.S. uses, the food here is simply better for your health. Cows, pigs, and chickens are still free range and there are many places where you can purchase eggs laid in someone's back yard. Remember the U.S. ranches of 100 years ago? That is how we eat here in Nicaragua.
Many expats who live here tell us of all the medicines they had to take when they were "back home." Pills for blood pressure, statin drugs to lower cholesterol, blood thinners, sleeping pills, and anti-stress drugs, etc. are the norm for many people who live in developed countries because it is big business. There, doctors give you medicine whether you need it or not. I'm happy to say that many of these same expats ditched their drugs one by one when they came to live in San Juan and their stats are back to normal like they were in their 30s and 40s.
You will do more walking in San Juan del Sur because the town is small and fun to walk around. Bumping into friends and acquaintances on the street becomes something to look forward to. With 22 beaches and dozens of pools and resorts, you'll spend more time swimming as well. Most of us in San Juan spend a good amount of time outside breathing the fresh air and doing physical things. Discover the many gyms, yoga and dance classes, Zumba classes, and more to help you maintain your physical health. Come to live in San Juan del Sur and you will feel better than you ever have. Guaranteed.
4. No Stress
You don't realize the stress you normally live in within your home country until you move somewhere else and it isn't there anymore. Take traffic jams for instance. How many of you have been stuck in traffic? Those of you who live in big cities probably spend a good portion of your life sitting in your car waiting to move. Imagine if you had no traffic jams anymore. Can you? Here in San Juan, a traffic jam consists of a herd of cattle crossing the road or goats sitting in the street. Honk your horn and they move for you.
Here you don't have to dress or act a certain way. You can be the real you. There is no "Keeping up with the Joneses" in San Juan del Sur. The stress of pretending to be someone you are not does not exist here. Seriously, it is the only place in the world where I feel I can just be me. No pretense, no phoniness, no trying to say the right thing all the time. It is very freeing.
We don't listen to the news. We rarely talk about the news unless it affects us directly. Many expats are clueless about what is going on in the world because they just don't want to know. Elections? Who cares? Do what you feel is right, that's it. And that's OK. You don't have to impress anyone with your knowledge, understand the nuances of cryptocurrency, or keep up with the latest technology. It just does not matter in San Juan del Sur and that's a great thing.
5. The Freedom You Won't Feel Anywhere Else
This is a tough one to put into words, but it's true. I have never felt freer than I do living in San Juan del Sur. My life is my own, my life is the way I want it to be. There is no judgment, no one bothers me about the way I choose to live. People leave you alone here. If you want to go into town wearing 10 hats, you can. If you want to paint your house bright orange or live in a star-shaped abode, go ahead. If you just want to stay inside and watch Netflix all day and all night, no problem. If you do not want to socialize with anyone and prefer to live the life of a hermit, you can. Here nothing really matters: age, color, alternative lifestyle choices, or opinions. People try to live their lives the best way they know how—the way they want to. Without any outside influence, criticism, or negativity. Try it. You might like it.
Weather/Climate in San Juan del Sur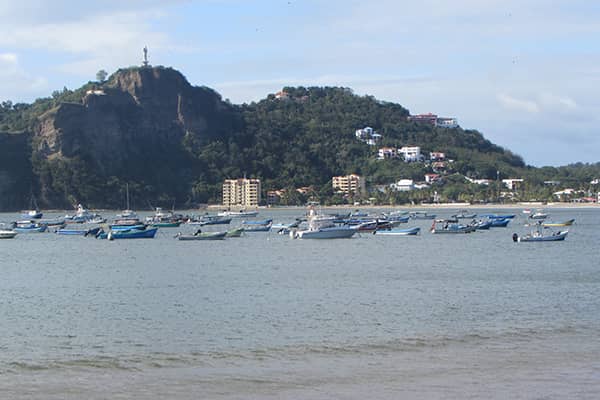 Living in San Juan del Sur is like living in paradise, especially in terms of climate. The city has two distinct seasons: dry and wet.
But wet is not as wet as you think. Torrential rains are few and far between during the winter months of June through November. The worst I've seen is when it rained for 16 straight days without stopping and everything was flooded and we couldn't drive to town. But that occurred only once in 14 years. During the six months of rain, it generally comes down at night when you are sleeping and the days are sunny and beautiful. You can still plan picnics and events even though you are in the middle of the wet season. During this time the ocean water is warm and you can walk right in. Every now and then there is a dreary day, but I would say we have at least 340 sunny days a year. For surfers, the waves are better during the wet season, even though they say they are good and consistent all year. October is the rainiest month. So, if you want to see if you'd like to live in San Juan del Sur, this would be a good month to visit.
December through May delivers bright, sun-shiny days–every day–while the flora browns from the lack of water. While temperatures hover around 80 F to 85 F all year round. The dry season is also windy season. As the fauna dries out, the sand and soil turn to powder and become tough on the eyes and nose when the wind is strong. May is the hottest month—with temperatures up to 100 degrees—and another good time to visit if you want to determine whether you want to live in San Juan del Sur. During this time the ocean water is cold and the manta rays are closer to shore so shuffle your feet when you walk into the water.
Everyone debates which season is better. We all have our reasons. But if you are shoveling snow every year and shivering in front of a fire in the winter, believe me, the weather in San Juan del Sur could not be better—wet or dry.
Day Trips from San Juan del Sur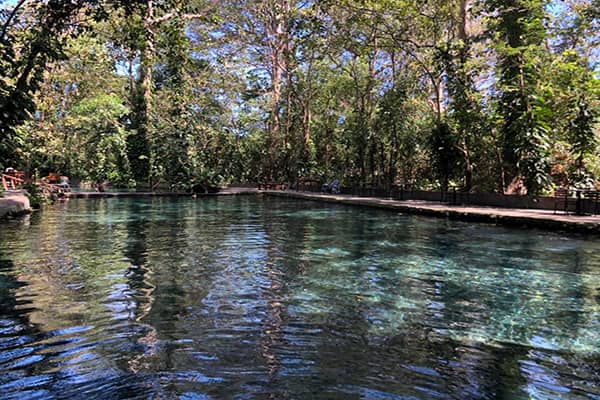 Another benefit of San Juan del Sur is that fascinating trips are just a hop, skip, or a jump away. Here are some fascinating day trips if your time is short. However, each one of these can be extended if you happen to fall in love with the place.
Laguna de Apoyo
This lake is my favorite place in all of Nicaragua, possibly the world. Its year-round warm, medicinal clear water soothes your soul, and cures what ails you. Laguna de Apoyo is a crater lake, around 23,000 years old and 3.7 miles in diameter. Spas and elegant restaurants dot the perimeter, but my favorite place is the public beach in Narome, especially on a Sunday when you will experience a true Nica day.
There you can see Nicaraguan families interact, listen to the music they like, a different song emanating from each restaurant over loudspeakers. Vendors will stroll by your table selling green mango with chile, fresh ceviche, tajadas (plantain strips), spicy peanuts, and all sorts of sweet candies and bread. Enjoy the live marimba music as musicians walk around the area looking for people who want to hear Nicaragua's traditional songs. For lunch, ask for grilled guapote, fish indigenous to the lake—something you can't get anywhere else. The restaurant serves it on your own personal grill, a beautiful steaming fish surrounded with grilled plantains and cheese, topped with pico de gallo—for only $9.
If you are adventurous you can go to a secret place (you have to find it on your own) on another perimeter of the lake where the water around the edge of the lake actually bubbles and boils, too hot to touch. If you take a shovel and dig a hole about six feet away and about two feet deep, the water fills up the hole so you can sit around it and stick your feet in and take that fabulous black volcanic mud and put it all over your body including your face. Let it dry in the sun then jump in the lake (away from the boiling water) and rinse off the mud. Your skin will never feel better than at that moment!
You can also opt for the spas instead, where there is generally a $10-day rate to enter. Once inside, you'll find a restaurant, kayaks to rent, a platform out in the water that you can swim to, and more. The spas also have nightly accommodations. Some include breakfast, others don't.
Masaya Volcano
I always wonder why we can get so up close and personal to this very active volcano. Your presence at the lip of the crater would never be allowed in your home country. Why not? There are no rails, just a three-and-a-half foot stone fence to prevent you from falling into the crater and possibly landing in the rolling, roiling red hot lava that you can see bubbling 20 meters below. Sometimes this lava surges up even higher, spitting, gurgling, and making a menacing growl as it does its thing. Every now and then this volcano throws chunks of burning hot rock into the air. That is why you have to park your car backward…in case you have to make a fast getaway. Toxic gases and sulfur smells wrap around your eyes, nose, and throat so the authorities recommend only 15 minutes viewing this wonder. If you have asthma or other respiratory illnesses, you should not visit this site as it can make your condition worse. It IS a thrilling place though, and if you have never seen a dynamic, active volcano with red hot lava, this is probably your only chance to do it.
Another interesting note. Exactly at sundown, thousands of small green parrots fly back into their holes in the crater of this volcano. No one understands how they can live there and withstand the toxic gases, but they do. As you are looking into the crater, suddenly you hear a sound coming, getting louder and louder until these lovely birds arrive in one great noisy cacophony of their own music. A special phenomenon for sure. Take the night tour here at around 4.30 p.m. and stay until dark to get the spectacular effect of the birds and the hot, red lava.
Masaya Market
This is truly a shopper's paradise where artists from Masaya and all over Nicaragua display and sell their handicrafts. From hand-woven hammocks; to carefully crafted wooden salad bowls, lamps, and cutting boards; beautifully shaped and painted ceramic vases, bowls, plates; jewelry made from interesting seeds and coconut shells.
But be careful. There are two large art markets in Masaya. The one that taxi drivers and expats will take you to is in a large stone building that looks like an old castle. This is called the Mercado Viejo or Old Market. Its intriguing name makes you wonder what you might find there. Don't worry, you'll find everything. But at five times the price of the Artisano section of the city's Municipal Market. The two are not very far apart, but the prices are shockingly different. The stone building market has everything beautifully displayed, like ceramic vases with real flowers adorning a hardwood table made by hand, for example.  The Municipal Market will have the same vase but if it cost $45 in the fancier market, you can probably get the exact same thing at the Municipal market for $8. So don't be fooled. Everyone will try to get you to go to the Old Market. The difference is that the Municipal Market provides rows and rows and rows of all the art, piled up, stacked, and scattered everywhere. You have to look, but the quality is identical. The Municipal Market is also usually very hot and with so much to look at, you get tired very quickly. But if you want to save a lot of money buying gifts, it is totally worth it. Happy shopping!
Granada
Granada is the "gem" of Nicaragua. A beautiful colonial town, Granada will enchant you with its beautifully renovated bright yellow church across from Central Park. Stroll down the streets with a camera in hand to take photos of some of the colorful houses, interesting architecture, and elaborate doors.
In the Central Park, many artists set up tables to hawk their wares and you can sometimes make a great find. If shopping isn't your thing, just take a seat at one of the restaurants in the park and spend the day people watching. Or visit the art school near the square that displays students' promising works of art. A ride in one of the beautiful horse-drawn carriages will take you around the city to look at the most beautiful buildings and homes. A photo op indeed!
If you like boat rides, go down to the lake, make a right turn, go to the end of the boulevard and you will end up at the entrance to the isletas of Granada. Take the tour to visit the isletas, around $10 each. Some of these tiny islands are owned by famous people. One is always for rent….imagine staying the night with 10 people on your own little island for a fun party with close friends or family. Only $185 per night.
At night, dinner on the "Calzada" is a must. Dine in a European-style boulevard with tables outside and two for one cocktails. Restaurants with tables outside flank a few blocks of the street and provide a variety of food choices. Pizza, barbequed ribs, Spanish tapas, favorite Nica food options, steaks, Italian and Mexican food—there's something for everyone. While dining outside, you'll often see impromptu "acts." Breakdancing kids are always fun. Or you may appreciate the couple who just shows up by the side of your table and twirls away down the street with their popular salsa moves. Musicians, jugglers, dancers of all kinds, acrobats…you never know what you might see on the Calzada. If you love to dance yourself, several cool nightclubs like the popular Encuentros will keep you moving into the wee hours of the morning. Whatever you end up doing in Granada, you will love it.
Ometepe
Ometepe can be a day-trip but stay a couple of nights and you will feel the magic even more. Ometepe is the only island with two volcanoes on it—one active (Concepcion) and one dormant (Madera). And this island sits in the 19th largest lake in the world—Lake Colcibolca (or Lake Nicaragua as the expats call it).
So many things to do here—that's why you should turn this day trip into a mini-vacation and stay a week or so. Take a ferry boat from the dock in San Jorge. The trip is short, only one hour, and you are awed as the ferry makes its way closer and closer to the shore with gorgeous and active cone volcano Concepcion looming in the background.
If you have only one day, your only choice should be to go to Agua de Ojo, a natural swimming hole that will astound you. The clear, turquoise water set in the forest will surprise you. The sound of howler monkeys in the trees will thrill you. The great coco locos might make you forget all your cares and encourage you to stay right here on Ometepe Island—forever. Swim in the beautiful water. Have some fish at the great restaurant. This is seriously a one-of-a-kind place to go for an unforgettable day.
If you have more time, go horseback riding to the ancient petroglyphs. Hike up one of the volcanoes. Concepcion is considered difficult; it takes about 10 hours to climb up to the summit at 1,610 meters and back again. Maderas has several different climates, one being a hot, wet one, so this hike gets slippery. Or go kayaking in the lake that looks like an ocean because you can't see the other side. While you are there, visit monkey island to watch the antics of the residents there. Don't get too close though. Monkeys can be curious and aggressive.
If you want a quietly beautiful day, visit Charco Verde, a hotel/restaurant/beach reserve that also houses a fascinating live butterfly sanctuary. Walk through the pathways of this unique place and see turtles, beautiful flowers, ferns, and colorful butterflies that sometimes alight on your arm to say hello. Another special day to remember.
San Juan del Sur is a funky, beautiful, and exciting town. If you like an outdoor lifestyle surrounded by beautiful beaches and some unbelievable and endless activities, this just might be the place for you.