The Most Colorful City in Nicaragua
If you like a funky, colorful beach town with a lot of "characters," gorgeous beaches, and unbelievable sunsets, San Juan del Sur may be the place for you. Set on a horseshoe bay, the thatched-roof restaurants, lack of high-rise hotels, dollar beers, and live music to suit any taste will remind you of those simple, fun beach days of your youth. With the city center only three-square blocks, you'll know everyone and everyone will know you. Think of the sitcom Cheers…on the beach.
A couple can live here for $1,500 a month. For $400 a month you can find a one-bedroom, furnished apartment close to the beach. You might spend $250 a month on food and that includes eating out at one of the many restaurants you can find in the town. Look for American barbecue, tapas, Asian wraps, tapas, Mediterranean food, Indian and several authentic Italian restaurants, gourmet food restaurants, handcrafted donuts and beer, Nicaraguan beach cuisine, and more that announce that San Juan del Sur is indeed a place for "foodies."
Your lifestyle can be anything you want in San Juan del Sur. If you like the idea of lying in a hammock with a cold beer in hand, looking at the ocean from your deck, there's no better place than this beach town. If you want something more substantial, it's easy to open a business. We still need a good auto mechanic shop; home design store; acupuncturist; health food store with produce, essential oils, and alternative medicine cures; and a landscaper. Any takers?
If you're looking to retire somewhere with 22 gorgeous beaches, half of them virgin (you won't see anyone the entire day), make lots of new expat friends from all walks of life and from all different countries, eat well and live healthier, and have not a care in the world so you can really enjoy your retirement, San Juan del Sur is the place for you!
Retire in San Juan del Sur, Nicaragua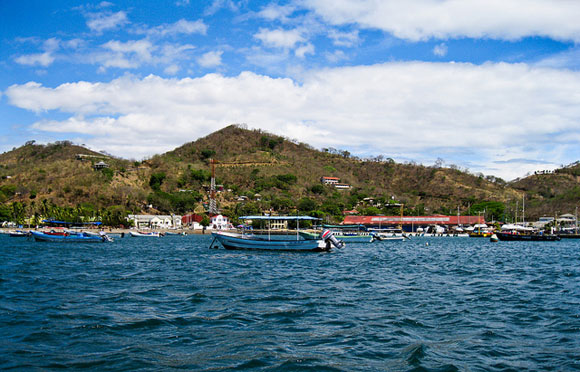 San Juan del Sur is a great place to retire for those of you who love the beach life. Many of those who live there say they felt the call of the "Pied Piper" and just stayed here after a fabulous vacation or left briefly to collect their things in their home country and return immediately. No one is quite sure what the draw is, but it's there. As more expats call this colorful townhome, amenities that people crave abound. Fourteen years ago you could only get the Nicaraguan dry, salty cheese; today you can choose from cheddar, mozzarella, blue cheese, provolone, gouda, and more. Now international restaurants satisfy every craving. Known for its excellent live music, San Juan del Sur will give you a night of rock 'n roll and Latin rock, salsa, merengue, and Latin tropical music; ballad singers, open mic nights, and if you don't hear what you like, start a band!
Considered one of the more expensive places to live in Nicaragua, San Juan del Sur still comes in at a very economical level compared to your home country. With many permanent resident expats (no one knows for sure how many of us there are), you are sure to make new friends immediately. And expat activities draw many people: classes including dance (salsa and merengue and Zumba exercise for example), yoga, art, musical instruments (guitar, marimba, ukulele, etc.); the list goes on and on. You will never be bored in San Juan del Sur even though it's a small three-square block town.
If you ever thought of being a business owner–perhaps that import/export business you always wanted, a beach apparel shop, hand-crafted ice cream store, a tea house…actually anything you can think of…it's easy to do in Nicaragua. The Nicaraguan government provides laws that allow your business to be exempt from taxes for up to 10 years if you open something in the tourism sector. Or if you want to "give back," numerous volunteer opportunities exist such as working with orphans; abused women or teenagers at risk; teaching kids or adults to speak English; building homes for the poor; or constructing water filtration systems. And if you see something, someone, or a group that needs attention, you can start your own NGO.
You must also consider the stress factor. It's very low for an expat in Nicaragua. No stress from traffic jams, keeping up with the Joneses, rushing everywhere, and no bad news in the media here about serial killings, mass murders, or terrorism. You can safely ride the buses that crisscross Nicaragua from city to city if you so choose. Crime in Nicaragua is the lowest in Central America. Yes, there's petty theft, but you can control that easily with the lifestyle you adopt and the friends you make. Bodily harm is pretty much unheard of unless you choose to delve into unsafe activities.
Retirees in San Juan del Sur claim that they live a higher quality life here than they had in their home country. Many have gorgeous ocean view homes that they never could have afforded in the U.S. or Canada. But more and more expats are learning that Nicaragua is actually a great retirement destination, they come to visit, and they are astounded at the beauty of the country, the warmth of the people, and the fun, funky town of San Juan del Sur. So why don't you come for a visit? You might hear the sounds of the Pied Piper calling you, and he just might lead you to make a move to this great beach town.
Real Estate In San Juan Del Sur, Nicaragua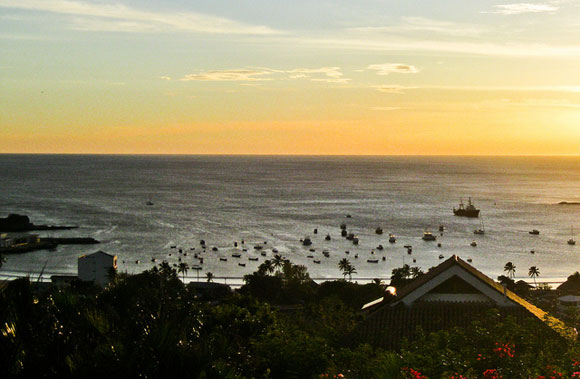 The best thing about buying or building a home in Nicaragua, and particularly in San Juan del Sur, is that the government has made it easy to purchase land or a home. Nicaragua is one of the few places left in the world where you own your land outright. It's not leased, you don't have to give it back to the government after 99 years. It's all yours. You can even will it to your kids. And as a foreigner, you are not prohibited from buying ocean view or oceanfront property, except within five kilometers (three miles) miles of the international borders of Honduras or Costa Rica (for security reasons). If you buy within five to fifteen kilometers, you to get a waiver permit and these can take up to two years to receive. If you buy oceanfront property, your house must be set back 50 meters behind high tide as all land within 50 meters of high tide belongs to the country.
So what kind of house can you expect to find in San Juan del Sur? The answer is…any kind. You can find a two-bedroom, two-bath, ocean-view townhome in a beautiful development with a large pool and restaurant, for less than $100,000. Or if you don't care about the ocean view, you can live in a new Nicaraguan neighborhood in a small home, or your own condo, for about $40,000, which may be only a five-minute taxi ride to the beach. If you've got a bit of money and are hankering for something special, look around for a three- or four-bedroom house with an infinity pool right on the cliffs, overlooking the ocean, for between $245,000 and $700,000. If you want to see the sea, but don't have that much money, you can still buy a two-bedroom, two-bath house, set back in the hills with an ocean view, for between $125,000 and $200,000.
If you decide to build your own dream house, it's easy, and depending on the quality you are looking for, you'll spend anything from $25 to $100 per square foot. For $100, you'll be able to get Italian tile marble floors, the most modern kitchen appliances, beautiful granite countertops, and hardwood accents and furniture. This may sound strange, but if you were thinking of having an odd-shaped house, that's no problem. There are no rules to conform to as far as how your house looks. You can have a star-shaped house, a round one, or one that looks like a wedding cake (we have that here—it's orange and white). There's another house in San Juan del Sur built out of tires, and many more built by the strictest eco-friendly codes. The color doesn't matter, the shape doesn't matter, what you do with your property doesn't matter. This is called freedom, and if you decide to come to San Juan del Sur and build your own home, your imagination is the only limit.
Cost of Living in San Juan del Sur, Nicaragua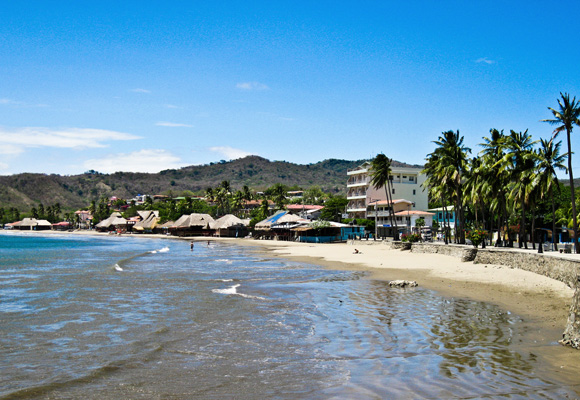 When I tell my friends in the U.S. how much it costs me to live in San Juan del Sur, Nicaragua, they simply don't believe me. It seems I will never be able to convince them. But it's true. Most of us single expats who are on a budget live in this beach paradise for $800 to $1000 a month. Couples can do fine with $1500 a month. I even got to retire 11 years early, with enough in my retirement fund to keep me going in Nicaragua until I die. Had I remained in San Diego, California, my financial advisor told me I would NEVER be able to retire. NEVER!
I made the immediate decision to leave the U.S. when I heard my bad financial news. It was the best decision I've ever made. I've lived happily in San Juan del Sur for almost 14 years now. In San Diego, I lived in a nice, two-bedroom townhouse far from the beach. To pay my mortgage and my expenses, it cost me between $6,000 and $8,000 a month. Why? Because my mortgage was high and so are all prices in California.
A cocktail can cost you $23 in California. In Nicaragua it's generally between $1 (national rum drinks and beer) to $3.50. Restaurant costs are much more expensive in the U.S. Healthcare, services, anything you can think of is at least five times the price of Nicaragua. In California, for example, buying an ocean view house can cost you 10 times more. I bought a two-bedroom, two-bath house on more than half an acre with an ocean view for $132,000 in San Juan del Sur. This would easily have cost much more than $1,000,000 in San Diego.
Let's examine the living costs in Nicaragua. If you buy a house, it's likely you'll have to pay the entire amount, so that is no longer an expense. But if you come to rent on a budget, you can get a one-bedroom, fully furnished house about three blocks from the beach with WiFi, water, and electricity for around $400 to $450 a month. If you spend a little more, you may have a pool, a space to park your car, and maybe air conditioning.
Depending on what you eat, you can keep your food expenses low. If you MUST have Kalamata olives, gouda cheese, JIFF crunchy peanut butter, walnuts and almonds, and other imported goods, you'll pay for it. But if you can switch your U.S. diet to a healthy Nicaraguan one, expect to spend about $25 to $50 a week on fresh, non-GMO (not allowed in Nicaragua) fruits and vegetables, eggs from someone's backyard, butter straight from the cow (the healthiest kind), and meat, fish, and poultry at prices you won't believe. Try $2.50 for a whole red snapper, cleaned, scaled, and freshly-caught that morning.
Water and electricity costs change with the use of course. I've heard of expats spending anywhere from $10 up to $200 per month, depending on whether they are keeping huge gardens watered during the dry season and can't live without air conditioning. Most of us get floor fans and keep the windows open, so we don't have that expense.
Example of Monthly Cost of Living in San Juan del Sur
Maintaining a car can be a big expense. Luckily, if you live within San Juan del Sur's city limits, you don't need a car to walk its three square blocks. Let's take a look at a typical, basic monthly cost-of-living budget for a couple living in San Juan del Sur on a low-budget income:
| | |
| --- | --- |
|  Expenses |  U.S. $ |
|  Rent |  $450 |
|  Water |  $15 |
|  Electricity |  $35 |
|  WIFI |  $45 |
|  Cable |  $30 |
|  Food |  $200 |
|  Eating out |  $150 |
|  Entertainment |  $100 |
|  Monthly Total: |  $1,025 |
Remember that this amount will go up or down, depending on the lifestyle you choose. Throw in those Kalamata olives, special cheeses, and sauces, and you'll still be living on less than $1,500 a month. Now write down your expenses for where you currently live and see the difference. You'll be shocked! All the more reason to retire young, and live healthier and happier in Nicaragua.
Live in This Funky Beach Town of San Juan Del Sur for $1,500 a Month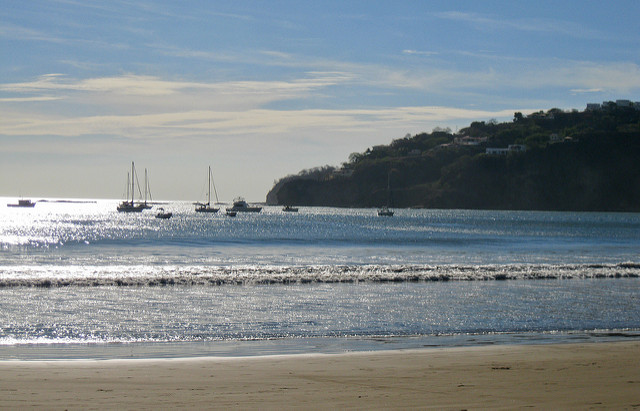 "Where else could we find this life?" says expat Monica Sedgwick of the one she and her husband James have created in San Juan del Sur, Nicaragua. "We're living in paradise, paying $200 a month for a three-bedroom apartment with a super view of the bay."
Stroll through San Juan del Sur and you'll see colorful buildings of all different sizes flanking the ocean. They house surf shops, bakeries, beach clothing stores, hotels, and hostels, from basic to top-dollar. Buy hand-made jewelry from artists from every continent. Kick your shoes off and put your toes in the sand, enjoying an ice-cold beer while you lounge in a blue-and-white striped beach chair in front of beach restaurant El Timón. Take a swim in the beautiful bay; watch the multi-colored sunset.
This little beach town radiates quirkiness—in a good way. You may see tee-shirted Kathy walking her eight dogs with a parrot on her shoulder. Or you may run into BJ twirling on a dance floor at night, in one of her glittery costumes. And then there are the rest of us—expats from all over the world who say they wouldn't live anywhere else.
With a year-round hot climate (about 85 F on average) and gentle sea breezes, no sleeves or long pants needed. Here you can live your life in shorts and flip-flops. Before you know it, you'll be hard-pressed to find appropriate clothes in your closet when you go home to visit.
It won't cost you much to live in the funky beach town of San Juan del Sur. A couple on a budget can find a one-bedroom furnished apartment with water and WiFi, about a block from the beach, for about $450 a month. Add to that about $200 a month for food—and fresh, unprocessed food at that. If you like eating out and entertaining, put a bit more into the budget. You don't need a car, and that will save you the cost of gas and maintenance. All told, a budget of $1,500 a month for a couple is easily doable.
With many expats in San Juan saying they wouldn't live anywhere else, it's obvious that this beach town is a great place to settle.
You can be busy here all day or do nothing but sit by your pool, dine and drink with friends, and enjoy live music at night. It's a good place to eat, too. The town has over 50 restaurants for you to choose from. Think bratwurst and sauerkraut, lasagna, Mediterranean salads, raw-food pizzas, veggie wraps, sushi, fish tacos, fresh-caught fish dishes…most anything you want, usually for under $10. Duck into one of the souvenir shops and negotiate your price for hand-made local ceramics and brightly colored hammocks.
As the sun goes down, this beach town transforms into a cool night party. Lights, music, and laughter pour out of the many bars and restaurants, which cater to all tastes. Have an elegant international dinner at Hush, overlooking Playa Maderas, or just stay in town and watch the multi-colored sunset from El Timon, the quintessential Nicaraguan-owned seafood restaurant on the beach. Try their coco locos.
If it is nightlife you love, you won't lack options in the later hours, either; several bars on the beach street offer different types of entertainment until 2 a.m. Reggae, blues, rock 'n' roll, salsa, merengue, DJs with electronic music —it's all there.
You choose the exact lifestyle you want here. No traffic jams, no stress, no financial worries. What more could you want?