My journey to Cuenca, Ecuador began with a discussion with friends in their home by the beach in Panama. We were all disenchanted with the U.S.—the regulations, the taxes… We concluded that there's no American dream anymore.
My wife, Olga, who was raised in the Soviet Union told me that she felt she had more freedom there than in the U.S. Quite an eye opening statement for me to hear.
Not long after our return to Pennsylvania where I was employed as a driver recruiter for a transportation company my employer told me he no longer needed my services. Then the day after Labor Day we lost our home and all of our possessions in a flood.
While staying in the home of some friends for a month after the flood, I came across a copy of International Living magazine with an article about Cuenca, Ecuador. I knew Ecuador was in South America and the capital was Quito but that was the extent of my knowledge. So I did some internet research and read books about Ecuador and retiring abroad.
In the meantime I'd applied for dozens of jobs without getting one interview. Olga and I decided it was time for a change. We left Pennsylvania for Cuenca with nine pieces of luggage and a lot of hope.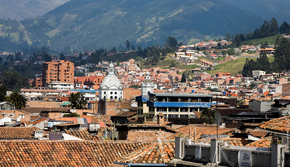 Today, we live in this beautiful, affordable city, surrounded by its many majestic churches and old buildings, and enjoy a wonderful climate. We are kept entertained by the free performances put on by the Cuenca Symphony, the many museums and theaters, and we're just a 10-minute walk from Inca ruins.
Our only income is my Social Security, but we're living better than we ever have before. We pay $350 a month in rent for our new, 1,616-square-foot, three-bedroom, two-bathroom apartment. And the monthly cost for utilities is equally low: Electricity and trash removal, $12.70…water, $6.61…propane for hot water, gas dryer, and gas stove, $4.64…phone/internet, $30.11.
We don't have a car because we can walk to almost anywhere we need to go. If we use transportation we take the bus or a taxi. Our average monthly transportation costs are around $17.
Food is extremely affordable and we go to the local markets for most of our groceries. We can dine at one of the local eateries for $2 to $4.
Healthcare is also much more affordable. Although we have opted for government insurance in case of emergencies, which costs $84 a month for the two of us with no deductibles or copays, we tend to pay for our doctor and dentist visits out of pocket. They both charge $15 for a visit.
Everyday life here is busy, but in a fun way. Olga goes to a fitness class three times a week, we have Spanish classes twice a week, and we volunteer at Cuenca University to help students with English. Having been in the Air Force, I belong to a veteran's group, I sing with the Cuenca International Chorus and also in our church choir.
Cuenca reminds me of growing up in 1950s and 60s America…there's that freedom to enjoy life the way we want to. We definitely made the right choice in retiring to Cuenca.
Get Your Free Ecuador Report Here:
Learn more about Ecuador and other countries in our daily postcard e-letter.
Simply enter your email address below and we'll send you a FREE REPORT – Ecuador: Live Like Royalty on Your Social Security.
This special guide covers real estate, retirement and more in Ecuador and is yours free when you sign up for our postcards below.
Get Your Free Report Here