It's 8 a.m. on a typical morning in my oceanfront condo in Salinas, Ecuador. My wife Rita and I have just returned from our morning exercise walk…down the malecon (boardwalk) beside the Pacific, past Chipipe beach and around a lovely old church and back. With that two-mile circuit done, we're sitting out on the balcony enjoying our coffee and fresh fruit breakfast.
The sound of the waves on the sand is accented occasionally by the call of flocks of parrots as they fly by, and by the splash of pelicans diving into the surf for their first meal of the day.
By 9 a.m., it's time to get to the open-air market for some supplies. We get our shoulder bags and decide whether or not we need sunglasses (about the only weather-related decision you have to make here in Ecuador), and start out on a pleasant walk through neighborhood streets.
The Mercado de Salinas has many vendors of all types, but we have our regular stalls to visit. The vendors know us and always greet us with a smiling "Buenos Dias!" Our first stop is for veggies, just brought in from the hills and beautifully displayed. Today we need some potatoes, red onions, tomatoes, peppers, radishes, fresh-shelled peas, peeled garlic, a head of broccoli, a cucumber, two avocados, a zucchini about two feet long (smallest I could find), some yucca, and a quarter slice of cabbage. I always get just a slice of cabbage, since the full heads are bigger than basketballs.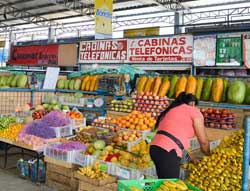 Selinda, our veggie lady, totes it all up on a small pad while my wife and I load our shoulder bags. She tells me the total for this bounty is $6.45.
Next, we go to the fruit stand, where we only need to pick up a pound of strawberries (always in season) and about a half dozen oritos, which are small and very sweet bananas. We don't get more than we can eat in a few days, because why stock up when it is available fresh every day? The market is open seven days a week, even on holidays. Anyway, that detour for fruit costs us another $1.60, and then we move on to get some fresh eggs.
Again, we have our favorite egg man, who is always happy to see us, and he knows we want our usual, a crate of 30 eggs. He goes through them carefully, checking them in some mysterious way, rejecting some and replacing them with others from a different tray, until he has 30 that satisfy him as worthy. He places another tray on top and tapes it down, since he knows that we have to carry them home. This comes to another $3.50.
We don't need any fresh shrimp, fish, or chicken today, so it's time for the walk back to our condo. On the way, carrying about 15 pounds of food we just spent less than $12 to buy, we talk about our new life here in Ecuador.
Sure, there are big issues like weather, low cost of living, affordable properties, inexpensive healthcare and more…but what we like most are the simple pleasures of living in Salinas. The quiet, relaxed mornings by the sea, the smiling and friendly people at the market, the peacefulness of walking instead of jumping in and out of a car. Those are the things that we love best.
Get Your Free Ecuador Report Here:
Learn more about Ecuador and other countries in our daily postcard e-letter.
Simply enter your email address below and we'll send you a FREE REPORT – Ecuador: Live Like Royalty on Your Social Security.
This special guide covers real estate, retirement and more in Ecuador and is yours free when you sign up for our postcards below.

Get Your Free Report Here