The tourist board promotional slogan "All You Need is Ecuador" could not be more appropriate. Although my life in Cuenca is wonderful, it is always nice to be able to take a trip to other areas of this diverse country.
One place that should not be missed is Mindo. About two hours north of Quito, it hosts an amazing assortment of birds, butterflies, waterfalls, and activities like zip-lining.
I took a morning flight from Cuenca to Quito airport (it cost me just $79 for a round trip), where I arranged to be picked up by a driver from my hostal in Mindo. I could have taken the bus but the advantage to having a driver was being able to stop for a cafecito, and also at a few spots along the way to take some photos.
I made reservations at Cabanas Armonia y Jardin Orquideas where I had a very comfortable cabana surrounded by jungle vegetation for only $30 a night, breakfast included. While having my breakfast, I was able to watch hummingbirds that came for food from the feeders and also to visit the flowering plants.
There's plenty to see and do in Mindo. The center of Mindo has an assortment of restaurants for lunch or dinner. There's also a community soccer stadium which is packed with teams of different ages being cheered on by their families in the evenings. Outside, vendors offer grilled meats and ice cream. It's not uncommon to see a bunch of kids playing a pick-up soccer game in the middle of the main street at 9 p.m. at night. This is a small town without a lot of traffic…all of this is typical of the charm of Ecuador.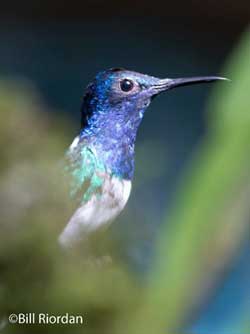 A short taxi ride from the center took me to the mariposaria (butterfly garden), a "must visit" in Mindo. Hundreds of butterflies of different colors and sizes were fluttering around, landing on the beautiful plants and flowers, as well as on the visitors.
Close by is a hiking trail which leads to some waterfalls and streams. Although a slightly slippery and steep walk down, it is worth the effort. Just take your time and you'll be fine.
You can also try zip-lining in Mindo. The guides are very helpful and will point out some of the unusual vegetation, birds, and wildlife during the relatively easy hike to the "jump-off" point. The guide was nice enough to ask if I would like to stop half way across in order to get some good photos and I got some really nice images as I hung over the valley and trees below.
Slightly out of town is a place called Mindo Lindo, La Casa de Cecilia…a hostal owned by a couple who, for over 30 years, have been involved in a reforestation program for the Mindo area. There are walking trails through the property with a huge variety of tropical plants, birds, and insects. After an enjoyable hike, I was offered a complimentary cup of herbal tea while I sat on the porch, taking in my surroundings.
The town itself has a good variety of restaurants, including Il Tigrillo where I had a tasty, large, wood-oven pizza with generous toppings of ham, mushrooms, and peppers for just $10. Another great place is the Dragonfly, where I had a dinner of steak fajitas with guacamole, followed by a decadent carrot cake and a coffee for $20…and the incredible views of the river and more hummingbirds was free. For a cup of excellent Ecuadorian hot chocolate head to El Quetzal de Mindo, where you can also take a tour of the chocolate factory. The tour costs $10, but it's worth every cent…I got to taste lots of samples.
If you're looking to enjoy a peaceful and quiet trip that offers beautiful scenery, an incredible assortment of birds, a little taste of extreme sports, and some very friendly local people, Mindo is the perfect place.
©iStock.com/DC_Colombia
Get Your Free Ecuador Report Here:
Learn more about Ecuador and other countries in our daily postcard e-letter.
Simply enter your email address below and we'll send you a FREE REPORT – Ecuador: Live Like Royalty on Your Social Security.
This special guide covers real estate, retirement and more in Ecuador and is yours free when you sign up for our postcards below.

Get Your Free Report Here