Wherever you choose to live in Nicaragua, it takes about a year to "get into the swing of things." Moving abroad from your home country takes guts, fortitude, and patience. But one day, you sit on your patio in Paradise and say, "Now I get it. I'm living in Nicaragua and I'm happier here than I've ever been." Most people choose Nicaragua for the less expensive, yet higher quality lifestyle they can enjoy. Other perks include the sheer beauty of the country and the warm, welcoming people.
Bruce Toepel is from Idaho and he has been involved in building golf courses around the world his entire life. He retired to San Juan del Sur, Nicaragua just over a year ago and claims he could not have made a better decision. "A good day may start with water aerobics in an infinity pool overlooking the vast Pacific Ocean in a stunning hotel, and meeting new people. From there I usually catch a shuttle to one of the many beautiful beaches in the area. San Juan del Sur is surrounded by 21 beaches and my favorite is Playa Hermosa, where you can spend a very tranquil day, have lunch and drinks with friends, and take a walk on the beach. From there, I head back to town and pick from a variety of happy-hour beach restaurants, enjoying the amazing sunsets and wonderful live music. Every day is a good day!"
Amy and Darrell Bushnell, moved to Nicaragua in 2006 after five years of visiting. Darrel was born on a farm in Illinois and Amy came from South Milwaukee, but they lived the last 20 years in Charlotte, NC before moving to Nicaragua. Amy was a real estate builder representative and Darrell worked for a large commercial finance firm managing computer programmers and financial operations.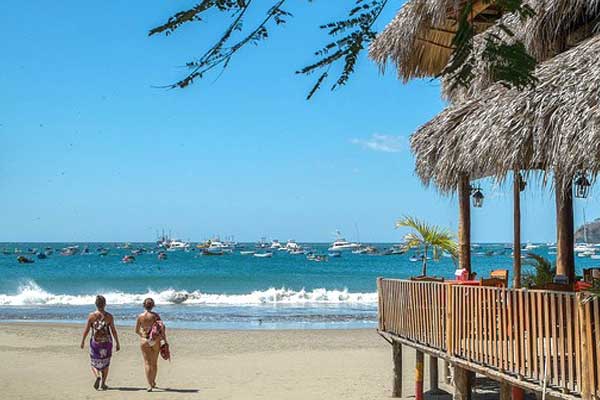 Darrell says, "Amy teaches painting and art to locals, tourists, and expats in the Granada area at her art studio/gallery five days a week, while I tend to our small farm. I also assist expats considering living in Nicaragua, or who already live here, and I help local non-profits. The day always starts with us drinking coffee together on our veranda, while we watch the sun rise over Granada; in the evening, we get together again for a rum and coke, and to watch the sun set in the west. Living just outside of Granada gives us the best of all worlds, proximity to the amenities of Granada and Managua, yet the tranquility of living in the country. A perfect day is sitting with our three dogs and our cat, watching the horse carts and ox carts meander down our country road."
Judith LaRoue bravely retired to San Juan del Sur alone, without knowing anyone. At first, living in Nicaragua was a bit of a challenge, but after a year, Judith cannot imagine living anywhere else. Her typical day starts with a cup of great Nicaraguan coffee. Then she enjoys an early morning walk around town and does errands—paying bills, buying fresh produce at the local mercado (market), meeting friends for a big $3 breakfast.
On Mondays, Wednesdays, and Fridays, Judith enjoys water aerobics with other expats in a beautiful hotel pool. During the heat of the day, Judith reads "the book of the month" for the book club that she belongs to or she sews. Later you may see Judith at the $1 happy-hour restaurants on the beach. In the evenings, Judith spends her time listening to music, or watches movies on Netflix and then heads off to bed. One happy day after another.
So you see, expats who live in Nicaragua often do what they did at home. But then there are other things, like getting involved in volunteer projects, exercising more, joining book clubs, eating out, listening to live music, and so much more. Here in Nicaragua, your life can be like it was, only better.
Related Articles
Here's some Amazing Facts about Nicaragua