Last year, at the International Living Fast-Track Ecuador Conference in Quito, Ecuador, I spent a few minutes chatting with a woman from Idaho. She and her husband (well, mostly her husband) were thinking of retiring to Ecuador.
"Before I got here," she said, "I wasn't at all sure about this idea. Heck, I didn't really even know where Ecuador was…but my husband convinced me to at least come down for a look. And I owe him that."
We chatted a bit about the husband/wife dynamic and about how, when you're faced with retirement, there are so many decisions, and yes, compromises, to be made. Where will you live? Will you downsize your belongings? What will your monthly budget be? How much traveling can you do, how much family time can you spare, and so on and so on.
"What it boils down to, for us," she said, "is that we're looking forward to taking our lives from pause to fast forward. We've worked really hard over the years and we're ready for some fun. But we know, of course, that we'll need to watch our money and so we need to retire somewhere that's less expensive than were we live now. But still, I'd never even thought of Ecuador…"
It was easy to follow her thought process. Moving overseas is a big step, even though today's technology makes it easier than ever. I decided to probe.
"Now that you're here, what do you think?" I asked.
"Well, the best thing that's come out of this trip is that I no longer think my husband is crazy," she laughed. "Or, if he is, there are a whole lot of other folks just like him!"
I knew what she was getting at. We were drinking coffee in the networking hall and there were hundreds of other wannabe expats milling about. Couples and singles of diverse backgrounds and from all walks of life were all there to discover if life in Ecuador was right for them.
It was kind of like being at a concert by your favorite musical artist. You feel validated, somehow, that everyone likes the same music you like, and you can't wait until that point when you're all singing along to those familiar words…one big happy, sing-along family that loves you even if you can't carry a tune.
And if you've brought a friend along to this concert who's unfamiliar with the artist? By the end, they're usually on their feet, too, dancing and singing along.
"From the minute I stepped off the plane, I started to get more excited about this idea," my new friend said. "The people here are so nice. And you know, I thought Ecuador was far away from home, but it's really not. The plane ride was really quick and easy. And now that I'm here, I see that this country is really very modern. There are no headhunters waiting to attack…"
We were both laughing then. That's one of the biggest misperceptions about Ecuador—that it's a backwater, dangerous, Third-World country. Here we were, eating canapés in a very modern upscale hotel in the midst of the city's financial district, every modern amenity at our fingertips.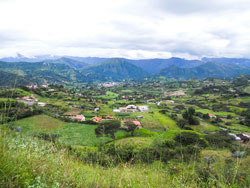 "And wow," she went on, "is this country gorgeous! I read up about it when my husband said he wanted to come here, but I was totally unprepared for how beautiful it is…and I live in the mountains in Idaho…but it's nothing like this."
She and her husband were planning a visit to several of Ecuador's most popular expat communities after the conference, she told me, including a jaunt along the pretty Pacific Coast.
"We've never lived by the ocean so we're anxious to see that," she said. "We can't believe the real estate prices. I mean, in California or Oregon we'd probably end up in a trailer house a good few miles from the ocean, and that would cost us $100,000. But here you can buy a brand-new waterfront condo for that…"
I checked her cup to make sure it wasn't "the koolaid" she was drinking. But no, it was that famous world-class Ecuadorian coffee that the hotel proudly serves.
"So it appears you're a bit more open-minded about retiring to Ecuador now," I said.
"Yes, I am," she said. "It's really fun to be here and this is an eye-opening experience. I'm glad I came."
Get Your Free Ecuador Report Here:
Learn more about Ecuador and other countries in our daily postcard e-letter.
Simply enter your email address below and we'll send you a FREE REPORT – Ecuador: Live Like Royalty on Your Social Security.
This special guide covers real estate, retirement and more in Ecuador and is yours free when you sign up for our postcards below.
Get Your Free Report Here