Ecuador makes it to the top of the list for many people who are considering a move abroad. Climate, cost of living, culture, and ease of obtaining residence are some of the reasons often cited. But an often overlooked benefit is the potential for improved health due to a better diet. Most expats in Ecuador find themselves eating much more fresh produce than they did back home and the reason can be summed up in two words—variety and availability.
While Ecuador does have supermarkets, every town has a centrally located farmer's market. This is where most people prefer to shop, especially for produce. And the reason is simple. The variety of fruits and vegetables is great quality and prices are typically a fraction of what you'd pay back home. In addition, because of the climate, fresh produce is available year-round. This reduces or eliminates the need to buy frozen or canned foods. Fruits and vegetables in Ecuador are almost all locally produced. And when you buy from the local market, you're supporting local people and families in your community.
Where to Find Organic Food in Ecuador
While not all the produce in the market is grown organically, it's easy to find it if you ask around. There are many small farms where food is grown without pesticides or chemical fertilizers. Often there is a specific time and place where organic produce is available either at the market or directly from the grower at the farm. Getting to know the vendor, or better yet the grower, is the key to understanding where your food comes from and how it's grown.
The quantity and quality of fruits available in Ecuador is simply amazing. The variety of bananas alone will astound you, with each variety offering a unique look and taste. You'll also find a wide variety of familiar fruits like mangos, avocados, pineapples, oranges, various types of grapes, and papayas. And it's likely that you'll encounter some fruits that you've never seen before—and some of them offer extraordinary health benefits.
As with fruits, the variety and quality of vegetables is also good. The familiar ones like broccoli, cauliflower, carrots, tomatoes, onions, and cabbage are all available year-round. But you'll probably come across some new ones too. Zapallo, for example, is a squash-like vegetable most often used to prepare tasty soups and stews. Its flesh is similar in appearance to a butternut squash and holds high levels of calcium, phosphorus and vitamins F and B1.
A wide variety of lettuces can be found all year, allowing for delicious salads. Organically produced leaf lettuces can also be a huge nutritional boost to your body. Fresh herbs and leafy greens such as basil and spinach are also widely available and pack big flavor and a big nutritional punch.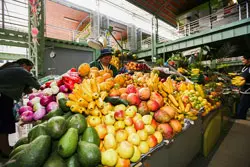 Because of the astounding variety and availability of fruits and vegetables in Ecuador, it is possible and affordable to eat healthy every day. In addition, restaurants typically prepare meals using fresh ingredients instead of the processed foods you'll find in much of North America.
You'll have fun experimenting with some of the new produce you'll find too. Adding more fresh fruits and veggies to your diet is sure to boost your immune system and benefit your overall health. Plus, it's downright easy to do in Ecuador. It's no wonder that so many expats have found an improvement in their health after spending just a little time in this country.
Food For What Ails You in Ecuador
The idea of treating medical ailments with food is picking up steam in the U.S., but in Ecuador this idea has been common sense for centuries. Find your favorite vendor at the market and they'll act as a food pharmacist, prescribing various remedies for what ails you.
For example, soursop is a tasty fruit that also contains many beneficial nutrients and antioxidants. The white pulp found inside the prickly green skin can be blended with water and other fruits to prepare a tasty juice. Locals recommend this as a remedy for stomach ailments, respiratory issues, and fever reduction.
The pitahaya, or dragon fruit, is another example of a juicy and delicious fruit with a variety of nutrients and health benefits. Dragon fruits are high in antioxidants, which help to rid the body of carcinogenic free-radicals and so they are often used as a cancer preventative. You'll find that Ecuadoreans use it as a natural means of lowering cholesterol as well.
And chamomile is used to treat a host of issues. For muscle pain, boil it in hot water and then soak the afflicted area in the water. It is also used in tea form to treat abdominal cramps and bloating, sore throats, and insomnia.
Free Ecuador Report:
Learn more about Ecuador and other countries in our daily postcard e-letter.
Simply enter your email address below and we'll send you a FREE REPORT – Ecuador: Live Like Royalty on Your Social Security.
This special guide covers real estate, retirement and more in Ecuador and is yours free when you sign up for our postcards below.
Get Your Free Report Here