"I go into my kitchen and look out over my pool to the ocean. I can see all the way to the mountains in neighboring Costa Rica. On my terrace are beautiful potted plants including orchids hanging from coconut trees. I feel blessed," says Lawrence.
Lawrence and Jeanne were living a high-powered life in the Big Apple, working and raising three children. Lawrence wrote songs and music for commercials and film and Jeanne was president and executive producer/creative director of a successful music advertising business. But after 45 years of too much stress and the fast and manic style of life in the rat race, they wanted out.
They wanted a place that was warm and sunny year-round, somewhere they could live by the sea. Having traveled all over the world searching for that special spot, they finally decided on Nicaragua.
"The people here are friendly and the country is beautiful," says Lawrence, and Jeanne agrees: "I felt that I had stepped back in time." Neighbors sit on their front porches and say hello to people who pass by.
But what really sold them on Nicaragua was the long beach at Playa el Coco and a house overlooking the ocean. The beach, situated about 15 miles south of San Juan del Sur on Nicaragua's Pacific Coast, provided a perfect sanctuary for the couple. They purchased their dream home, a beautiful, white stucco, Spanish colonial-style, furnished home for $200,000. The pool terrace, which is about the same size as their 1,800-square-foot house, is where they spend most of their time.
The house is spectacular and would cost about 10 times the price on the Pacific coast of California. Their cost of living is also much lower than it was in New York.
Groceries, for example, are less than half the price they were paying up north. In New York, you cannot go into the supermarket and come out spending less than $60 for a few items but in Nicaragua $60 will buy food for a week for two. The couple's cable TV and WiFi bills are also a lot less.
Near their home, there's a great restaurant and a small grocery store and for the things they can't get, they just take a quick drive into the beach town of San Juan del Sur.
Retired people sometimes worry about what they'll do to keep busy but this is not a problem for Lawrence and Jeanne. "We write music, garden, swim in our pool, bake, and do charity projects. Right now our family is trying to get a potable water system installed in a remote village," says Lawrence.
Jeanne adds, "I started painting about five years ago and have shown in New York and here in San Juan del Sur. I do yoga, read, swim in the pool and ocean, a bit of gardening and spend hours on my laptop keeping in touch with our daughters, family, and friends on Facebook and email. It never gets boring."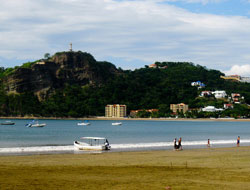 "The expat community is diverse and we find everyone extremely hospitable," says Jeanne.
"The social life can be as active or inactive as you want. Ours is quite active. Most of our friends are expats who have started businesses and/or are doing volunteer work," says Lawrence.
"We have people come to our house for barbecues and other social gatherings. In San Juan del Sur, we visit Bambu Beach restaurant and go to wine tastings sponsored by the Rotary Club. El Timon is our choice for great Nicaraguan seafood, La Vecchia Senora or Mauricio's for pizza, and sometimes the Gringo Market at Big Wave Dave's on Saturday (this is a market we get products that are hard to get elsewhere like kale, brownies, special teas, and pork ribs). We never run out of things to do."
Lawrence and Jeanne advise newcomers to rent a place near where they think they want to settle, stay for a while, and see how it works for them.
Jeanne says, "I never fail to be amazed that I am looking at this expansive view of the ocean from our pool terrace, sparkling in the sun and surrounded by nature in the nature reserve behind our house. It is so unusual in the world today to find nature left so untouched…especially this close to the sea. We are so lucky to have found this special place in Nicaragua."
Get Your Free Nicaragua Report Here:
Learn more about Nicaragua and other countries in our daily postcard e-letter. Simply enter your email address below and we'll send you a FREE REPORT –  Start a New Life on the Beach in Nicaragua.
This special guide covers real estate, retirement and more in Nicaragua and is yours free when you sign up for our IL postcards below.
Get Your Free Report Here