Who doesn't love the chance to view exotic birds and mammals in the wild? Many people pay thousands of dollars for the opportunity to do just that with African Safaris or treks through Asian jungles. But here in Ecuador, where I've lived for four years, sightings of exceptional animals are commonplace.
With Ecuador holding four main geographical regions (the Andes Mountains, the Amazon Basin, the Pacific Coast, and the Galapagos Islands) along with dozens of microclimates and pockets of unique ecosystems, the animal viewing can be spectacular.
In the highland areas you'll find cooler temperatures so there are not too many reptiles or wild mammals, but there are plenty of birds. Here, the Andean condor is one of the most sought after sights. With its habitat in the high paramo, it makes a spectacular vision as it soars above the highest peaks with its 10-foot wingspan. There are plenty of other birds in the region as well including iridescent emerald hummingbirds and American kestrels always on the prowl for mice.
As you drop in elevation the temperatures rise, the vegetation thickens, and the wildlife becomes more diverse. In the town of Mindo, just 90-minutes outside of Quito, people come from around the globe in hopes of spotting an Andean cock-of-the-rock, one of the various toucans, and two-tailed hummingbirds with hooked beaks.
Down on the coast all you'll need to do is head to Guayaquil to hang with enormous iguanas. In Parque de Simon Bolivar visitors feed these hefty creatures that look as though they've escaped the set of Jurassic Park.
Of course right in the ocean is where you'll find a lot of wildlife. In the months of June through September, humpback whales make their way to the waters off Ecuador's shoreline for breeding season. Tour boats will take you right out near these aquatic giants, though you can often get a good view right from shore.
Or you can do a bit of snorkeling off Isla de la Plata near Puerto Lopez for a chance to spot massive manta rays, sea turtles, and parrotfish.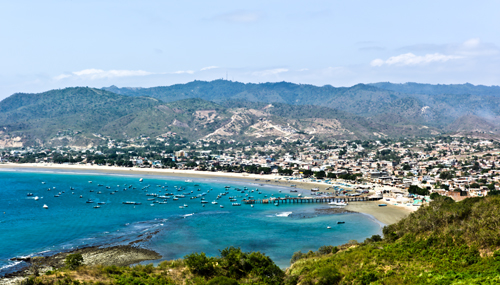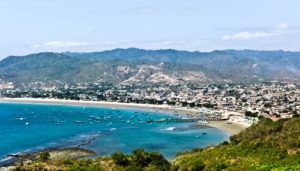 The Amazon is a nature-lover's paradise, but you don't need to head deep into the jungle to commune with the native fauna. Just a three-hour drive from Quito and you can be at the edge of the Amazon basin. This is home to deep-voiced howler monkeys, long-billed and mischievous toucans, compact disc-sized blue morpho butterflies, and so much more.
You can pay to take tours through the forest where your guide can point out animals that you might easily miss on your own. But even in public places, like Parque Amazonico in the town of Tena, you can spot quite a few of these animals by yourself.
The Galapagos of course are known for their wildlife. The curious blue-footed boobies. The centenarian tortoises. The Galapagos sea lions. And you can dive with sharks if you're into extreme wildlife encounters.
But the wonderful thing about Ecuador is that you don't need to go looking for wildlife, it's all around. Playful hummingbirds visit my garden every day. Gorgeous yellow and black butterflies land on my son's face. Frigate birds play above the ocean waves.
And sometimes you'll even find some of the most adorable animals in a place you wouldn't expect. Like the little sloth who lost his way in the province of Los Rios. He was found clinging to a guardrail post in a highway median by Ecuadorian Transit Authority officers. No one is able to resist the smiling helpless look of a fuzzy little sloth. And so the officers scooped him and took him to a local veterinarian. Once he was confirmed in good health he was released back into the wild.
Who knows? Perhaps you'll catch a glimpse of him the next time you're in Ecuador.
Get Your Free Ecuador Report Here
Learn more about Ecuador and other countries in our daily postcard e-letter.
Simply enter your email address below and we'll send you a FREE REPORT – Ecuador: Live Like Royalty on Your Social Security.
This special guide covers real estate, retirement and more in Ecuador and is yours free when you sign up for our postcards below.
Get Your Free Report Here