Each time I visit Quito, I get to explore new and interesting areas, hear of fabulous events taking place, and meet more wonderful people.
Among Quito's 2-million-plus populace is a large community of international folks enjoying the affordable life and big-city buzz. You'll find them pretty spread out, as there are neighborhoods and lifestyles to suit most tastes. But they're all making the most of what Quito offers…which is a lot.
Here's some of my favorite things to do…
Parks:
Ecuador's capital is a large city that has immense amounts of green space. In the last decade there's been much improvement and expansion of the city's park system. Every neighborhood has a nearby park and they all cater to different activities.
My favorite is Parque La Carolina. Within this 165-acre park you'll find miles of jogging trails, a pond with paddle boats, the Quito Botanical Gardens, and even a Vivarium full of native-Ecuadorian snakes. It's also bordered by large shopping malls, professional office buildings, and the city's large sports stadium—Estadio Olimpico Atahualpa.
On a hillside at the edge of town sits another park that I love, Parque Metropolitano. Bigger than New York City's Central Park, it's different from La Carolina in that it has more of a natural feel. While there are clearings for sports and camping, much of the park is wooded with trails for walking or biking. It's the perfect place to relax, take in the city views from its high perch, or admire the llamas grazing nearby.
Restaurants: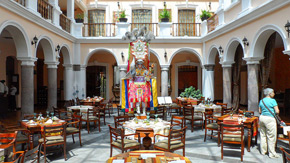 With so many restaurant choices in Quito, it can be difficult to pick my favorites, but there are a few that get my mouth watering whenever I'm in town.
My go-to spot is El Arabe, an Arabic eatery located in the Mariscal District. My favorite lunch is one that I often split with my son. We order a large salad loaded with goodies such as goat cheese and olives accompanied with a bowl of smoky baba ghanoush and pittas. It's delicious, satisfying, and costs less than $6 apiece. I could never beat this price and quality back in the U.S.
For dessert I always head straight to Cyril's, a bakery that sells decadent gourmet chocolates. When I stopped in at Easter they had two-foot-tall chocolate eggs with intricate artwork carved into them. At $300 an egg I decided to pass, but I happily paid the $5 for a softball-sized fish made out of dark chocolate.
Sightseeing:
Quito is full of beautiful artwork and old buildings that are always a pleasure to gaze upon. But for a couple of days packed full of historical sights, there is only one place to go: Old Town. This section of the city is an UNESCO World Heritage Site and is wonderfully preserved. From the Basilica del Voto Nacional with its native animal inspired gargoyles to the expansive gold leaf usage in the Iglesia de la Compañia de Jesus, your eyes and camera will get a real workout.
Get Your Free Ecuador Report Here:
Learn more about Ecuador and other countries in our daily postcard e-letter.
Simply enter your email address below and we'll send you a FREE REPORT – Ecuador: Live Like Royalty on Your Social Security.
This special guide covers real estate, retirement and more in Ecuador and is yours free when you sign up for our postcards below.
Get Your Free Report Here