From the moment my husband Tyler and I landed in Quito with our two kids, two-and-a-half years ago for his assignment at the U.S. Embassy, I knew the city was one of the most beautiful I'd ever seen. We'd lived in the U.S. and other countries around the world but we immediately fell in love with Quito. We've always enjoyed the places we've lived in but I haven't adored a city in the way I adore Quito since I lived in my hometown of Chicago.
Situated at 9,300 feet in the Andes and surrounded by snow-capped volcanoes, it is impossible to look up and not be stunned by the natural beauty. The architecture in Quito's Centro Histórico, or historic center, is breathtaking and not surprisingly was the first UNESCO World Heritage Site in the world. Walking through its streets, it's easy to forget for a moment what century you're in.
Along with being a beautiful city to visit, Quito is also a great place to live. It's situated about 20 miles south of the equator but because it's so high up in the mountains, the weather is between 65 F and 80 F all year round. Nights can drop to around 50 F.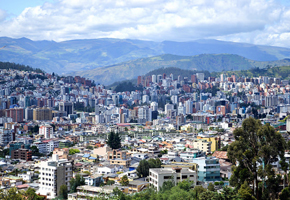 Because of this dream climate, I take every opportunity to get outside. I see mountain bikers out every weekend and early weekday mornings and the city actually closes down one of the capital's major thoroughfares to cars every Sunday and only allows bike traffic. Runners abound here (I'm one of them) and training at altitude has shaved a minute off my mile-pace when I'm back at sea level.
Good thing I'm doing all that running because Quito has a lot of great food choices. While you can find a high-end, pricey restaurant if you want to, there are certainly many affordable options where you can sample traditional fresh Ecuadorian foods like locro (thick potato soup served with fresh cheese and avocado), fritada (deliciously prepared fried pork), and ceviche for less than $10 for your entire meal. And I like to order a canelazo—a warm cocktail made with naranjilla juice, sugar cane alcohol, and cinnamon—when out on a cool Quito evening.
When I go out to eat with my kids, it's a much more pleasant experience than I was used to in the States. Many restaurants have outdoor wooden playgrounds, making dining out with kids a leisurely, relaxing experience for us as parents instead of a rushed 30-minute race.
Although Quito is a cosmopolitan city, the cost of living here is very affordable. Utilities are a bit cheaper than the U.S. with natural gas being especially inexpensive at just $3.50 per tank. Electricity and home phone lines run slightly cheaper than the U.S. and our cell phone plans (unlimited data, talk, and text) cost about $75 a month. We pay about $400 per month plus benefits for a nanny who takes wonderful care of our children and cooks and cleans for our family while they are at school.
Quito is also a city that offers more than just urban living options. While you can find an amazing apartment within walking distance of shops and restaurants and a panoramic view, there are many homes with yards within the city limits. If you're looking for somewhere quieter and away from the city, just 20 minutes outside of Quito you'll find plenty of options. Depending on the neighborhood, a family can rent a nice home for anywhere between $1,000 and $3,000 per month…so there's something for every budget.
All of these things combined with in-home massages that cost $35, excellent doctors that give you their cell phone numbers and charge only $40 for a consult (and, no, that's not the co-pay), and U.S.-accredited hospitals, we feel very well taken care of in Quito.
Get Your Free Ecuador Report Here:
Learn more about Ecuador and other countries in our daily postcard e-letter.
Simply enter your email address below and we'll send you a FREE REPORT – Ecuador: Live Like Royalty on Your Social Security.
This special guide covers real estate, retirement and more in Ecuador and is yours free when you sign up for our postcards below.
Get Your Free Report Here