I saw a news headline the other day claiming that most U.S. citizens believe that the American Dream is dead. It's not a surprise really. The fading American Dream is one of the reasons that my family and I left our home in Idaho in 2011.
Our thoughts of having our own little business were quickly squashed when we considered the amount of money we would need to invest in insurance, accountants, legal advice, and the many permits required. We saw neighbors who had owned their land for generations being forced to sell due to astronomical property taxes. And friends who owned an organic farm were required to jump through numerous hoops to simply grow natural food. It wasn't quite what life in the U.S. was supposed to be, we thought.
And so we packed our bags, loaded our kids onto an airplane, and began anew in Ecuador. What we found here—beyond the spring-like weather, friendly people, and fascinating culture—was a place where we could invest in our dreams.
For our first year here we owned and operated an American-style restaurant in the town of Cotacachi. It was a lot of work, but it provided us with a steady income and we were able to spend our days meeting new people, chatting with old friends, and hosting live music gigs on Friday nights.
We're nomads at heart though and we missed travel and exploration. So we sold our little restaurant and started over again. Because of Ecuador's low cost of living (basic needs for our family of four come in at under $1,000 per month), David and I were both able to work part-time with him giving Spanish lessons to expats and me working as a freelance writer. We had sufficient funds and time to maintain our lifestyle and still travel to places like Panama, the Caribbean, and Colombia. Our need for adventure was once again fulfilled.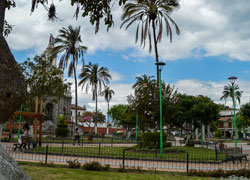 Our four years in Ecuador have been wonderfully satisfying. We've traveled through the Amazon jungle, explored the Pacific Coast, made friends from around the world, had the freedom to homeschool our children, and earn a living through our skills and talents.
Today, we own a 75-acre farm in a surreal cloud forest valley. A clean cool river runs along the pasture where our five horses graze and baby avocado trees are thriving in the rich black soil. Next spring we'll have honeybees and ducks. David happily spends his days working on the land and my sons are gaining an education in agriculture and horsemanship.
Never in the U.S. would we have had these opportunities. The expenses involved in owning quality farmland and livestock back home would have priced us out. And the rules, regulations, and red tape involved in being self-employed would have been overwhelming.
But with a bit of tenacity, perseverance, and spirit of adventure, David and I have been able to reclaim the American Dream. We may not have found it where we expected, but we're living it here in Ecuador, and wouldn't have it any other way.
Get Your Free Ecuador Report
Learn more about Ecuador and other countries in our daily postcard e-letter.
Simply enter your email address below and we'll send you a FREE REPORT – Ecuador: Live Like Royalty on Your Social Security.
This special guide covers real estate, retirement and more in Ecuador and is yours free when you sign up for our postcards below.
Get Your Free Report Here