Small, frothy waves slowly recede from the light tan sand, while the colorful parachutes of kiteboards fly overhead. A man in a cowboy hat walks his horse along the strand, hoping someone will ask for a ride. I'm sitting in a beach café, drinking fresh coconut water right from the shell for just $2 and taking it all in.
A day at this beach in Hua Hin, can be as adventurous as you'd like it to be. The shallow green waters, and just the perfect amount of wind, make it one of Thailand's top locations for kiteboarding. There are a few kiteboarding schools ready at a moment's notice to get your adrenaline pumping; but if lounging is more your style, the broad, three-mile-long beach is perfect for that, too.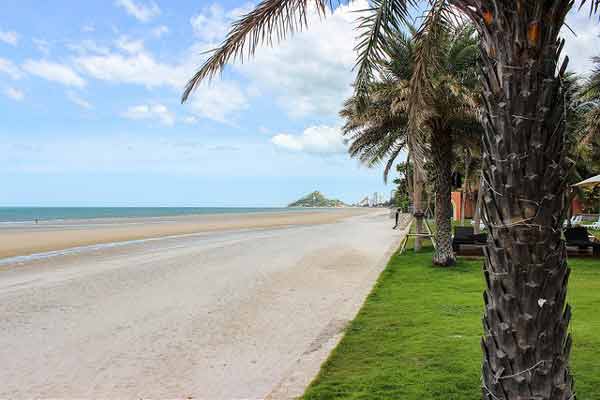 Beyond the beach is a lively city just waiting to be explored. Expats from all over the world live here. Many are Scandinavian, French, and Swiss, which gives the city a European flair, not to mention fantastic international food. You can choose from hundreds of restaurants at all price points. Hua Hin is home to about 85,000 people, so it's big enough to have all the modern conveniences a retiree needs, while still being laidback enough to retain its beach vibe.
Hua Hin is a golfer's paradise, with seven courses nearby and year-round temperatures that average between 79 F and 86 F. This means you can play whenever and as often as you like.
Canadian expat Michael Brown, who loves to golf, enjoys having the help of a friendly local caddy. He says, "They know the course really well. It is almost like having a private coach. They get to know my swing and tell me to shoot for the coconut tree. If I can get close to it, I'll be close to the green."
Michael moved here a few years ago and only spends around $600 a month, excluding his mortgage. But that does include all his food and drinks, one massage a week, one round of golf a week, health insurance, electricity, phone, pay TV, and internet.
And if you don't want to buy, rentals in this tropical haven run the gamut.
You can rent a one-bedroom apartment, five minutes from the beach, for as little as $430 a month, leaving you plenty left over for extras like a maid—only $9 for a half-day—and a massage for $8.30. Fast home internet is around $15 a month, and a cellphone plan with 4G is only $8, so the essentials in life are pretty cheap. Even a haircut with a shave is only $3.40.
A fully furnished, four-bedroom villa—with a pool—in a gated community, only 10 minutes away from the city center, can be found for $985 a month. And a simply furnished, three-bedroom townhouse in an expat area, with a shared pool, can be rented for $624 a month.
If you want to live on a golf course with all its lavish amenities—pool, restaurants, tennis courts, a fitness center—and don't mind living about 25 minutes away from town, you can find a furnished, three-bedroom apartment for $1,000 a month.
Get Your Free Thailand Report Here:
Learn more about Thailand and other countries in our daily postcard e-letter.
Simply enter your email address below to sign up for IL's free daily postcards and we'll also send you a Free Thailand Report – Thailand: Live Like Royalty in the Land of
Smiles.
Get Your Free Report Here
Related Articles
If your interested in Hua Hin, click here to find out more.
The 5 Best Places for Expats to live in Thailand