According to the old adage, "the third time is the charm," and that is exactly how many tries it took Priscilla Montgomery to find her perfect home.
The seventy-six-year-old expat has enjoyed life in Portugal for five years now with no plans to leave. But it's not where her expat story began.
Originally from Corpus Christi, Texas, Priscilla moved to Dallas after high school and landed a clerical position with a national defense company. She spent thirteen years in the corporate world, and a further year pursuing her passion for interior design and staging before she came down with a bad case of wanderlust.
Priscilla did not take a direct route to her Portuguese paradise. She spent a year in both the picturesque town of Atenas, Costa Rica before test-driving retirement in San Pedro, on the popular Caribbean island of Ambergris Caye, Belize.  Both of these popular expat havens had an appeal but they weren't the right fit for her retirement dream. It wasn't until she visited her youngest son in Europe that she started to consider Portugal as a retirement destination.
"My youngest son Dwayne lives and works in Amsterdam," Priscilla said. "One day while I was visiting with him, he asked if I had ever considered moving to Europe. We spoke about Amsterdam and I decided that, although I love visiting, it's too cold for me to live there. I need warm weather and sunshine.
"I thought living in Spain might be nice since I already spoke Spanish but then my son suggested I check out Portugal. I had never been there before but from my very first trip, I fell in love."
Her need for warm temperatures led her to Portugal's Algarve area, a narrow strip of land between the Atlantic Ocean and Spain. At first, she rented a furnished apartment in the city of Portimão, a sizeable port city known for its sardine cannery, marina, and beaches. Then while exploring the area with her son, they stumbled across the resort town of Vilamoura.
Sophisticated, pristine, and lively, Vilamoura is situated in the central Algarve, just a twenty-minute drive from Faro International Airport. Known for its large marina complex that can birth up to 1000 vessels, its surrounding restaurants fill with summer tourists but offer a pleasant tranquil vibe the rest of the year. Golf enthusiasts have six world-class courses to choose from while horse lovers delight at the equestrian center. Walking trails draped with flowers and greenery are a perk to keeping fit for those that call Vilamoura home. Stunning Falésia beach is crowned with terra cotta cliffs topped off with hiking trails that overlook the fluffy white sand and clear blue waters.
"I instantly fell in love with Vilamoura," Priscilla exclaimed with a smile. "The views overlooking the marina are just gorgeous and I wanted to wake up to that view every day."
Priscilla found a spacious, one-bedroom, two-bathroom apartment with a large terrace overlooking the marina. The complex features a large swimming pool, garden, underground parking space, and storage facility and is within walking distance of everything.
"My rent is €1200 per month ($1,300) which I think is a real bargain," she added. "I love the view of the marina, can easily walk to buy groceries, see a doctor or dentist at the nearby clinic, eat at a variety of restaurants or visit friends. When I need to go further, I simply order an Uber since I am living without a car and see no need for one."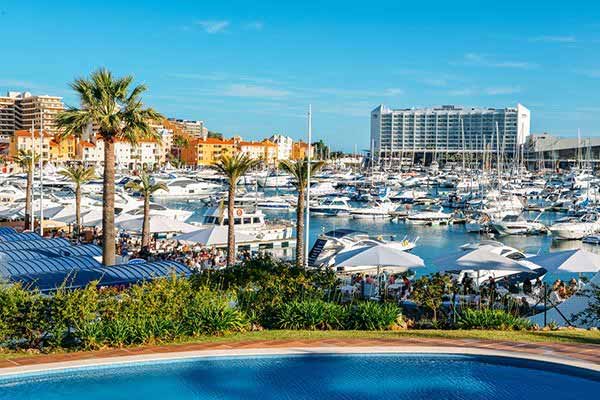 Portugal is the fourth safest country in the world according to the Global Peace Index and Priscilla can attest to this.
"I feel so safe here and never worry about walking alone at night around town or even on the beaches.
"The Portuguese people are so kind, warm, and wonderful. I love the laid-back lifestyle, being able to sip a drink at a local café and chat with friends for hours. And the weather in the Algarve is just perfect. Hot dry summers, only a few months of rain and cold weather, and plenty of year-round sunshine. It is exactly what I wanted and needed, and I found it all in Portugal."
Get Your Free Portugal Report Here:
Romance, culture and adventure awaits in Portugal. Learn more about Portugal and other European countries in our daily postcard e-letter. Simply enter your email address below and we'll send you a FREE REPORT - Explore the Old World in Laidback Portugal.
This special guide covers real estate, retirement and more in Portugal and is yours free when you sign up for our IL postcards below.
Related Articles
The Best Places to Live in Portugal From $1,600 a Month
Portugal Itinerary: How to Spend 7 Days in Portugal
Is Portugal a Safe Place to Live?
Upcoming Conferences
Live Better, Spend Less, Retire Sooner
IL's Retire Overseas Bootcamp
October 21-23, 2022 in Atlanta, GA

In safe, warm, welcoming communities abroad, as little as $1,700 a month can bankroll a good life... this fall, our experts will show you where—and how.
Early Bird DISCOUNT—Save $100 When You Register by Sep. 29
Details Here IL's Retire Overseas Bootcamp
---
Registration Now Open for the Best of Europe Private Screening

In the Right Spots in Europe, You Can Retire in Style—in an Historic, Sun-Drenched Locale—for as Little as $2,300 a Month or Less—Especially Now With the Dollar and Euro at Parity for the First Time in Two Decades.
And We'll Show You How, October 1-2, During the Special All-Online Best of Europe Private Screening.
---
The Income Revolution Forum
What if You Had the Freedom to Enjoy the Good Life Anywhere in the World You Wanted to Be...and Get Paid While You're There?
We'll show you how—with hands-on guidance—you could beat inflation...secure your retirement...ditch your commute...and turn a skill you already have into a portable side income of $300, $600, even $3,000 or more a month.
Popular Articles You May Also Like