My husband Dan Prescher and I were in the States for the Christmas holidays last year—the most frenetic and stressful time to visit. There's so much pressure, so much to do, so much to spend money on…and it's icy cold!
Temperatures for a few days running while we were visiting in Omaha hovered at about 5 degrees Fahrenheit. I hate to admit this, but there were a few days when I couldn't bring myself to leave the house. I'm no longer used to (or very tolerant of) those kinds of bone-chilling, life-threatening temperatures. And that's not to mention that the sun depressingly slips away at 4:30 p.m. on a winter afternoon.
Our time in the States, though, offered a good opportunity to reflect on the differences between life there and where we currently live, in the Andes Mountains of northern Ecuador.
The weather, of course is one of the biggest differences. While there are four seasons in Omaha (beastly hot, beastly cold, wet/chilly, and football…) in Ecuador, there are but two: wet and dry. We're in the midst of our rainy (or wet) season now, but we've still to see much rain. It is 72 F as I write this and brilliantly sunny.
Give or take a few degrees, that's pretty much our everyday temperature here in Cotacachi, Ecuador. (Nighttime temps average about 50 F…perfect for sleeping.) Because we are on the equator, the climate is much the same day in and day out.
Even when it does rain, that happens typically in the late afternoon or evening. A bonus is a like-clockwork 12 hours of daylight and 12 hours of night every day of the year.
The cost of things in the States was a shock to us, too. The electric bill to heat the small condo where we stayed averages $175 a month. Compare that to our electric bill in Ecuador, which averages $20 a month. Thanks again to our temperate climate, we need neither heat nor air conditioning here. Gas for our hot water and cooking costs less than $5 a month. And our annual property taxes this year: $56. Try that in the States.
At our local open-air mercado, we can stock up on veggies pulled from the ground by a local farmer that morning and we rarely pay more than $10 for enough to last us a week or more. At the supermarket in Omaha we frequented last December, $10 might buy you a small bag of pre-washed lettuce and a handful of tomatoes picked long before their time and shipped in from who knows where…
In Ecuador, though, we find ourselves cooking less and less. While we were away, three new restaurants opened where we can get almuerzo (the mid-day meal) for $2.50 to $4 each. The menu del dia (fixed menu of the day) is typically fresh juice, a delicious soup, and a plate heaped with meat, rice, potatoes, and salad, followed by a dessert of fresh fruit or ice cream. And there is always a bowl of popcorn or corn nuts to start you off. We really can't cook at home for those prices.
Of course, there are some drawbacks (at least for some) to living in Ecuador and one is that it's difficult here to get some of those convenience-food items you can get in the States…you know, the stuff that comes in bags, boxes, and cans and is available in 22 different variations and12 different brands.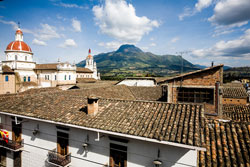 When you do find these on the shelves here, they cost more, thanks to import duties. The idea of not being able to get their favorite peanut butter or a can of Ro-Tel tomatoes can drive some people crazy. But it doesn't much bother us. We've come to prefer the fresh offerings and the local brands.
We not only eat healthier in Ecuador, but we have a far healthier lifestyle overall. We don't own a car here. Taxis and public transportation are affordable, but we rarely use these. Again, that's thanks to the lovely climate. We walk about our errands in the sunshine (and even, on occasion, in the rain) and couldn't be happier…or fitter. That's not to mention that the lack of a car, insurance, maintenance, and so on is also another money saver.
Another thing I love about living in Ecuador is that we can afford little luxuries, such as hiring a woman to clean our apartment. She comes once a week for two hours and we pay her $10 in total, or $5 an hour. In Omaha, the going rate is $30 an hour. (And should I mention the $90 birthday-treat massage I had in Omaha wasn't half as nice as the fabulous hour-long massage I get here for just $30?)
So yes, it was reverse culture shock to be back in the States over the holidays. But it was great to catch up with family and friends and especially to celebrate our only granddaughter's first birthday. (Those in-person visits are precious to us although we keep up with her from Ecuador through frequent Skype video sessions.)
It's probably no surprise that we were thankful to walk in the door to our Home Sweet Ecuador Home. Our "normal" now is an unhurried, laidback lifestyle…with fabulous weather, healthy food, and a low cost of living that affords us lots of little luxuries… And that's just the way we like it.
Get Your Free Ecuador Report Here:
Learn more about Ecuador and other countries in our daily postcard e-letter.
Simply enter your email address below and we'll send you a FREE REPORT – Ecuador: Live Like Royalty on Your Social Security.
This special guide covers real estate, retirement and more in Ecuador and is yours free when you sign up for our postcards below.
Get Your Free Report Here