Wondering what's so good about Uruguay…?
For a start, it's a beautiful country with a small population (3.5 million). Its interior looks like an Iowa prairie…except its warmer, with areas of palm trees and flocks of parrots. Visiting its coastline of sandy beaches and rocky points with lighthouses is like stepping into a picture postcard…
The people of Uruguay are more laidback and tolerant than anywhere I know. And its governance is the most stable in the region.
But that's just the tip of the iceberg. As you get to know Uruguay better, you discover a long list of things to love about the place, including the following seven:
1. A Variety of Lifestyle Options.
Lifestyle choices in Uruguay include city life, beach life, and country life.
For city life, the place to check out is Montevideo, Uruguay's capital. It's home to 40 percent of the country's population. It's known for its tree-lined streets, beautiful parks, and riverfront beaches. Shopping choices in Montevideo range from downtown specialty shops to modern shopping malls.
For going out, you have more than 1,000 restaurants, cafés, and nightspots to choose from. For symphony music, choral groups, or an impressive ballet production, check the performance schedules at the Solís Theater and the Adela Reta National Auditorium.
For beach life, you can explore a variety of unique coastal towns to see what you like best. At one end of the spectrum, you find low-key villages with less than 1,000 full-time residents. At the other end, you find Punta del Este—a beach city with sparkling condo towers, six universities, and the highest service standards in the country.
When you live in a Uruguayan beach town, the year follows a seasonal rhythm. In the summer, the population surges with the arrival of summertime residents and vacationers. In the fall, when it gets cool, the full-timers get it back to themselves.
Popular water sports in Uruguay include beach fishing, stand-up paddle boarding, and kite surfing.
For a country life, you can find small hobby farms and country estates in the rural outskirts of most cities. If you're seeking a serious investment, you'll find large ranches and farms in Uruguay's interior.
2. Strong Inter-Generational Ties and Respect for Others.
In Uruguay, it's common for young people to find interactions with older adults genuinely interesting. It's also typical for teenagers to cherish time with their parents and extended family.
Respect and tolerance are also common attributes. For example, Uruguayans are known to be passionate about politics. But, when a political discussion is over, everyone is still friends.
3. Well-Developed Infrastructure.
In Uruguay, there's reliable power, water, and garbage services, (in Montevideo, the garbage is collected every night) as well as modern sewage treatment plants.
As far as online connectivity, Uruguay provides the highest level of fiber-optic internet penetration in Latin America. And the Uruguayan government provides a free laptop computer to all primary and secondary students in the public school system.
Regarding energy production, 97 percent of Uruguay's energy is created with renewables (hydroelectric, wind, and solar). And in Montevideo, you see a growing number of electric cars, taxis, and buses.
4. Opportunities to Enjoy the Outdoors.
In cities throughout Uruguay there's spacious parks. Many include day use areas with picnic benches and barbecues. And all beaches in Uruguay are public and easily accessible.
In both Montevideo and Punta del Este you'll see ramblas, (waterfront promenades) with benches. It's where locals go to walk, run, ride bikes, and socialize.
Outside of Uruguay's cities, there's a range of large national parks where you can hike, camp, and explore.
5. A Ready Supply of Fresh, Whole Foods.
Uruguay's soil and climate conditions are among the best on the continent for growing a wide range of crops. As a result, Uruguay produces enough food to feed 28 million people (eight times its population).
You can buy local produce at supermarkets, greengrocer shops, and at street markets called ferias. Ferias offer the lowest prices. In Montevideo, ferias set up in every neighborhood. Besides fruits and vegetables, ferias also sell fresh-caught fish, chicken, and artisan cheeses.
6. Affordable Healthcare Plans.
In Uruguay, healthcare options include the nation's public healthcare system (State Health Services Administration, known as ASSE) and U.S.-style health insurance.
However, the most popular healthcare solution among expats is a hospital-based membership plan called a mutualista. There are many mutualistas in Uruguay to choose from.
Once you get accepted as a member, you receive everything from routine check-ups to major surgery from your mutualista's network of hospitals and clinics. The cost is around $50 per month, plus a small copayment when you receive services.
With a mutualista, big deductibles and confusing medical bills are things of the past.
Note: Each mutualista sets its own guidelines for age and pre-existing conditions. With some mutualistas, the cut-off age is 65. So, if you're over 65 I recommend hiring a local residential specialist familiar with a wide range of plans to help identify your best options.
7. An Expat-Friendly Real Estate Market.
To buy real estate in Uruguay, including agricultural land and beach condos, you don't need to be a citizen or even a legal resident. You don't need a local partner, a trust, or a corporation. You don't need any special permissions. And you don't pay any extra fees either.
In short, you can buy and own property in your own name, with all the same rights as a Uruguayan citizen.
Also, most real estate in Uruguay is bought and sold in U.S. dollars. This eliminates the cost of converting purchase proceeds from one currency to another. It also removes the risk of changes between currency values during a transaction.
Related Articles
Uruguay: A Latin American Safe Haven
How to Become a Resident in Uruguay
Upcoming Conferences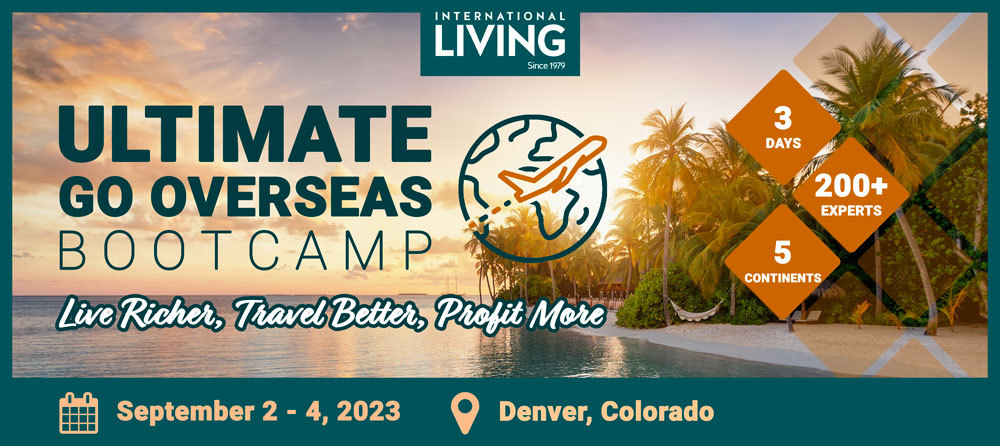 Most Popular Products
Popular Articles You May Also Like