As an airline employee, Brian Yates traveled to many places during his career. It wasn't until he hit retirement age, however, that he considered living abroad. After visiting South America three years ago, he realized Ecuador had everything he was looking for—low cost of living, amazing coastal lifestyle, affordable healthcare, political stability, and an amazing sense of community.
Brian chose to live in the small city of Manta, on the Ecuadorian coast, which has hot weather all year round (averaging 85 F during the warm season and 80 F during the cold season), and offers an amazing coastal lifestyle at a low cost.
Manta has 12 beaches, each of which has a unique function. For example, there's Santa Marianita, popular with expats and one of the best kite surfing locations in South America. San Mateo is famous for its amazing surf break. And Murcielago, the beach in Manta city, has something for everyone—shopping, amazing restaurants, and a calm ocean to swim in. "My favorite beach is Murcielago," Brian says, "because it's easy to get to, clean, and full of friendly people."
Like everywhere in Ecuador, Manta has a low cost of living, but what makes this place so appealing is its relaxed lifestyle. For Brian, a typical week can involve surfing lessons, Spanish classes, and eating out with friends. Every Thursday night, dubbed "gringo night" by the expats, the large expat community get together and have dinner or check out the latest bar.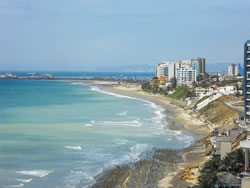 "What makes Ecuador so special is the people. Ecuadorians live in the moment, and are relaxed and peaceful. They lead unmaterialistic lives, and yet seem so happy. I decided I wanted that as well,'' says Brian. For $210 a month, Brian rents a small, furnished apartment (with a pool) in a gated community, a five-minute drive from Murcielago beach. He pays an average of $8 a month for water and electricity, $30 a month for internet, and $425 a month for food and groceries (which includes eating out at least once a day).
As Manta is such a small city, Brian chose not to buy a car. Instead, he walks when possible, takes a bus (for 30 cents to $1 a ride) or taxis (the standard fare is $10 an hour), or takes a camionetta (for $1.05 per trip). A camionetta is a small shuttle service run by locals between Manta city and the beaches.
Like most expats, Brian chose not to take out health insurance, as access to healthcare in Ecuador is affordable and accessible. While you need to be a permanent resident to obtain the full healthcare benefits, emergency hospital visits are free for everyone, including tourists. "A visit to a dermatologist cost me $42. A visit to the dentist cost me $30. Medicines can cost anywhere from $10 to $104."
Brian considers the healthcare system to be amazing. "You get the impression that the nurses here really care about you. You're not just a number to them. That alone makes you feel better about receiving any kind of treatment."
Brian's advice for future expats? "Always have a smile, and be prepared to say hello, even to strangers. Come with the right attitude, try to understand the local customs, and be humble and friendly."
Related Articles
Everything you Need to Know About Living in Ecuador
---
The Countdown Is On! Discount Ends June 15
Right Now Is the Best Time in History to Start Earning as a Freelancer
If you crave the freedom and flexibility of a side income that allows you to earn when you want and play when you feel like it...we have a solution for you.
"Remote work" is here to stay, and we can show you how to capitalize on this trend and turn what you already know how to do into a side income online that can help fund a retirement that looks the way you want it to. Can you really afford to miss this?
Online Portable Income Masterclass
June 26-27, 2021
---