Back in 2012, fed up with snowy Chicago winters, tired of high prices, sick of the long grind…
Mark and Kirsten Raccuia looked for a solution.
They thought it lay in Costa Rica…
Tropical shores, verdant mountains, and an easy life of "no shirt, no shoes, no problem."
But they needed to be 100% sure. So they did the best thing you can do, they went straight to an IL conference in the Red Rock Resort, Las Vegas to meet all of our experts in one room…
And there they met IL Southeast Asia Correspondent Keith Hockton.
Enchanted by his description of life on the Malaysian island of Penang, they booked tickets and made it their new home. They had a blast, made lots of good friends, had incredible adventures around Southeast Asia, and they spread their wings with new careers as work-from-anywhere folk.
But now they're looking for a base closer to home and family. They have said a bitter-sweet goodbye to Penang and are embarking on their next adventure…
Right now they are sizing up different parts of Mexico to see which might work for them.
So, we asked them to do IL readers a big favor…
Hit the Riviera Maya from their current base in Puerto Vallarta and report on what they find…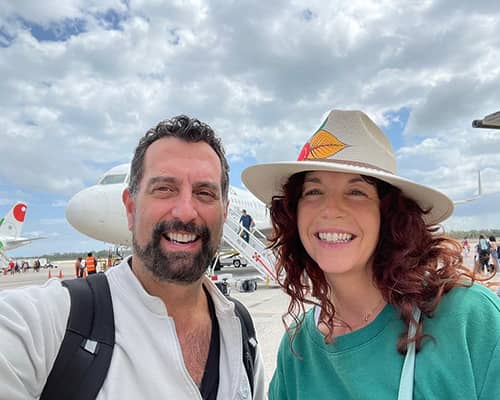 The Riviera Maya stretches from Cancún in the north, down to Tulum about 80 miles (and one hour and 40 minutes' drive) to the south, passing through Playa del Carmen, Akumal, and other beach towns along the way.
And each town has its own unique character. There are the massive all-inclusive resorts of Cancún, all lined up along the beach in the hotel zone. Playa has its chic upmarket beachfront. Akumal is a low-key beach retreat. And bohemian Tulum is known for the party scene and wellness retreats—quite a combination.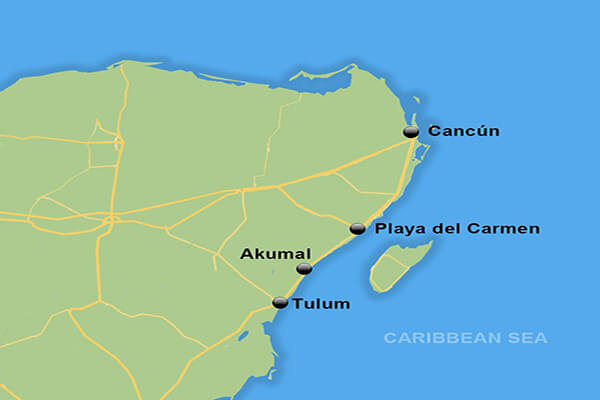 White-sand beaches, turquoise waters, a tropical climate, and the world's second-largest barrier reef system offshore make this a physically beautiful region that offers every sort of water sport imaginable. Throw in the rich Maya culture found inland from the beach, and you have a region that offers something for practically everyone.

So what's not to love about the Riviera Maya? Different places, of course, appeal to different people. You've got to delve deeper when planning to move to a new country. Because no place is perfect. That's why we've sent Mark and Kirsten to give you the lay of the land.
Here's what they have found:
Notes From the Road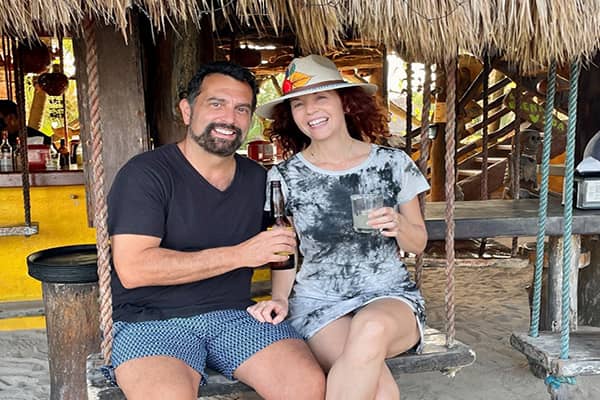 As they sat at the beach club enjoying a refreshing adult beverage, Mark and Kirsten had time to stop and think a bit about their experience—the good and the bad of the Riviera Maya. Read their thoughts below.
Playa Del Carmen is one of those places it's easy to feel at home. It feels foreign and exotic, yet familiar at the same time. Living in a new country can be challenging enough, so having a place where you know you can easily find your creature comforts makes for a soft landing.
In Playa, you can have your Mexican street food for lunch and then wash it down at a fine dining restaurant. You can have the best of both worlds here, which we appreciate after living abroad for so many years.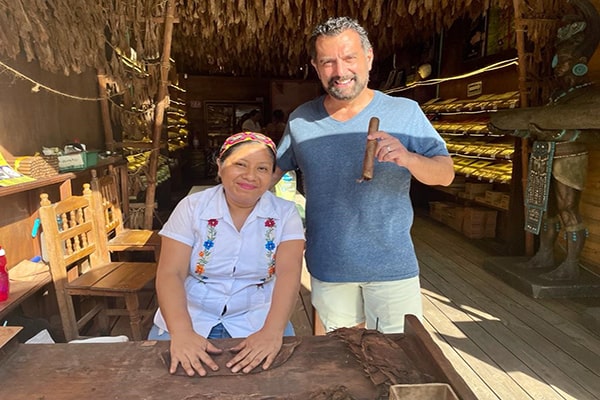 It's really the small things you find that make a place feel more comfortable. Your favorite cheese, or wine, or your favorite store. For Kirsten, it's Sephora. She doesn't go there often, but just knowing it's available brings her a little piece of home in a foreign land.
Do we see ourselves living in Playa? Possibly one day. It's very livable. We'd have to go back and spend more time. Look at apartments and see if we can find something that fits our budget.
Akumal is a sleepy little town, well, actually two towns, Pueblo and Playa, separated by a highway. But even with the two areas combined, there isn't much to do. It's the kind of place where everyone knows your name, and you could really delve deep into Mexican culture and get your Spanish up to snuff.
The beaches are glorious and not too crowded. And you can swim with turtles right off the shore, which is a major bonus, not a reason to move there but something magical at your fingertips. There are two main streets just beyond the beach with a few restaurants and hotels.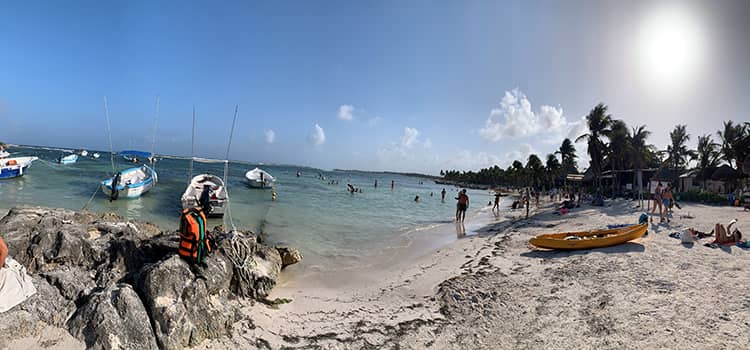 Akumal is too small for us. But it could be ideal for someone who wants to get away from it all, immerse themselves in Mexican culture, and enjoy small-town living.
Tulum is an incredible vacation spot. Want to cleanse your soul? Want to live a healthy lifestyle with daily sunrise yoga and sound bathing and then go out for a top-notch gluten-free, dairy-free, yet somehow still delicious dinner? Tulum is for you.
It feels less authentic than the other two cities on this list. As if it's made just for tourism, but there is still an incredible charm about the place. And we could see why it's so popular with the throngs of visitors and expats alike. There is something about Tulum that pulls you in. Maybe it's all the beauty. The natural beauty. The manufactured beauty. Or the beautiful people. But it's certainly easy on the eyes.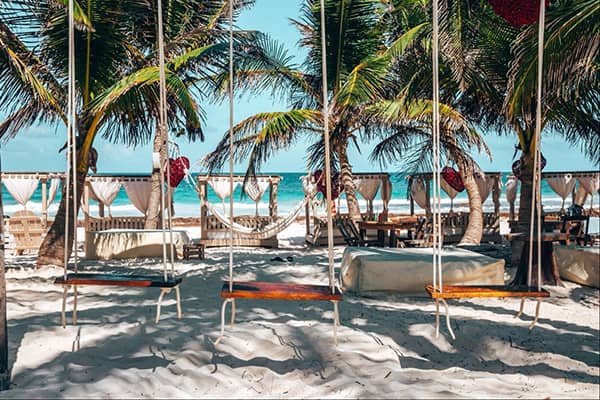 Could we live there? Not so much. It's too expensive, and the traffic can be unbearable. Additionally, the infrastructure hasn't caught up with the volume of people coming through. But I suspect it will be one day, and it'll be unrecognizable. Not in a bad way, just different.
From Vacant Lot to Luxury in Playa
By Ronan McMahon
Siempre Ipana, where Kirsten and Mark were staying in Playa, is a stunning community tucked just off Fifth Avenue and a five-minute stroll to the beach. It's also got incredible resort-style amenities, as Kirsten shows you in the video above.
It's a great example of the kind of luxury communities that are being created in Playa del Carmen. Playa's gone from a tiny village to a booming beach city in just 30 years. Now Playa is one of the world's most desirable beach cities. And a great place to own property, especially in a best-in-class community like Siempre—as members of my Real Estate Trend Alert Group can attest to.
In May 2017, I brought members of my Real Estate Trend Alert the chance to lock down condos at Siempre for $193,800 that are now listing at retail for $314,333. A whopping increase of $120,533.
I was in the Riviera Maya myself a couple of weeks ago, digging into the real estate opportunities there and I stopped by Siempre. You can check out the video I shot from the rooftop, right here:
As you can see, Siempre has come a long way since it was just an empty lot.
To get the chance to act on upcoming deals you just need to become a RETA member. You can sign up here today.
Get Your Free Mexico Report Here:
Learn more about Mexico and other countries in our daily postcard e-letter. Simply enter your email address below and we'll send you a free special report - Why Millions of Americans Are Moving to Mexico.
This special guide covers real estate, retirement and more in Mexico and is yours free when you sign up for our postcards below.
Related Articles
Real Estate & Property Information for the Riviera Maya
Top 10 Reasons to Move to Mexico
The Best Places to Live in Mexico as a U.S. Expat
Popular Articles You May Also Like