From our balcony, aided only by a pair of binoculars, my husband and I sit and watch whales breach, roll, and spout all day long. Before I lived here, I figured that you'd have to hire a boat and go out for miles to see whales—but not here. For some reason—perhaps the famously deep water that makes Manta, Ecuador a major fishing port—the whales come to us. And not only whales. Everything from quaint fishing boats to gigantic cruise ships to old-world "Tall Ships" pass by, providing constant novelty from the comfort of our balcony.
The funny thing is, my husband and I never intended to end up in the coastal city of Manta. Our first three years living in Ecuador, we had a vague view of Manta as that city you flew into on your way to somewhere else—the "stocking-up place" you went to for one-day shopping sprees, before you went back to the "really great" places.
Looking back now, I can't believe that we only ever saw Manta as a convenience stop, a hub, and an airport—but not an expat retirement destination. Because, now that we live there, I can say definitively that we were wrong. In fact, in our four years of living in Ecuador, we have never been so pleasantly surprised as when we set up house in south Manta.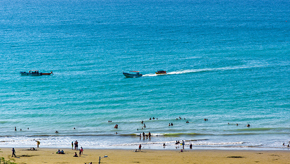 We had been living in a little beach town when we started to hear more and more about what Manta has to offer, so we decided to check it out for ourselves.
As we researched, we discovered that it has all the amenities you could want. High-end, oceanfront condos are springing up everywhere, as well as resort-like developments with well-manicured parks, walking areas, and swimming pools. That's where we're renting now, in one of those oceanfront developments just south of the main city, but only 10 minutes to high-end shopping centers, grocery stores, and clinics/hospitals.
Only 15 minutes inland, charming Montecristi, home of the "Panama" hat (and now, an 18-hole golf course), awaits visitors from around the world.
We get to enjoy a lot of sunshine here. During the year we've lived here, we've had very few cloudy days. Coming from sunny Southern California, Manta's sun makes us feel right at home.
If ever we want a change, Ecuador is the land of "micro-climates." You can take your pick of the weather that suits you in this country. And a 20-minute drive north, south, or east brings you to completely different ecosystems.
Manta unfolds with new surprises each day. When we first got to Ecuador, we tried out life in a small Ecuadorian city (for one year) and a tiny fishing village (for two years). Each had its own charms and challenges. But we've been bowled-over to find that the last place we imagined being happy is the very place we have come to call home.
Get Your Free Ecuador Report Here:
Learn more about Ecuador and other countries in our daily postcard e-letter.
Simply enter your email address below and we'll send you a FREE REPORT – Ecuador: Live Like Royalty on Your Social Security.
This special guide covers real estate, retirement and more in Ecuador and is yours free when you sign up for our postcards below.
Get Your Free Report Here