Nothing is more attractive than the promise of a better life. A life of ease and abundance, opportunity and well-being…
For well over a century, the "California Dream" has been the epitome of that idea. It was born of the mid-19th century Gold Rush, with the dream of fast wealth and quick success. But it evolved over the following decades to include the highest attainable lifestyle ideal—a comfortable life, a nice house, a lawn, and outdoor space to enjoy the perfect weather. It meant security, education, great roads and lots of outdoor leisure activities. And with a real estate market that's been booming since the 1950s, it's meant that owning a Californian home has been a remarkably reliable way of securing long-term wealth.
Living the California Dream, you'd spend your days oceanside with the scent of orange blossoms. You could savor the wines of Napa Valley or take to the surf at Lunada Bay. And with one of the most diverse populations in the world, the cultural and culinary possibilities could be endless.
But while California still has a pull on people today, it's also known for skyrocketing costs, high taxes, homelessness, and natural disasters. During the pandemic, for the first time in its history, California recorded a net loss in population. And with the tech industry facing headwinds and the rise of remote working, the gold rush of Silicon Valley is receding. So, it's no surprise to learn that many folks are now finding their version of the California Dream elsewhere. In places where they can live better for less, with real estate opportunities that have become unthinkable in the Golden State.
As an international real estate investor, I always go where the opportunities take me…and where life treats me best. For me and many others, the "California Dream" is an idea that exists beyond borders. And right now, there are three places on my beat where that dream can become a reality for savvy real estate buyers.
Los Cabos: The Other California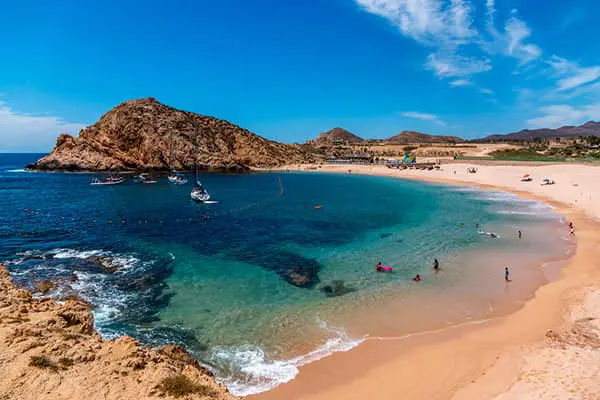 Los Cabos, on Mexico's Baja California Sur, has long been a popular destination for wealthy Californians, but since the pandemic and the rise of remote working, it has exploded, not just with more vacationers but for folks looking to make a home here long-term.
Location is a big factor. Sitting at the tip of the Baja peninsula, Cabo is just a short, direct flight from dozens of North American cities. And it has all the pull factors and allure that appeal to remote workers, with perfect weather, fine dining, world-class beaches, and no shortage of opportunities for fun like fishing, boating, and golfing.
I've been coming to Cabo since 2014, and each time I visit it has gone more upmarket. Appealing more to the Californian tastemakers who come here. Along the boulevards, you'll find vegan eateries and classic Californian shopping plazas with health food cafés, organic markets, and sushi restaurants.
The trendy new El Merkado gourmet food market reminds me of L.A.'s Grand Central Market. There are breweries creating seasonal flavors based on local produce, and farm-to-table restaurants are popping up everywhere.
Then there are the homes. Inside uber-rich gated communities, you'll find villas with $10-million-dollar price tags and billion-dollar views. Luxury hotels that offer suites with private pools and even private yachts for their guests…
For many, it's an idea that exists beyond borders.
And it's not just California's private-jetset coming. The "ordinary" rich are moving here too. The Silicon Valley tech folk…the remote workers and entrepreneurs…the second-home owners and retirees.
Why pay $3,000 (or more) for a cramped studio apartment in San Francisco when you can live in a spacious condo and spend your evenings sipping on piña coladas on the beach. A lifestyle upgrade is not just some far-off retirement dream. It's doable now. And being just to the south of California, Cabo is right on the doorstep of one of the highest densities of wealthy, mobile people in the world (with over 1.14 million millionaire households).
The folks who come to Cabo aren't looking for cheap, they're looking for more. More amenities, more space, more sunshine. And they're willing to pay for it, whether they buy or rent long-term.
This creates a unique opportunity for savvy real estate investors. With such a huge influx of renters and buyers, demand is surging while real estate supply is dwindling. There are more buyers than product. And the number of listings on the MLS is at less than half pre-pandemic levels. So, by locking down best-in-class real estate, you can sit on an asset that can appreciate fast and create incredible rental yields if you're not using it yourself.
For instance, in August 2021, I launched a deal to members of my Real Estate Trend Alert group in a community called Cabo Costa. Less than a year later, in July 2022, a condo that had the RETA-only price of $249,000 was sold for $425,000. That's an uplift of $179,000. (I bought one of these condos myself but have not sold.)
Condos in Cabo have always been easy to rent. Another condo I own here used to make me $1,800 a month when I rented during periods I wasn't here. The difference now is I could ask for up to $4,000 a month. That's how strong this market is amidst extreme scarcity and exploding demand.
A New Frontier in Uruguay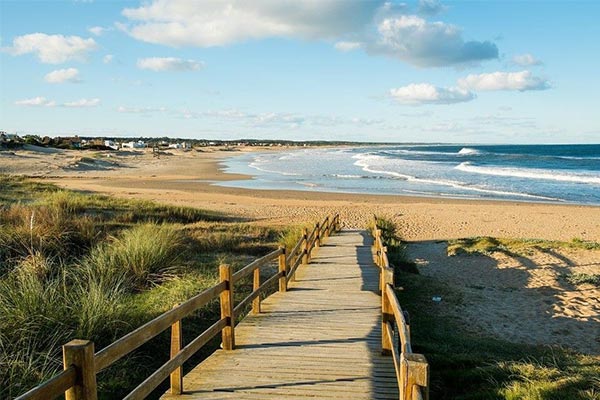 California's growth was spurred by a mass migration of people toward America's Western frontier. The Gold Rush kicked off a Path of Progress that lasted for over a century…and transformed California into one of the wealthiest economies in the entire world.
Finding such Path of Progress events today is incredibly rare…but there are still pockets of opportunity where you can profit from that same frontier spirit.
One such place is Uruguay. For years I've been closely watching a Path of Progress crawl along its vast Atlantic coast, turning a once quiet coastal area with some of the best beaches in the country, fringed by nature reserves and lagoons, into a legitimate jet-set location and a favorite vacation destination of South America's elite.
This region, Rocha, is where it's still possible to buy best-in-class properties at low prices…and then profit from capital appreciation, rental income, or both as demand continues to grow.
What's happening in Rocha is the natural extension of the Path of Progress that started many decades ago in Punta del Este, Latin America's premier jet-set destination…a haven of celebrities, the super-wealthy, movers and shakers, models, royalty, and the like.
Over the past few decades, as Punta was built out and land became scarce, development moved farther east along the coast. First to La Barra and then to Jose Ignacio… turning each place chic and high-end, and driving up prices.
Now, the jet-set are looking for the next place, and that's Rocha. With its tiny beach towns, sleepy fishing villages, and cream-colored beaches (the best in the country), Rocha is in the midst of a similar transformation as those towns to the west.
This is driving up demand…and prices. But there is still time to get in ahead of this Path of Progress and secure a property in one of Rocha's premier communities at bargain prices—before the mainstream catches on.
One deal I've brought to RETA members in Rocha is a buy-and-hold play. It's an opportunity to own one of a handful of hand-picked ocean-view, walk-to-the-beach lots in the heart of this region from just $36,015. The play is to just sit and wait for the land to appreciate…and then sell to a member of the wealthy elite ready to build their own beach house. I expect these lots could double in value in a few years.
The California of Europe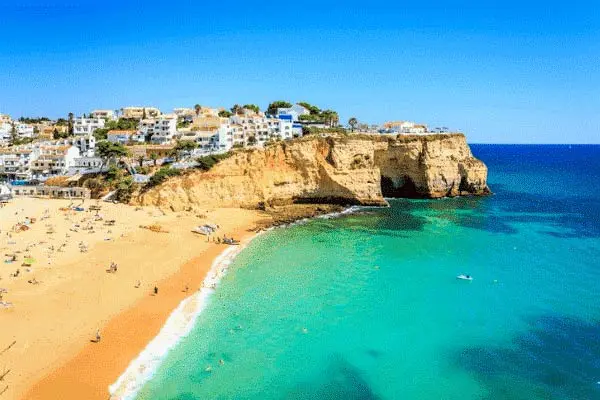 It's easy to see why Portugal's Algarve reminds folks of Southern California. It has perfect weather, with 300 days of sunshine a year, and its beaches are a beautiful golden hue and surrounded by dramatic cliffs and coves.
I know of at least two Californians who say it's a better place to live…more affordable, certainly safer. I've even heard some say the oranges here are sweeter.
As the 2023 winner of International Living's Retirement Index, Portugal has long been popular with expats and in recent years, the number of Americans living here has been surging—rising 45% in 2021 from the previous year, according to government data.
Even LA Magazine jumped on board, calling Portugal "the California of Europe." It's the new chic spot to grow a start-up or buy an apartment, with a cost of living that runs at nearly half that of California.
But when it comes to that easy-going, laidback California beach lifestyle, it's all about the Algarve and its incredible golden-sand beaches. And there is nowhere on this southern coast that encapsulates this better than Lagos.
Lagos is a place where you can walk to the marina and jump on a boat to go sailing, fishing, or cruising around the cliffs, sea stacks, and bluffs of the Western Algarve's awesome coastline…or spend your days on a long stretch of beach where you can sunbathe, swim, kayak, or surf.
And with a condo here, you can feel content that you're not paying anything near what you'd pay in California. In fact, with Portugal's low mortgage rates, your monthly payment could actually be less than the property taxes and HOA fees alone that you would pay for an equivalent luxury condo in a Californian beach town. And because of surging demand and supply issues caused by hotel room shortages, lack of developable land, and tight regulations, with the right real estate you can expect fast capital appreciation and strong rental income.
Members of my Real Estate Trend Alert group have who have bought here have done exceptionally well. In 2020, I recommended condos in a community called Adega.
One RETA member bought a condo there for €480,000 and has since sold it for around €675,000. Another RETA member bought an Adega condo for around €500,000, and recently put it on the market, and immediately got an offer of €875,000—a €375,000 uplift.
Of course, most buyers understandably buy in Lagos for lifestyle benefits. With no end to the supply squeeze in sight, you can still accumulate strong capital appreciation in the long term.
If you choose to rent, you could see as much as 48 weeks occupancy and earn $50,000 per year for a well-equipped two-bedroom condo in a good location. Even renting for the peak summer months alone could be enough to cover your mortgage and all your costs, giving you plenty of personal use too.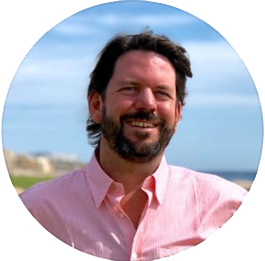 Ronan McMahon is the editor of Real Estate Trend Alert and a contributing editor to IL. He spends at least six months a year crossing the globe in search of the best real estate deals worldwide. For more about his RETA group, and to become a member, go here: IntLiving.com/retamag.
Get Your Free Real Estate Report Now
Sign up for our free daily Postcard e-letter and get a valuable free report on the The 5 Best Places to Buy Real Estate In 2023.
Related Articles
Land Bank Now In The Mediterranean's Next "It" Spot
From Bust To Real Estate Boom On Spain's Costa Del Sol
The World's Top Three Places To Invest In Real Estate Today
Upcoming Conferences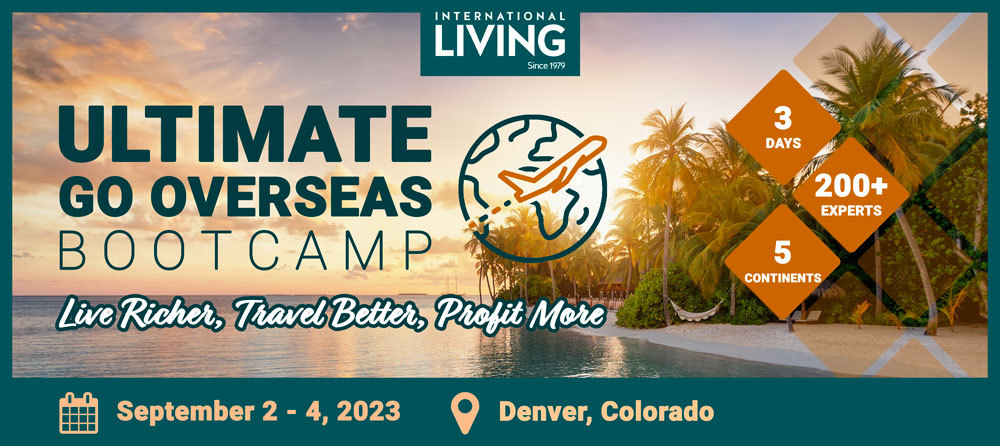 Most Popular Products
Popular Articles You May Also Like