"My husband and I were happily living in Arizona in a retirement community when, in 2008, everything changed," says Patty Grimm. The financial crisis dealt the couple a heavy blow, and they no longer felt they could live the same quality of life on their retirement income. "We knew that if we wanted to keep our nest egg, we'd have to look outside of the U.S. to live."
Six years later, the Grimms are in the high Andes and enjoying an affordable and high-quality retirement in one of the world's foremost retirement destinations—Cuenca, Ecuador.
"We have less stress here than in the States. We laugh a lot and enjoy getting together with friends. We have enough in the budget to take trips whenever we feel like it. You can get away from all the bad news, the politics, the high cost of living," says Patty.
Mike, in his 70s, and Patty, in her 60s, have been married for 25 years, after meeting each other through work. Ohioan Mike spent his career in the Air Force—visiting 61 countries in the process— while Patty, from Los Angeles, worked as a secretary.
The couple traveled throughout the U.S. during their careers, before settling in Arizona. They planned to spend a happy retirement there. But they couldn't shake the feeling that life in the U.S. was getting progressively worse: Ever-increasing costs were making it difficult for them to live the retirement they wanted.
"In general, I felt like the quality of life was deteriorating in the United States in terms of individual freedoms, cost of living, and healthcare," says Mike.
The financial crash of 2008 proved the final straw. It forced them to consider an overseas retirement, knowing they couldn't afford the same quality of life in the States.
The couple had seen Ecuador recommended on the pages of International Living, while an Ecuadorian neighbor back in Arizona also spoke highly of the country.
"Cuenca and Ecuador were attractive because of the consistent weather, affordable cost of living, and less government activity in our private lives," says Mike of their decision.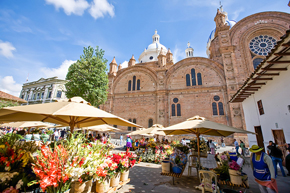 Like many expats, they chose to rent a small apartment for $350 a month to test the water before deciding Cuenca was indeed the place for them. Cuenca's year-round springtime weather was just to their liking. Patty and Mike also found the city highly affordable and home to a friendly and welcoming population (both expats and locals) that made them feel right at home.
The couple now rents a beautiful three-bedroom condo overlooking the city and surrounding mountains for $650 a month. They spend around $500 a month on groceries (although they say they prefer not to confine themselves to a tight budget), $27 for gym membership, around $330 for entertainment and eating out, and $56 for internet. They also pay $80 for a maid, $64 for DirecTV, $66 for electricity, and $7 for water. Unlike many other expats, the Grimms also have a car. But, like everything else in Cuenca, the cost of this is low; with gas costing less than $1.50 a gallon (compared to nearly $2.50 a gallon in the States at time of writing), their monthly bill comes to around $23.
"We choose to live very well, so I would say that the essentials would require around $1,500 and our discretionary add-ons another $800, for a total of $2,300," says Mike of the couple's monthly spend. "If we had to, we could do it for a lot less. We can save money quite easily here."
Ecuador's excellent healthcare is one of the main draws for expats. The couple speaks well of the quality of healthcare they have received in Cuenca. And they say doctors are more focused on delivering genuine care to their patients than meeting a bottom line.
In 2011, a year after they arrived, Mike suffered a gallstone attack. Other expats had already referred the couple to a local doctor who spoke English, and the Grimms had his personal cell phone number. This doctor immediately referred Mike to a local hospital for surgery. The cost of the procedure—including an overnight stay in a large private room—came to just under $2,200. In contrast, in the U.S., gallstone removal costs on average $12,700.
"What was amazing was that the doctor allowed his holiday weekend to be interrupted to help me," says Mike. "When I arrived at the hospital the doctor was there and had assembled his operating team. Within six hours I was in my private room, surgery completed, and was released the next day. The care I received here was more efficient, more personal, less cumbersome, and much less costly than in the U.S. The doctors are just as skilled, and some more so, than in the U.S., in my experience."
"Our healthcare experience here is excellent," says Patty. "Much lower in cost, much quicker service [than in the U.S.], and English-speaking doctors. The doctors here seem more caring, and that might be because they don't have the administrative and insurance mandates that control most of the healthcare system in the U.S.
"Doctors here can focus on practicing medicine, and that shows in the quality and amount of time they devote to each patient."
Get Your Free Ecuador Report Here:
Learn more about Ecuador and other countries in our daily postcard e-letter.
Simply enter your email address below and we'll send you a FREE REPORT – Ecuador: Live Like Royalty on Your Social Security.
This special guide covers real estate, retirement and more in Ecuador and is yours free when you sign up for our postcards below.
Get Your Free Report Here