Dawn and Phil first came to Malaysia for a four-month break to recharge their batteries. Nothing had been planned and they liked the idea of just winging it, but they did visit the island of Langkawi and Kuala Lumpur, Malaysia's capital. However, George Town in Penang, with its colonial heritage, was where they spent most of their time.
Here you will find most of the island's hospitals, art galleries, museums, antique shops, cafe culture, and some of Malaysia's oldest colonial buildings.
In the last few years, George Town has morphed into an eclectic mix of spruced-up colonial buildings, renovated shop-houses, hip nightclubs, backpacker hostels, and five-star hotels.
During their stay, they met a British couple who mentioned that they were applying for a visa to stay in Malaysia. "It sounded like a good idea…and the rest, as they say, is history."
Dawn says, "Our daily lives here are also very different to our lives back home. We bought an apartment on the ocean for a fraction of what we would have paid back home. In the morning, Phil often goes to the local market for fresh vegetables or just to look around, and when he gets back we sit in our comfortable office, answering emails. For lunch we'll usually go to a local hawker stand and then stroll around George Town."
The cost of living in Penang is much lower than what they paid at home. Their monthly budget really depends on the amount of entertaining that they do, and they tend to entertain a lot. "It's guest- and alcohol-driven but, on the whole, we get by on $1,450 per month," says Phil.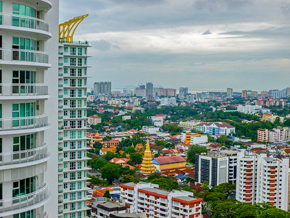 Phil and Dawn eat out seven nights a week. The local hawker centers—and there are plenty of them within walking distance of their apartment—offer a great variety of Southeast Asian dishes. Dinner for two costs about $3.50. Beer, on the other hand, is more expensive by comparison, and a bottle of Tiger costs $1.80.
English is widely spoken in Penang, which means making friends is easy. With expats from all over the world, Dawn describes it as "a league of nations."
"We joined the Penang Swimming Club, which is a five-star facility with affiliations worldwide, because we also wanted to meet locals. It's one of the oldest clubs on the island and through it we've met people from all over," says Dawn.
Healthcare in Malaysia is affordable, if not downright cheap, and, consequently, most of the expats who live here pay out-of-pocket and have no insurance whatsoever. You never have to book an appointment to see a specialist and there are no waiting lists at all, and no referral system either. If you want to see an orthopedic surgeon or an ENT surgeon, it's as simple as walking into a hospital of your choice (there are six world-class facilities in Penang), registering, and waiting outside their office. Phil's first trip to see a specialist at the Lam Wah Eee Hospital cost him just $8.50 and he had to wait just 25 minutes to see him.
Seven years later, they are still loving their Malaysian experience. "Traveling to other countries within Asia is cheap and easy to do, and there are numerous airlines all competing for our business. There are also direct flights to Europe and the U.S."
Get Your Free Southeast Asia Report Here:
Learn more about Malaysia and other countries in our daily postcard e-letter.
Simply enter your email address below to sign up for IL's free daily postcards and we'll also send you a Free Asia Report – The Best Islands, Beaches and Cities –
Southeast Asia's Top 6 Retirement & Vacation Destinations
Get Your Free Report Here
Related Articles
Penang Malaysia – Retirement, Cost of Living & Lifestyle Information