"I love this island," Brian Gruber says of his new tropical home. "I can be alone when I want to be, but have everything I need at my fingertips. I take regular yoga lessons, but can also enjoy more hedonistic pleasures. The reggae bar near my home has live music every Friday night, for example, or I can go to the west side of the island for a more upmarket meal."
For Brian, home is the Thai island of Kho Phangan , a place of golden-sand beaches, tropical rainforest—and highly affordable living.
"Rents start at around $200 a month for a simple bungalow and go all the way up to $1,500 a month for an upmarket apartment or condominium," he says. "You can buy street food for $1.50, but I prefer to eat in restaurants. In general, lunches cost me around $3 and dinner around $4. That includes delicious vegan or vegetarian food.
"I went out to dinner with friends the last time I was in California. The bill came to $100 each. Here, I can eat just as well for around $10, and that's at an expensive restaurant."
In terms of lifestyle, Brian finds Kho Phangan's laidback atmosphere infectious. "It has a kind of hippy vibe," he says. That's not to say Brian doesn't still lead an active lifestyle. He loves to go swimming in the warm, clear waters, and he continues to work. He holds workshops, does consulting work, and is conducting a writing workshop with another author who lives on the island.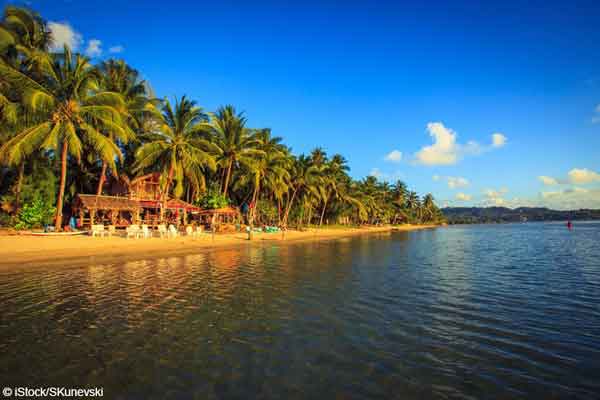 Before the move, Brian enjoyed a successful media career. As his 60th birthday approached, he started thinking about a change. "I decided to take a chance and do what I wanted to do," he says. "Here, I have more freedom than I would have in the States. I'm free to go swimming when I like and free to pursue work that is interesting to me. I'm also free to go out for lunch and dinner every day.
"I loved the life I had, but it was time for fresh exploration and experience, and I have little interest in returning to my past cycle of high stress and high expenses in an intensely money-focused culture."
What's next for Brian? He is considering getting a retirement visa but is holding off for now. His current visa expires every three months, and he's still not sure he wants to stay indefinitely. "It's not the only slice of paradise out there," he says. "But for now, it's my slice of paradise."
Related Articles
Find Your Dream Retirement in Thailand