"One man's crisis is another man's opportunity," says real estate expert and International Living contributor, Ronan McMahon. "At least, that is the case in two of three beach towns I'm watching closely for 2018, with an eye to potential profits."
"When the 2008 crisis hit, Placencia, Belize, and Los Cabos, in Mexico, both felt it. The after effects of that crisis are still creating opportunity for real estate buyers a decade later…which is why they're ranked highly on my "2018 Transformation Zones" list.
"They are both picturesque, charming, and high-end beach towns within easy access of the United States. And property values there are poised to increase quickly," says Ronan.
Both Placencia and Los Cabos' real estate markets were heavily reliant on North American buyers. So when North America was in crisis, a stream of regular buyers temporarily dried up. Their markets quietly stalled…as developers sat on the sidelines, waiting for the market to bounce back.
"The effect of that on Placencia is that it paused its trajectory for a short time," says Ronan. "Placencia has been a slow burner for years, popular with adventurous and well-heeled vacationers who came to snorkel the reef or just chill in the Caribbean atmosphere and sunshine. It was set to take off in 2008, but went on hold when the crisis in North America hit."
But today it's back on an upward trajectory. There's talk of an international airport opening up. If it does happen, it's the icing on the cake. "Someday very soon, Placencia is going to be on everyone's lips," Ronan says. "And those who have gotten in now will profit. I'm watching this market closely and flagging up exciting deals as they bubble up (including some long-held foreclosures that local banks have been reluctant to let go of.)"
More than 2,000 miles away, on Mexico's Pacific coast, the crisis has also created opportunity in Los Cabos: the chance to buy luxury at a deep discount. This is a first in Los Cabos' history…and a rare chance to get something high-end with a tiny price tag. Pre-crisis, in Los Cabos, a $500,000 price tag for a luxury condo would have been laughed at…for
being too low. That's the kind of market there is in this Pacific coast destination.
But when buyers dried up, developers got more creative. And that's what's led to this "luxury at a discount" moment in 2018. Today it's possible to find properties in high-end developments listed for closer to $200,000.
"That's luxury for not much more than the bricks-and-mortar price," says McMahon. "I expect the value of one of these condos to hit $450,000 or more in the next five years…and an owner could gross an income of $40,000 a year. But I expect this opportunity to buy Cabo luxury at such low prices will pass very quickly."
The third beach town to watch in 2018 is Tulum on Mexico's Riviera Maya. A Path of Progress is rolling down this coast and Tulum is firmly in its sights. The population's growing rapidly, as are tourist numbers. But there's only so far the town, with its pretty beaches, can physically grow.
"Tulum is the end of the line for this Path of Progress," says Ronan. "Literally. You've got the Caribbean Sea on one side…a huge, protected biosphere reserve on the other…and strict planning and permitting rules on land south of Tulum. There's only so much development that can happen. And, once Tulum is maxed out, there's nowhere else for development to go.
"Demand for real estate and vacation rentals in Tulum is soaring. This is a place that's already cool—the vacation destination of the hipster and eco-chic sets. And this is the year Tulum grows up from hip beach town to one of the region's fastest growing commercial and
tourism centers. Those who get in now are set to profit.
"Late in 2017, I recommended condos from $154,500. I expect values will rise during construction by as much as $40,500…and that, with the right marketing, one of these condos could gross up to $35,000 a year. I'm getting ready to announce an opportunity I think is going to be just as strong.
"I also expect real estate values in Tulum will rise strongly in the coming years to align more with other Caribbean destinations where values are twice as high. Now is the moment to get in."
Living in Placencia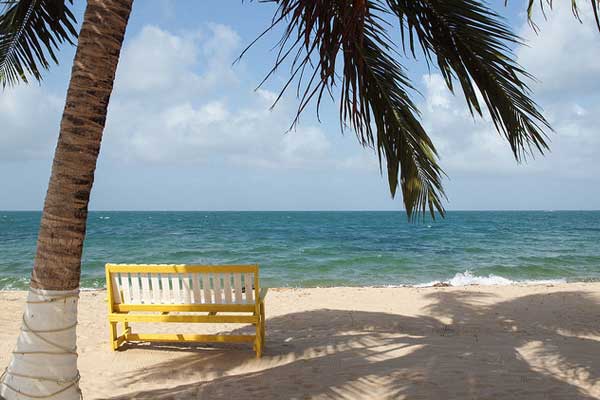 A charming little seaside town found at the tip of a peninsula off the coast of mainland Belize, Placencia is fast becoming Belize's most desirable location. It fronts the gorgeous Caribbean Sea to the east and a resplendent freshwater lagoon, full of wildlife and with a view of the gorgeous Maya mountain chain, to the west.
The Placencia Peninsula, an 18-mile strip of land that parallels the mainland, offers scenery of vivid blue waters and pure white sandy beaches.
Often referred to as the "caye you can drive to," Placencia has the same beauty and activity of the other Belize islands at a more relaxed pace. The palm tree lined beaches are nothing less than exquisite.
The central and southern coast of Belize is breathtaking, and despite the many new resorts, condo developments, and sophisticated restaurants, the area hasn't lost its rustic charm. Remnants of this former fishing village are still apparent. Keeping the authenticity and natural beauty of the area is important to residents and newcomers alike. The relaxed, Caribbean ambience of the town is one that will delight.
Only one of three villages on the entire peninsula, Placencia is still largely seen as a vacation spot, but has all you would need to build a life, including supermarkets, brightly painted restaurants, a small domestic airport, and a medical clinic.
The combination of relaxation with adventure makes Placencia a perfect beach paradise, and it is now firmly on the map for those seeking retirement in a place where the locals speak English, the weather is always warm, and wearing no shoes is no problem.
IL Belize Correspondent Laura Diffendal who lives in Placencia says, "There are plenty of expats in Placencia. The majority are between 50 and 65 years old, with a smaller group from the ages of about 35 to 50.
There are options for socializing every day of the week, most often at outdoor or open-air places. Karaoke and music are two popular events here, along with trivia. There are also many resorts in town that will open their pools to the public for different events; this is a popular way for friends to get together."
Bill Dejardin and Judy Lutz, who moved to Placencia in 2012, try to make the most of Belize's year-round, summertime weather. "Afternoons are usually a walk to the village for lunch and to visit with friends, or chat with tourists…we love to entertain, so many nights are spent at home with friends. Everywhere we go (bank, store, restaurants) is filled with expats. It's part of what is so fun about living in Placencia," says Judy.
The pace of life is different too in Placencia, as Laura explains, "There is a mental shift needed with regard to time when you move to Belize. The mindset is to relax, take your time, and enjoy the journey. It took some time for me to shed my U.S. "urgency" but I find it to be one of the best changes about living in this laidback Caribbean country."
Placencia is one of the more expensive places to live in Belize due to its popularity with tourists and expats alike. But, living a modest lifestyle and avoiding imported goods help to keep the cost of living in Placencia down. A couple can still live comfortable here for $2,300 a month.
With 18 miles of continuous golden-sand beaches, a low key, laidback Caribbean lifestyle, a small population, and plenty of top notch restaurants and funky beach bars, it's not surprising that expats are pulling up stakes to move to Belize's Placencia peninsula.
Living in Los Cabos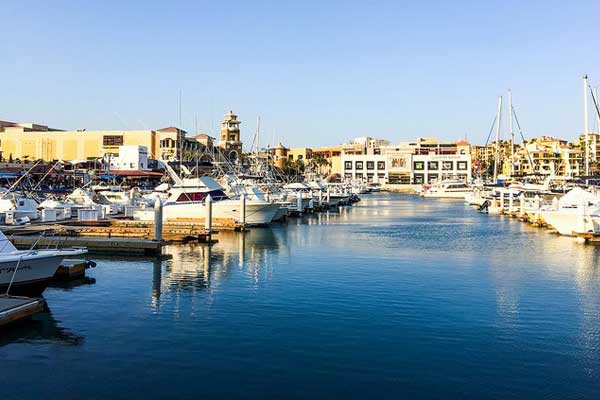 Sitting at the far southern tip of the Baja California peninsula, Los Cabos, Mexico is one of the country's top beach destinations.
With top-notch boating, world-class sport fishing (especially for billfish), championship golf courses, excellent restaurants, and warm weather year-round to enjoy it all, it's no wonder it's so popular. Uniquely, Cabo has the distinction of being one of the few places in the world where mountains and desert meet the ocean. And unlike the rest of Mexico, we have low humidity is low, there's very little rain, and temperatures average 80 F to 85 F. And because of the desert climate, it gets 350 or so days of sun each year.
It's a well-developed area, with plenty of First World comforts and amenities—there's even a Costco. But Los Cabos has a perception problem when it comes to folk looking at making a move abroad.
Los Cabos includes the towns of Cabo San Lucas and San Jose del Cabo, as well as the "corridor" of gated housing communities, condos, and hotels that lie on either of the well-maintained highway that connects the two. It's about a 30-minute drive from town to town.
Expat Lynn Pierce first moved from California to work in the beginnings of the timeshare industry in Cabo San Lucas in 1991. "Back then, it was a sleepy little fishing village with only one paved road," Lynn says. "A small downtown was an attraction for some partiers, but most came here for the abundant sea life and the gorgeous beaches that went on for miles.
After spending time back in the U.S., in 2011 Lynn returned to Cabo.
"Moving back, it seemed as if I had never left," she says, "although expats in Cabo now enjoy the convenience of Costco, Home Depot, Office Max, Wal Mart, and other North American familiarities.
"There are other great local conveniences too. Each Friday a truck with fresh seafood comes right to my home. I can get a kilo of large prawns for less than $10 and a kilo of fish for around $5. A huge box of organic produce is delivered on Wednesdays for about $7.
"The growth of this international hotspot hasn't changed the soul of Cabo, just the size of the town. It's a resort town more than a city, with all the natural beauty and marine life still intact."
In local restaurants, you can speak with the Italian chef about his recipes and have a wonderful dinner with wine and dessert for around $20 to $25 per person. Lunch at a fine dining restaurant, with soup, an entrée, dessert, and a beverage is $10, or you can grab fish tacos for $1.50.
Melissa Heisler and her husband had been visiting Cabo San Lucas for six years before they moved from Chicago to Mexico. Every visit they fell more and more in love with the people, the culture, the mountains, the ocean, and of course, the tacos. "By our fourth year of visits we realized it was not just the vacation getaway we loved, but that Mexico was meant to be our new home," Melissa says.
"Moving to a new country is pretty adventurous and we wanted to make the transition as easy as possible," she says. "Fortunately, we know a friend with a vacation house in Cabo and worked out a deal to watch his house in return for living there. But housing is easy to come by in this area and there is a little bit of everything available for every taste and budget.
"We love the adventure of living in Cabo. Every day is an opportunity to learn about a new holiday, a new unique cultural idiosyncrasy, and of course the food," says Melissa. "For us, the blending of cultures, environments, and activities Cabo offers, is truly a paradise."
Living in Tulúm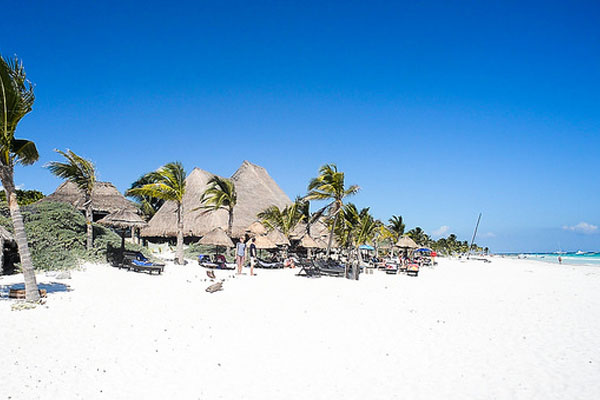 Tulúm is a charming and growing resort town on the southern end of Mexico's famed Riviera Maya. About 80 miles and two hours south of Cancún, the town is no longer the hidden gem it once was but is now well into the development phase with construction of homes and condos on the rise to keep up with those wishing to claim their slice of paradise.
Tulúm's reputation as a spectacular vacation destination and a growing expat community is well-deserved. With a tropical climate—temperatures averaging in the 80s F—Tulúm offers a Caribbean lifestyle without the need to travel to and from an island. Residents enjoy warm, turquoise Caribbean waters, a sparkling, perfect beach, and an offshore reef which provides plentiful opportunities for fishing, scuba diving, and snorkeling.
"What would we do in Wisconsin in retirement?" says Lance Koehler, reflecting on his new life in beachside Tulúm. "Go to the mall, shovel snow. Here I love the warm weather, the sun, and going to the beach."
Lance and his wife Jeanette have found more than their place in the sun. They've also found their place in the local expat community. Tulúm has grown in recent years from a backpackers' favorite to a thriving tourist haven and expat hot-spot. People are drawn by the year-round warm weather, beautiful white-sand beaches, active social life, and the laidback lifestyle of a beach town.
"You meet interesting travelers and expats; it's amazing the stories you hear," says Jeanette. "The expat community is very international."
The couple is also involved with a local English-speaking church, which is active in Tulúm, Puerto Aventuras, and Playa del Carmen. Lance, a musician, helps the churches by playing keyboard, and with sound and video systems for services and special events.
"We've always been heavily involved with our church back home," says Lance. "Here I sometimes spend up to 20 hours a week preparing overheads, practicing music, and driving to and from rehearsals and services.
"Living here has been amazing. We watched our four-month-old grandson eat baby food for the first time. We thought we would be disconnected from family, but it's worked out really well. We actually see more of the kids now," says Jeanette, who explains she video-chats daily with her daughter through the Apple application, FaceTime. "It was harder to visit them in Florida from Wisconsin than from here. We're close to home. It's just a quick flight from Cancún (about 90 minutes north of Tulúm by car) to Florida, where most of our family is."
If she had to recommend just one destination in Mexico for beach lovers today, IL Mexico Editor Glynna Prentice says it would be Tulúm.
"I try to come a couple of times a year with friends or family to spend a week swimming, walking the beach, and exploring. The beaches around here are among the prettiest I've seen anywhere. This is the Caribbean, after all, with its clear, dramatically turquoise water. It's a feast for the eyes—and, since the water temperature is usually mild, a pleasure to swim in. You can often see fish swimming quite close to shore, all around you. Many people bring or rent snorkeling gear to see them, but honestly, the water is so clear that you don't need it.
"Best of all, the beaches are blissfully uncrowded. Have a cold beer and a plate of ceviche while looking out at the white sand and turquoise water. Only the rhythmic whoosh of the waves breaks the silence…"
One thing this beach area isn't, though, is inexpensive. At least compared to Tulúm's old backpacker days. The fashion-industry stars have discovered Tulúm, and prices have risen to accommodate their fatter wallets. In season, a palapa-roofed cabana for two people, without air conditioning, can run $150 a night.
"But with the higher prices have come popular amenities like yoga retreats, spas, and sophisticated dining options," said Glynna. "There are a number of excellent restaurants along the beach now…and they've raised the bar for even casual, inexpensive dining. At laidback Om, for instance, down near the southern end of the beach road, three of us recently had lunch—ice-cold beers and several kinds of ceviche—for $45."
Get Your Free Your Overseas Dream Home Report Now

Sign up for the FREE Your Overseas Dream Home e-letter and get a valuable report (free for a limited time) on the The Global Real Estate Boom of 2021: 15 Places Where You Can Profit.
Related Articles
5 Best Caribbean Islands to Live On… and 2 to Avoid
The Benefits of Moving to Belize
There are Many Reasons for Moving to Mexico