The key to living well on a budget and enjoying your life is to feel good about it. Whether you're living on a low income or a high one, saving money is always a good thing. Below are three of Colombia's best choices for living under $1,000 a month. The amounts are based on an average estimate per person.
The cost-of-living breakdowns focus on the essentials and set aside more modest amounts for extra expenses like entertainment and dining out. Of course, many high-earning retirees and expats who make Colombia their home have been able to invest in extra comforts like cleaning staff and a personal driver.
When it's time to retire, budget changes are inevitable, but your quality of living and lifestyle don't have to suffer. Why not make your money go further by choosing one of these three Colombian cities to live in?
Overview of Cost of Living
In general, the cost of living in Colombia is more affordable than in North American and European cities. Even so, it is expected to increase as the economy continues to improve. Choosing a destination that offers a lower cost of living can be a good long-term strategy if you're planning a more permanent move or retirement here.
While most Colombian restaurants offer inexpensive options, one of the best ways to save money is by buying and preparing your own food. Colombian cities and towns provide easy access to fresh fruits and veggies, as well as many places where you can buy affordable eggs, dairy, and meat. If you choose to shop at larger chain stores you will pay higher prices but likely find more choices.
In addition, your transportation costs will vary, depending on the mode you use and the community you live in. For example, public transportation is no more than $0.60 in a big city like Bogota. You can call an Uber or taxi in most cities for a price of about $0.62 per mile. Alternatively, many expats hire a personal driver and pay them a monthly salary, and some smaller towns will require you to rely on taxis or buses.
On the other hand, rent and utility costs usually depend on the neighborhood you live in. In Colombia, most larger cities will have a class system that divides the poor areas from the rich ones. Services like electricity, water, and internet will be more expensive in richer neighborhoods as a way of subsidizing residents will lower incomes. Keep this in mind when calculating your own budget.
You will probably read many articles online about the personal experiences of expats who have paid high prices for their apartments. Remember that this is a choice, and that there are just as many affordable options out there. You just need to look harder. In fact, you can rent a room for $175 a month just about anywhere in Colombia. It all depends on what you're willing to accept and how much privacy you need.
Best Affordable Locations in Colombia
I purposely chose not to write about Medellin in this article because there is so much out there already about it. I know many expats talk about Medellin as Colombia's best choice for retiring. Like most of Colombia, it offers a comfortable, warm climate and affordable cost of living with plenty to do. However, Colombia has so many more affordable cities and towns available to expat retirees.
If you've always dreamed of living near the beach, having access to country living, or you enjoy a small-town vibe, the three options below will offer you alternatives to the standard locations:
Barranquilla: $775 Per Month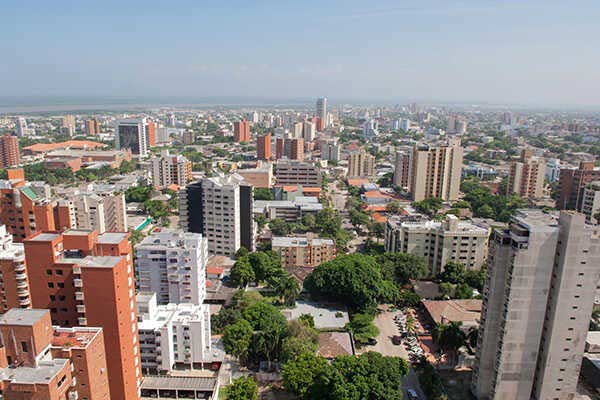 If you crave hot weather and sandy beaches, and I do mean hot, consider Barranquilla as your new home. As Colombia's fourth largest city, it has a population of just over 1.2 million people. It's ideally located on the Caribbean coast and shouting distance from the gorgeous Magdalena River and appealing city of Santa Marta.
Renting in Barranquilla
Basically, the northern part of the city of Barranquilla is considered safer and consequently will be more expensive to live in. The best neighborhoods in the city are Alto Prado, Buenavista, and Centro Historico. On average, Barranquilla's rent is 32% lower than in the capital city of Bogota. To offer some perspective, Bogota prices are 80% lower than in New York City. For a three-bedroom apartment in Barranquilla, you can pay anywhere between $400 and $1,000.
Something to consider if you plan to live in Colombia is that many apartments don't have hot water. Even so, considering the hot climate, a cool or room temperature shower might not be such a bad thing. Hot showers are not impossible to find either, you just need to keep this on your radar. Also consider that Colombians tend to cook with gas stoves, and if an electric one is a necessity for you, you may need to make this purchase yourself. Air conditioning units are common and a good idea to have. However, you should consider this added utility cost in your final budget.
Cost of Living in Barranquilla
On average, the cost of living in Barranquilla per person is extremely affordable. Here is a breakdown:
| | |
| --- | --- |
| Expense | U.S. $ |
| Rent for a one-bedroom apartment | $221 |
| Rent for a three-bedroom apartment | $440 |
| Electricity, air conditioning, water | $92 |
| Internet and cellphone | $42 |
| Groceries: | $200 (an extra $100 for a couple) |
| Restaurants and entertainment | $100 to $175 |
| Transportation | $40 |
| Health insurance | $80 |
| Average total per person: | $775 to $950 |
Armenia: $892 Per Month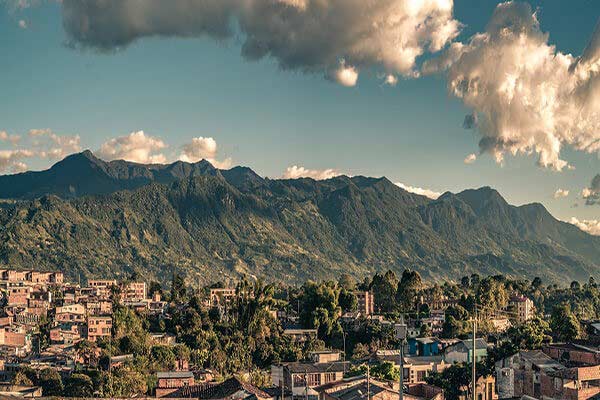 The city of Armenia is known as the "Miracle City" (Ciudad Milagro) because of its rapid growth and development. One of three medium-sized urban centers in Colombia's Coffee Triangle (along with Pereira and Manizales), it is known for its long pedestrian walkway and plays an important role in Colombia's coffee, plantain, and banana industries.
As the capital of Quindio province, Armenia is located 180 miles west of Bogota. With 295,208 residents, it has a more laid-back, friendly feel than the bustling and sometimes noisy atmosphere of cities like Cartagena, Barranquilla, and Bogota.
Renting in Armenia
On average, the cost of renting in Armenia is about 35% lower than in the rest of Colombia, making it a great option for someone wanting to live on a budget. This small city is large enough to provide access to several shopping centers, offers several things to do, and is a short distance from the smaller communities inside the beautiful Eje Cafetero (Coffee Triangle) region.
As with most of Colombia, you will find a lot of accommodation without the comfort of hot water. Make sure to ask about this when doing your apartment search. Keep in mind that the city's temperature usually hovers between 64.4 F to 71.6 F due to its closeness to the mountains and you may find it cooler at night.
North of the city of Armenia you'll find some of the more desirable neighborhoods. Parque de la Vida and Zona Rosa are the two safest areas you can live, and both have great sightseeing and shopping options. In the city center you will pay around $396 for a one-bedroom apartment. For a larger three-bedroom apartment, you can probably find something for $400 to $755, depending on whether you chose to live inside or outside the city center.
Cost of Living in Armenia
On average, the cost of living in Armenia per person is very cheap compared to other similar-sized cities in the country. The cost estimate can be broken down as follows:
| | |
| --- | --- |
| Expense | U.S. $ |
| Rent for a one-bedroom apartment | $350 |
| Rent for a three-bedroom apartment | $565 |
| Electricity, heating, air conditioning, water | $75 |
| Internet and cellphone | $42 |
| Groceries | $200 (an extra $100 for a couple) |
| Restaurants and entertainment | $100 to $175 |
| Transportation | $45 |
| Health insurance | $80 |
| Average total per person: | $892 to $1,067 |
Villa de Leyva: $940 Per Month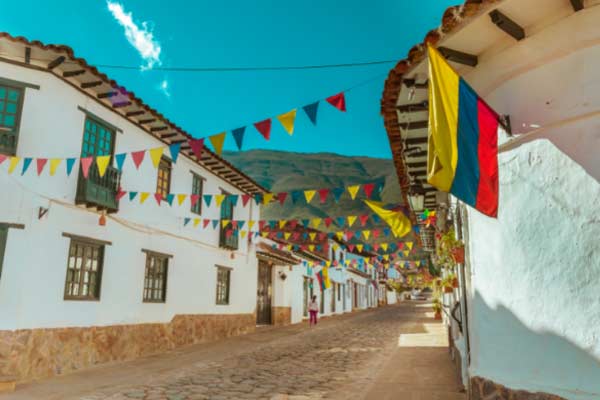 Located in the department of Boyacá, Villa de Leyva is a favorite of Colombians and a close rival to my personal favorite town, Barichara. The town is located 22 miles west of the city of Tunja and is home to 16,984 people. About a three-hour car or bus ride from the capital city of Bogota, Villa de Leyva represents Colombia's colonial history dating back to the 15th century through its well-preserved architecture and cobblestone streets. It is seeing increasingly higher volumes of visitors, and many are choosing to stay permanently.
Renting in Villa de Leyva
You'll find a number of rental accommodation options in Villa de Leyva, but you should keep in mind that most of the buildings are colonial-style homes and, as such, they have their advantages and disadvantages. Apartments tend to be roomy, and the aesthetic and architecture includes appealing details. However, making renovations or changes to the space will probably be unlikely since the town itself and many of its buildings are considered a national heritage site.
Villa de Leyva is considered very safe, and you will probably soon get to know your neighbors and local restaurant and shop owners. Colombians are very friendly, warm people and if you prefer keeping to yourself, this town may not be the best option for you.
Having previously lived in a small Canadian town myself, I know that looking for an apartment in a smaller community means having to ask around, network with the locals, and be flexible about the kind of accommodation you're willing to accept. There will probably be fewer options in terms of rental buildings than in larger cities. However, there are a few good options, including Casa Garcia & Gonzalez and Villa Española. There are also plenty of short-term rental options available in places like Villa de Leyva if you're willing to pay a little more. This could be a great place to start while you search for a more permanent arrangement.
Cost of Living in Villa de Leyva
On average, the cost of living in Villa de Leyva is much lower than in larger cities, however food prices may be slightly higher due to it being somewhat isolated. Rent is lower than in Bogota, and the town offers the same standard of life. However, due to its growing popularity with tourists, apartment and house prices are on the rise.
| | |
| --- | --- |
| Expense | U.S. $ |
| Rent for a one-bedroom apartment | $355 |
| Rent for a three-bedroom apartment | $665 |
| Electricity, air conditioning, water | $77 |
| Internet and cellphone | $40 |
| Groceries | $240 (an extra $80 for a couple) |
| Restaurants and entertainment | $100 to $175 |
| Transportation | $48 |
| Health insurance | $80 |
| Average total per person: | $940 to $1,095 |
Tips for Living on a Budget
One of the most important tips for living on a budget comfortably in Colombia is to learn to do as the locals do. Pay attention to where people shop, eat, and spend their time. For example, local traditional dishes can be very inexpensive but filling and delicious. On the other hand, expecting to find all your favorites from your home country might lead to frustration since these items are imported to Colombia and will likely be pricier and harder to find. Also, ask around to find out where the best deals for household items are and try out some homegrown produce when buying groceries.
Inexpensive Things to Do
You can find many inexpensive things to do in Colombia. For example, most cities host free or very cheap cultural activities and outdoor events. Local museums tend to cost next to nothing and by taking a walk through the many historic centers Colombians have built over centuries you will unearth amazing architectural discoveries such as colonial churches and cathedrals.
Seaside urban centers like Barranquilla, Cartagena, and the beautiful towns along the Caribbean and Pacific coastlines will offer photogenic viewpoints and relaxing walks along serene peers. Cities like Bogota and San Gil will provide breathtaking views of Colombia's majestic Cordillera mountains and rock formations. Apart from a nominal entree fee at some of the national parks across the nation, these beautiful natural landscapes are free to enjoy.
Plaza San Nicolas in Barranquilla offers a scenic historic walk and its neo-Gothic structure which dates back to the 16th century is always open to the public. On the flip side, if your city of choice is Armenia, you can easily take a bus or taxi to one of the region's smaller picturesque towns, about 10 to 15 miles away. Salento, Montenegro, and Quimbaya offer some of the best coffee plantation tours, colorful architecture, and nature walks in the Cocora Valley. The city itself has several inexpensive urban parks and museums to offer as well.
Smaller communities like Villa de Leyva and Barichara can provide a more low-key vibe to residents who love to enjoy a glass of wine, a delicious meal, the sound of traditional music, and a chance to see some of the country's most spectacular scenic landscapes. The views are free, and the rural lifestyle is uncomplicated. Local jazz and kite-flying festivals offer affordable entertainment and memorable cultural experiences.
Helpful Tips
Living on a budget in Colombia is not only possible, it's easy when you know where to go and how to do it. To help you with your planning, here are some general tips for learning to live on a budget and making the most of your money.
Create a budget plan and stick to it. Consider the costs of exploring your new community, setting up your new home, and socializing with new acquaintances. Be flexible with your expectations and aware of the regional differences in lifestyle and living costs.
Start downsizing ahead of your move. The fewer things you have to bring, the less it will cost to move them and the less space you'll need in your new rental home. You can find many basic furnishings for your home in most cities. In most cases they will deliver.
You're not a tourist anymore. Try stepping out of your comfort zone a little and learn how the locals live and spend their money. Learn how to cook Colombian recipes and buy locally to save money. Avoid overpriced imported grocery items.
Try the smaller, unassuming restaurant on the corner. Colombia typically has affordable and generous breakfast options with a choice of eggs and a side of rice or bread with a coffee or fresh juice. For lunch, many places offer a typical plate with a choice of meat, potato, plantain, and salad. Both are shockingly affordable and very popular among the Colombian clientele. The reason is obvious, you get value for your buck.
Discover what your community offers for free, such as annual festivals, outdoor events, and even activities organized by local and expat associations. This is also a great way to meet new people and become familiar with the local culture.
If your budget is tight, you can find ways to make extra cash such as tutoring English students, or if you have a talent for freelance writing or editing, graphic design or building websites, working part time from home. Consider creating a profile on freelance websites like Upwork to take on occasional contracts that will allow you to top up your budget. An extra $200 will go a long way in Colombia.
Related Articles
5 Places to Live in Colombia; 2 to Avoid
Guide to Discovering Colombia's Diverse Culture and Traditions
The 7 Best and Most Beautiful Beaches in Colombia
Popular Articles You May Also Like