For many North Americans, Argentina is one of those countries that you just don't think about very often. All you may know about it is that the capital is Buenos Aires, they have great beef, and maybe you find yourself humming that song from the musical "Evita!" This is a shame, because Argentina is a fascinating place, with a rich history, vibrant cities, several climate zones, and a variety of beautiful landscapes.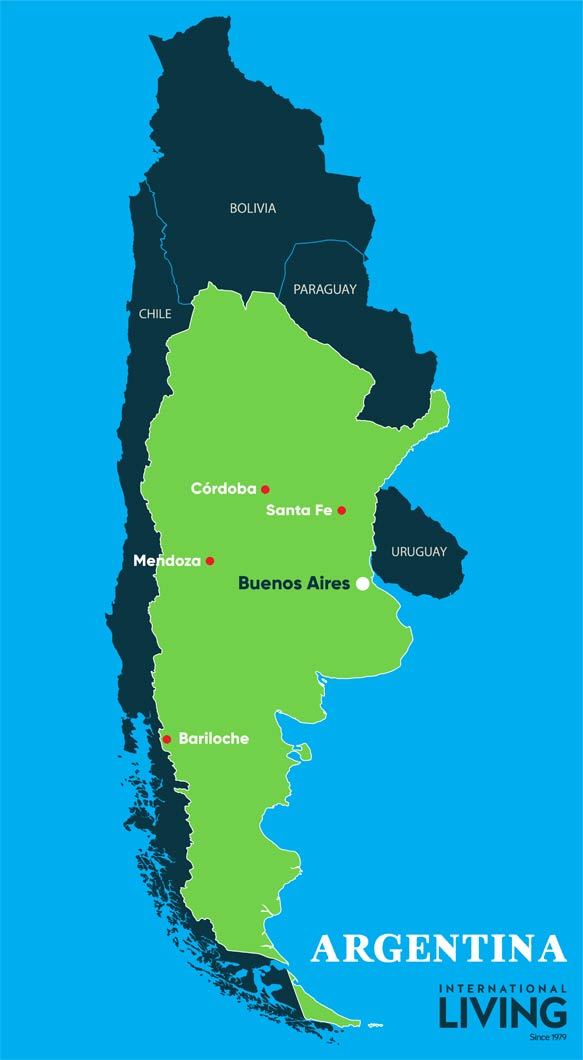 Where is Argentina?
Argentina is located in the southern part of South America, and takes up most of the bottom half, leaving Chile clinging only to the narrow western slopes of the Andes. Its size is one of the most surprising things you probably don't know about Argentina. It is the eighth largest country in the world, second in South America only to Brazil, covering over a million square miles. And it's the largest Spanish-speaking nation (that's right—bigger than Spain).
The variety found in those square miles is truly amazing. The central region of Argentina is the fertile plain known as La Pampa. There is jungle in the extreme northeast, along the borders with Paraguay and Brazil. The breath-taking beauty of the sometimes flat, sometime rolling plateau of Patagonia dominates almost the entire southern half of Argentina. The western border with Chile is along the rugged Andes Mountains, where you can find remote villages, modern ski resorts, and the Aconcagua, the highest mountain in the world outside the Himalayas. Finally, there are both the long coastal Atlantic section of the east, and the western Cuyo regions at the base of the Andes that are mostly rocky desert.
What is the climate like?
The first thing to know about the climate in Argentina is that the seasons are reversed from the Northern Hemisphere. Summer runs between December and March, with winter starting in June. With that in mind, you can find a little something for everyone in this diverse country, no matter the time of year.
Buenos Aires and the Pampas are temperate, with very pleasant weather. Although it can get cold in the winter, and hot and humid in the summer, there are few extremes. Highs in the summer are rarely above 80 F, and temperatures below freezing are very uncommon.
The arid deserts of Cuyo on the other hand can reach temperatures of 120 F in the summer, and moderately cold in the winter. Spring and fall are known for their fickleness. There can be rapid temperature reversals, where several days of extremely hot weather may be followed by several days of cold weather, then back to extremely hot.
As you might expect, the Andes are cool in the summer and very cold in the winter—cool and how cold will varying depending on the altitude. Likewise, the popular tourist destination of Patagonia is also cool in the summer and cold in the winter. Extreme temperature shifts within a single day are even more common in Patagonia than Cuyo, so if you are planning on visiting be sure to pack a variety of clothes, and always dress in layers.
How do you get there?
Citizens of the U.S. and Canada can easily enter Argentina and stay for up to 90 days on a valid passport that has more than six months remaining before expiration. No visa is required, and they have recently waived the reciprocity fee that was previously required for Canadians. If you need to stay more than 90 days, Argentina is a little unique in that the rule is 90 days per visit, not per year. That means leaving the country for just one day resets the count, and you can then stay an additional 90 days.
Direct flights to Buenos Aires are offered from some U.S. cities via United, Delta, American Airlines, LATAM, and Aerolineas Argentinas. Dozens of airlines offer service to Buenos Aires and other cities in Argentina from their hubs in Central and South America. Some of the more popular are Copa, Avianca, Air Canada, and KLM. Buenos Aires is also a favorite port of call for South American cruises.
Once you are in Argentina, there are domestic flights to many airports around the country, especially to major tourist destinations like Mendoza, Perito Moreno, and Iguazu Falls. Argentina also has very comfortable trains for interior travel, and a good bus system. However, due to the size of the country, bus trips to some areas may take days.
What else should I know?
Like any visit to a foreign country, there is basic information you should know when planning your visit. First, Spanish is the national language, with some local variations in pronunciation. There is also an influence from the native Quechan language and a smattering of Portuguese words.
You should know that Argentina uses 220v power at 50Mhz. Take care, because although most outlets are obviously different (two or three blades angled in a V shape), some also look exactly like the two-prong outlets you would see in the U.S. They still are going to provide 220V, so make sure you have the proper adaptor. If you forgot to bring one, don't worry—they are available all over, and many hotels will offer them as a courtesy.
The local currency is called the peso, and at the time of this writing was trading 22.63 pesos to one U.S. dollar, so your money will go very far there. Even better to know is that many venues and service providers will offer substantial discounts if you pay cash in U.S. dollars.
Also, good to know is that in Argentina, breakfast is generally very light. Lunch however is the biggest meal of the day and is usually had in early afternoon. It is a big meal because dinner is served quite late by North American standards, typically 8:30 p.m. or 9 p.m. Around 6 p.m., "tea time" is common, with light snacks served. You should also be aware that there is a siesta tradition, especially outside of the city. Even in the capital, it is not unusual to see businesses and restaurants close for an hour or two between noon and 4 p.m. or 5 p.m. in the afternoon.
Anything else you should know? Of course! But the most important thing to know is that whether you are interested in art, historical sites, cosmopolitan cities, picturesque villages, stunning places for hiking and outdoor activities, or anything in between, Argentina is a country you should get to know better.
Featured Image Copyright: ©iStock/fotoquique