On the island of Gozo, you'll find scenic cliffs and rural seclusion, but affordable urban conveniences are never far away. ©Gigi Griffis
---
When I think about my time on Malta, I think of bright blue skies, fields of richly green clover, the sound of the ocean smashing against the cliffs, all only steps away from the well-worn stone streets of ancient cities and the chatty and perpetually kind people. And all of it—cities, coastal walks—warmed and cheered by the seemingly endless sunshine, even at the height of winter.
It turns out I'm not alone in these memories. When I asked expats why they moved their whole lives over to the tiny Mediterranean island chain of Malta, sunshine, sea, and the kindly English-speaking population were the three most popular answers. And those answers make perfect sense.
Despite its year-round warmth, though, Malta still manages to have distinct seasons—to the surprise and delight of many expats. Winter is mild and the days are often sunny. But it's also decidedly green—with fields of clover and other plant life spreading out, emerald, across the cliffs and between the towns, dotted by bunches of bright white chamomile and other small flowers. In summer, the landscape grows more barren, highlighting the hearty cactus and its pinkish prickly pears, and hot days drive everyone to the water, where Malta is known as a diver's paradise.
Malta is, in fact, five islands: the main island of the same name, the smaller Gozo, Comino, Cominotto and Filfla. Despite its tiny size, this country manages to pack in a diverse array of sites and lifestyles to suit all. The largest island—Malta—is home to the vibrant, cosmopolitan capital of Valletta (although, with less than 8,000 people, barely a town by U.S. standards) and other urban centers. Gozo is home to a more quiet, rustic lifestyle. Comino—less than 1.5 square miles in size—is virtually uninhabited, apart from a single hotel. However, Comino can still be worth a visit if you're into snorkeling, windsurfing, or exploring an island almost untouched by humans. Cominotto and Filfla are also uninhabited.
Valletta is renowned for being the warmest capital in Europe. Average daytime temperatures are in the 60s F, with at least five hours of no-cloud-in-sight sunshine per day, in the "winter" months of January and February. And temperatures average in the 80s F during the hottest part of the summer.
Valletta is a well-preserved ancient city (built in the 16th century by the Knights of St. John), a popular tourist destination, and a busy port town—at the height of summer, its docks play host to two cruise ships a day.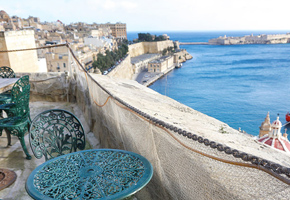 Valletta and nearby Sliema are lively year-round, with busy pedestrian walking areas, well-kept public parks, and hidden-away jazz clubs where music-lovers spill out onto the steps. There is also a wide variety of excellent restaurants, such as the experiential Legligin—a tapas bar without a menu—or the elegant, Italian-inspired Margo's pizzeria. Valletta, in particular, is bursting with people. Locals, of course, but also a young, hip, often self-employed expat crowd taking advantage of the sunshine and cheap cost of living as they build their businesses and skills.
If Valletta is the hub for young, world-curious expats from places like Canada and mainland Europe, St. Paul's Bay and the surrounding areas (including the well-kept and lively seaside town of Bugibba), about an hour northwest of Valletta, have a reputation as an expat haven for a slightly older crowd of British families and retirees.
When I first stepped foot on the pink-brick promenades that line the coast here, I immediately understood their love for this place. It's a little closer to nature than the capital, but it's still lively and popular, with sunny seaside walkways, busy bay-view restaurants, and distant views of fortresses, churches, and islands.
More central and to the west, the walled town of Mdina and the larger city of Rabat that surrounds it are another popular spot with tourists—though the expats don't seem to have caught on yet. Mdina is quiet and tiny, with under 300 full-time inhabitants, and Rabat is busy and lively, colorful and lived-in, with about 7,000 full-time residents, mostly Maltese.
For an expat looking for total cultural immersion, these towns—home to cafés filled with local men having their morning coffees or afternoon teas and the most authentic pastizzi (the popular local savory pastry), according to everyone I met—seem like a good spot.
And finally, there's Gozo, my favorite part of Malta and the second-largest island in the Maltese island chain. It's just 25 minutes north of the main island by ferry (you can catch it in Cirkewwa, on the northwest coast) and has a reputation for rural landscapes, quiet living, and a whole lot of retirees.
Gozo's appeal for retirees is peace and quiet that's still close to urban convenience. It's still easy to get to bustling Valletta, ancient Mdina, or Malta's international airport—each just a ferry and bus ride away. But on Gozo, I woke up every morning to the sound of birdsong and the strong smell of thyme, which grows along the cliffs and often hangs drying in the Gozitan kitchens. In Malta, I was never far from the sound of traffic, of people, of civilization…but on Gozo I enjoyed long coastal walks, with only the sound of the ocean beating the cliffs and the occasional bleating of goats grazing above me.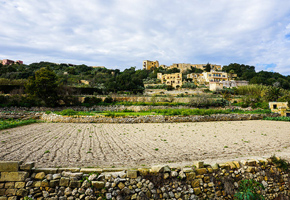 And still, on Gozo, I had everything I needed. Victoria—the capital city—is a hive of activity, full of shopping centers, a sports center, burger joints, and exceptional restaurants (like Maldonado Bistro, where they hand-make their gnocchi and serve prickly pear liquor at the end of the meal). It is headquarters for just about everything on the island, and also has a hospital, two opera houses, and even an organic food shop. Victoria is also Gozo's bus hub (it's easy to reach from any other part of the island) and the top stop for most tourists who visit the island.
The cost of living—already a good value on Malta, the main island—is even lower on Gozo. A day-long bus ticket is just over $1—and only 50 cents if you're a resident over 60. The ferry costs $5 round-trip for visitors, $2 for permanent residents, and nothing for senior residents (with a special card from the transportation company). Grocery costs are reasonable, with milk and bread under $1, eggs about $2, and a mid-range bottle of wine at about $6 on both islands. Expats report living expenses here of between $1,800 and $2,400 a month, depending on their lifestyle.
A two-bedroom, two-balcony apartment near the sea, in the popular town of Xlendi, lists at less than $150,000. An old stone farmhouse in the countryside, with three bedrooms, all en-suite, a storage space (which could easily become a fourth bedroom), and a courtyard with a pool (all perfect for entertaining or even running a little countryside B&B), is just over $400,000.
For North Americans looking to live in Malta, one option is the Global Residence Program. This does, however, stipulate minimum rents of around $820 a month on Gozo and southern Malta and around $900 a month in the rest of Malta. (Fortunately, nearly all rentals—and often some of the sale properties—come already furnished.) North American expats I spoke to also reported living here on temporary residence permits for pensioners and self-sufficient persons (which both need to be renewed annually).
If you're looking for a short stay, Gozo also has plenty of vacation rentals that can be booked by the day, week, or month. Short-term rentals run higher than long-term, but they're fully furnished and all costs are included. Luxury apartments with sea views and near the beach start at about $45 a night. Check out Flipkey.com and Franksalt.com.mt for more information.
And don't worry about getting sick here, either. Maltese healthcare is very reputable—it's widely considered one of the best healthcare systems in the world—and costs are moderate. You'll find both public and private hospitals and clinics here. While most hospitals are located on the main island, Gozo also has one in Victoria.
So if you're looking for a warm-weather Mediterranean destination—whether for a quick visit or a longer stay—put Malta on your bucket list. With its Mediterranean waters; sandy beaches; sunny, warm weather; ancient cities; and low costs, it offers a rewarding, dream-worthy lifestyle.
Get Your Free Malta Report Now
FREE Report – Malta: The Hidden Gem of the Mediterranean.
Simply provide your email below to receive the Free report. You'll also receive a free subscription to our International Living Postcards – a daily e-letter that explores living, traveling and investing in Malta and other exciting countries from around the world.
Get Your Free Report Here