No trip to Greece is complete without an island visit, and even if your trip centers around the mainland, there are plenty of islands you can visit for short stays or even day trips. Below we highlight five islands you can reach by ferry in under two hours from Piraeus, the main port of Athens.
It is worth mentioning that not every island looks like Santorini, one of the most photogenic islands on earth. If white-washed, blue-domed buildings with dramatic cliff views are what you picture when you think of a Greek island, expand your thinking before visiting the islands below. These lower profile islands have their own charm, and while sheer cliffs and azure domes might not be part of the experience, you can expect colorful cobbled alleys, solemn white churches, seafood-rich port villages, and friendly philoxenia (Greek hospitality). Each island has its own heartbeat, and the trick is finding the beat that resonates with yours.
Are you interested in retiring abroad? Yes | Not Sure Yet
1. Aegina: The Island of Pistachios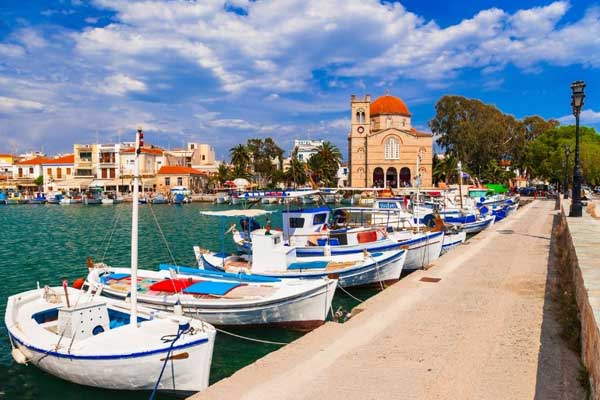 Just 16 nautical miles from Athens lies Aegina, an island famous for its pistachio nuts, the ancient Aphea Temple, unspoilt beaches, and a vibrant art scene. Because of its easy proximity to the capital, this island is a favorite for day trips and weekend getaways. The island's two main ferry stops are Aegina Port and Souvala Port, and the ferry ride durations range from 40 to 70 minutes from Piraeus. At the ports, you'll find traditional fish tavernas and shops selling delicious local pistachio products like pesto pistachio and pistachio butter.
The island is home to the Aphea Temple, a Doric Temple dating back to 500 BC. The location of this temple is significant as it is part of the "holy triangle," an equilateral triangle formed with the Parthenon in Athens and the Temple of Poseidon at Sounion. With 20 of the original 32 columns still standing, it is an impressive structure set on a beautiful hill with sweeping views of the Saronic Gulf.
The island has a lively art scene and was the summer home to sculptor Christos Kapralos. Visit the six workshops in the Christos Kapralos Museum or look for local art exhibitions and openings. The beaches of Aegina are also worth a visit, most being organized with sunbeds and refreshment options. Eginitisa, Klima, and Agia Marina beaches are popular choices or for a change of pace, try Perdika for a traditional Greek fishing village vibe.
2. Hydra: Leonard Cohen's Island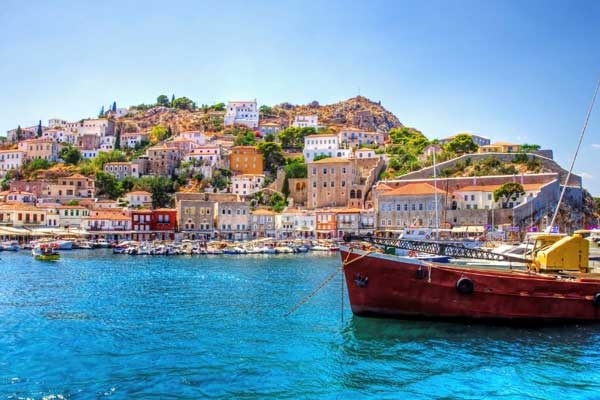 With a population of under 3,000, Hydra (pronounced EE-dra) is a gem of an island located between Spetses and Poros in the Saronic Gulf.  This cosmopolitan, car-free island features a vibrant port village, a few walkable beaches, and numerous hiking trails.
In 1960, Leonard Cohen bought a house in Hydra, and the three-story home became a sanctuary for work and relaxation. The house is now used by his children, but you can wander through the streets and cafes to see his old haunts and inspirations for his poetry and music. To Roloi, a taverna in the harbor was one of his favorites as was O Peiratis, which operates today as The Pirate Bar.
Hydra offers visitors plenty of beautiful beaches accessible by foot or water taxi. Expect pebbled (not sandy) beaches and colder, darker green water than the Aegean Sea of the Cycladic islands. Vlichos, Kaminia, and Molos Beach are all popular destinations. Because the island has no cars, everyone who lives outside of Hydra Town must hike to their home. This means the main trails are well marked and offer visitors the opportunity to take in the island's natural beauty while getting a good physical workout.
Get Your Free Report on Europe Here:
Learn more about countries in Europe and other countries from around the world in our daily postcard e-letter.
Simply enter your email address below and we'll also send you a FREE report - All the Charm and Romance of Europe…at a Price You Can Afford.
3. Spetses: The Island of Understated Elegance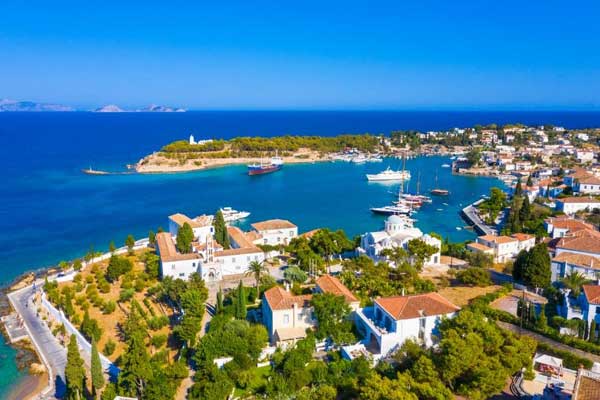 Spetses, the furthest of the Saronic Islands from Athens, is another car-free island offering visitors bicycles, horse-drawn carriages, and footpaths to get around. While some ferries take longer, the Flyingcat 4 ferry will take you from Piraeus to Spetses in just under two hours, making this island a viable option for quick trips.
Spetses is more built up than its car-free neighbor Hydra, and visitors will have plenty of areas to explore. Be sure to visit the neighborhoods of the Old Port, Kasteli, Kounoupitsa, and Analipsi, all within walking distance from the new port of Dapia, where your ferry will drop you off. The island is famous for the Greek War of Independence heroine, Laskarina Bouboulina, and you'll find her statue and the Bouboulina Museum in Spetses Town.
The Poseidonion Grand Hotel sets the tone for the island and is one of the first things you will see upon arrival. Built by tobacco mogul Sotirios Anargyros in 1914, and modeled after the Le Negresco Hotel in the French Riviera, this is a great place for afternoon beverages and people-watching. Spetses is home to many popular annual events, including Armata Week, the Spetsathlon, the biggest triathlon in Greece, the Spetses Marathon, and the Spetses Classic Yacht Regatta. Check your calendar and plan accordingly.
4. Poros: Two Islands and a Bay of Love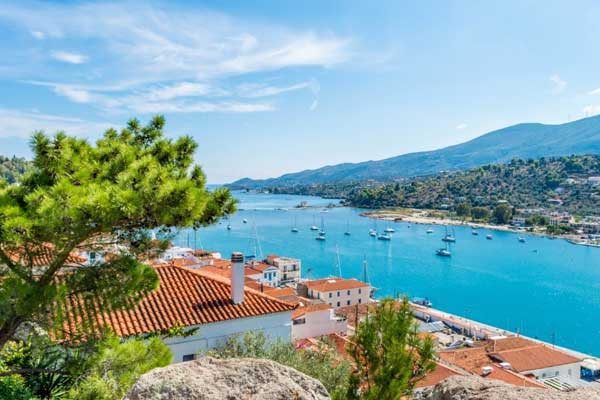 Located just one hour from Athens by ferry, Poros is actually two land masses connected by a small bridge. The smaller island, Sferia, has a volcanic rock foundation, and with its more urban feel, is home to the capital city of Poros Town. Kalavria, the second island, offers a more natural landscape with pine, olive, and lemon tree groves, and freshwater streams.
Main sites include Poros Town, the Archaeological Museum of Poros, the ancient ruins of the Sanctuary of Poseidon, the Bourtzi Castle, and the Shell Museum. Love Bay Beach is also one of the big attractions of the island, offering calm, sparkling water set before a tranquil pine forest and a tiny picturesque church. Askeli beach is another clean, well-maintained beach that draws locals and visitors. Poros is a laidback, accessible island with a touch of everything, making it an easy choice for short island hops.
5. Agistri: The Garden Island of Greece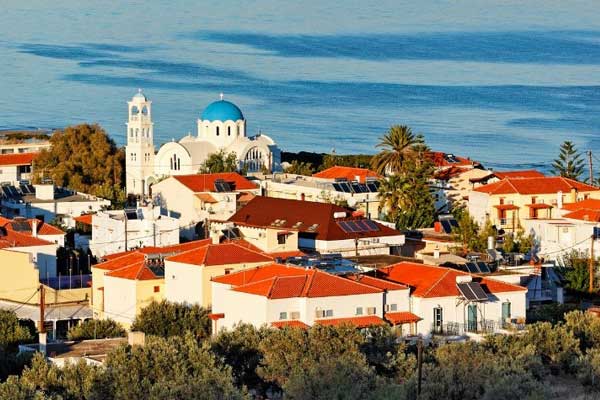 The tiny island of Agistri is one of the greenest islands in Greece, with approximately 80% of its landmass covered by pine forests. This charming island makes it easy for visitors by offering a single circular bus route with stops at the major villages, and most of the popular beaches. The island, with a full-time population of under 1,200 people, has three major villages, including Megalochori, Limenaria, and Skala, as well as two ports.
Most people visit Agistri to enjoy its tranquil environment, clean, uncrowded beaches, and abundant nature. Water sports are popular and you can try kayaking, snorkeling, diving, standup paddle boarding, and more on this island. It is known as being a relatively inexpensive destination, making it an attractive option for anyone who wants a budget-friendly island experience. If you need to get away from the hustle and bustle of city life, Agistri is an easy choice.
A Bonus Island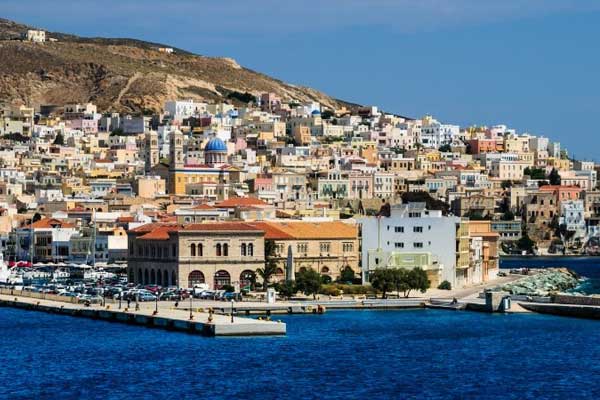 While technically this island falls over the 120-minute threshold, if you have your heart set on getting to a Cycladic island before leaving Greece, you can get to Syros in just two hours and five minutes if you take the World Champion Jet ferry.
Syros has the advantage of being a year-round island which means you can expect to find it lively and vibrant even in the off-season. From theater to fine dining, the administrative capital of the Cyclades is a sophisticated, cultured island that offers visitors a more international experience than some of the other Greek islands. Be sure to head to Ano Syros to take in a sunset and check out the Apollon Theater in Ermoupolis, a 300-seat theater inspired by the famous Italian opera house La Scala.
Final words
Ferry schedules are seasonal with lots of options in the summer and fewer options in the winter. Check Ferry Hopper to get the most up-to-date ferry schedules.
High speed ferries are a good way to keep the trip duration under two hours. While these boats are fast because the ferries are smaller, the ride can sometimes be rougher. Be sure to consider motion sickness medication if you are prone to seasickness.
Ferry travel is one of the most classic Greek experiences you can have and as you can see, your island-hopping experience doesn't need to be a big-time commitment. Pick your island from the list above and round out your Greek holiday with a day or two of island adventures.
Get Your Free Report on Europe Here:
Learn more about countries in Europe and other countries from around the world in our daily postcard e-letter.
Simply enter your email address below and we'll also send you a FREE report - All the Charm and Romance of Europe…at a Price You Can Afford.
Related Articles
Sample Monthly Budget for Living in Greece
A Guide to Off-The-Beaten-Track Greek Islands
Upcoming Conferences
The Only 2023 Fast Track Costa Rica Conference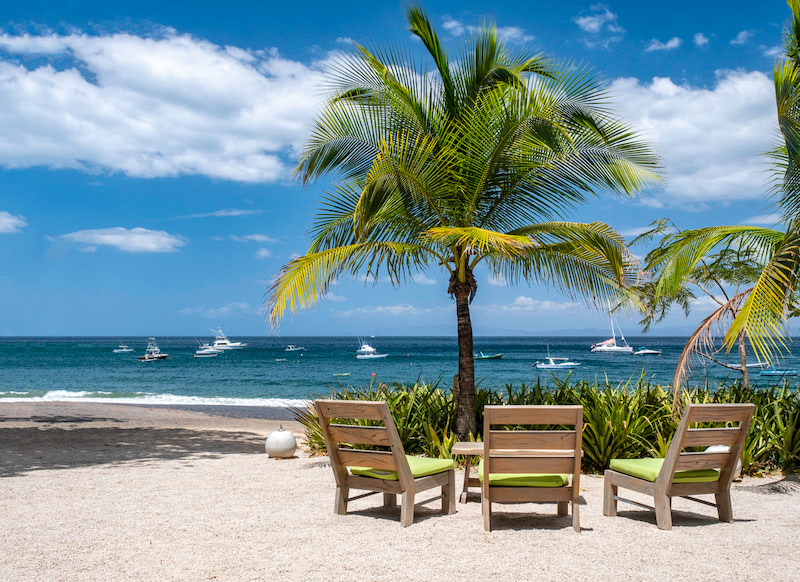 If your dream retirement involves stunning beaches… lush green mountains… a perfect year-round climate… first-rate healthcare… incredible value for money (a couple can live well on $2,109 a month—including rent!)...
Join our Costa Rica experts and expats in June and discover true Pura Vida.
REGISTER NOW, SEATS LIMITED: EARLY BIRD DISCOUNT HERE
---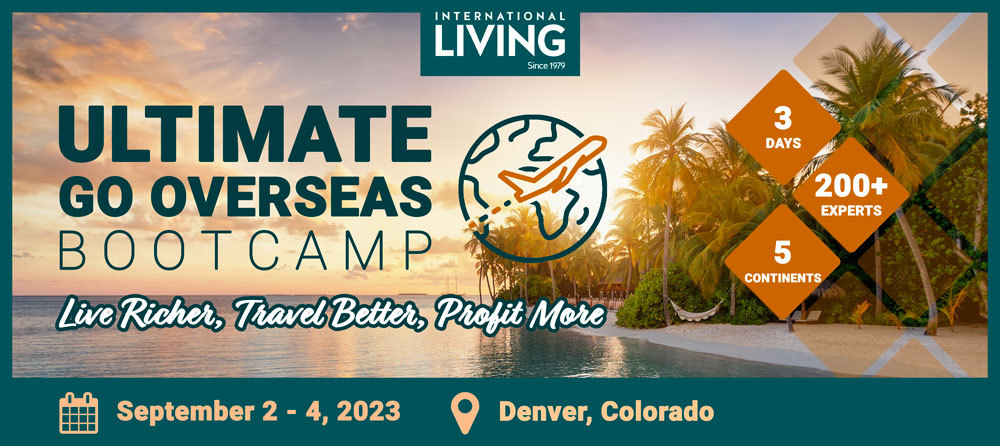 Most Popular Products
Popular Articles You May Also Like