My wife and I have lived in Cuenca, Ecuador for years and continue to be amazed at how far we can stretch our dollars while enjoying a high quality of life. Let's break down some of those costs so you can compare your current budget with what you might expect to pay in Cuenca, beginning with activities that are free.
How much does it cost to attend the symphony and museums where you live? Guess what—there is no charge for either in Cuenca. How about your gym membership? The city offers free Zumba classes in parks all over town several times each week. And many of the same parks are now equipped with fitness equipment for all to enjoy.
Housing Costs in Cuenca
Housing continues to be attractively priced. Expect to buy real estate with modern conveniences for around $100 per square foot or less. Rent a spacious three-bedroom unfurnished condo for $500 to $600 a month. Cuenca's temperate climate requires no heating and air conditioning, making utilities a bargain—your monthly electricity bill runs around $30; gas and water $7 each.
Most expats choose to use public transportation rather than owning vehicles. Buses are 25 cents, and taxi rides usually cost between $1.50 and $2.50. If you do own a car you'll be pleasantly surprised to pay $1.48 a gallon for gasoline—and not have to pump your own gas!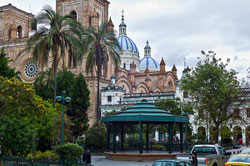 Expect to see your grocery bill slashed in Cuenca. Locally grown produce is ridiculously inexpensive—4 avocados for a dollar and lettuce for 50 cents a head, for example.
Take advantage of the almuerzos (fixed price lunches) in the city for the best bargains. Our favorite restaurant serves a big bowl of soup, fresh juice, tasty meal and dessert for $2.50 each. "High end" restaurants offer entrees for $15 or less.
Health Care and Retiree Benefits
Quality health care is available for a fraction of what you would pay in the U.S. A visit to the doctor (which will be scheduled the same day) is $25 to $30. Expect to pay the same for a dental exam and cleaning. As of January 2014 the Ecuadorian government has opened the national health care program to all residents without age or health restrictions. Enroll online, pay $70 per month (+ $10 for your dependent) for three months, then all your benefits, including medications, are free.
When you reach the age of 65 in Ecuador you enter what's known as "tercera edad" (third age) and are entitled to special benefits. Public transportation and entertainment events are half price, as are utilities if you own your residence and airline fares are discounted. Plus you are refunded your 12% IVA tax each month on all purchases up to $190. Sweet!
There are many reasons to live in Cuenca—the quaint colonial architecture; moderate temperatures; cultural amenities; quality health care; and a pedestrian lifestyle. Add to that the low cost of living and Cuenca is an attractive retirement option.
Get Your Free Ecuador Report Here:
Learn more about Ecuador and other countries in our daily postcard e-letter.
Simply enter your email address below and we'll send you a FREE REPORT – Ecuador: Live Like Royalty on Your Social Security.
This special guide covers real estate, retirement and more in Ecuador and is yours free when you sign up for our postcards below.
Get Your Free Report Here