Lorelei Kusin lives on an island in Panama's Bocas del Toro province, and in this part of the Caribbean, time seems to stand still.
"Our small house is situated on a bay facing the ocean," she says. After waking to the sound of chattering birds, Lorelei and her husband James enjoy a cup of freshly ground Panamanian coffee, followed by a smoothie using local fresh produce such as fresh coconut water, mango, pineapple, guanabana, and bananas. "Then I often swim or paddleboard before we head to town in our 22-foot boat."
Lorelei was living in San Francisco when she decided she needed a break from corporate America. "I'm a proud American, but I needed an adventure," she explains. She and James embarked on a sailboat voyage, intending to go as far as Costa Rica. But once there, Lorelei couldn't bear to turn back. "We kept going till we reached the Panama Canal.
"We discovered Bocas by accident," says Lorelei. Facing bad weather off the coast of Portobelo, the couple had no charts and no idea where to go. "We asked some other boaters and they said to take a left to this place called Bocas.
"Locals hung out in hammocks and fished for their meals back then. I loved it."
Though she continued to explore the Central America region by boat, Lorelei eventually decided to make Bocas her home. They found bright turquoise waters and hundreds of untouched white-sand beaches. All this in a part of the Caribbean that doesn't get hurricanes.
She and her husband made their home on the smaller, less touristy island of Carenero, just a few minutes away by boat or water taxi. "We're so close to town, I can kayak if I want to," she says. Her home is small, just 500 square feet, but it's right on the water
Lorelei is hard-pressed to choose what she likes best about Bocas. "Sunsets in Bocas are as incredible as the sunrises," she laughs, adding that she loves the people and the tropical weather…and has no intention of living anywhere cold ever again. "Bocas is so diverse. There are white sandy beaches, mangrove trees all over the place, and virgin rainforest that butts up against the Caribbean.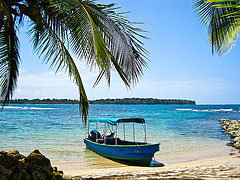 "A lower cost of living is also one of the reasons I chose to settle here," says Lorelei. "We live a very simple life, albeit in a small island home on the water. We enjoy a constant breeze and don't need air conditioning. And since this is an island with no roads, we don't need a car, either!"
Lorelei and James do have home offices and need good internet, and they splurge on domestic help once a week. "But in all, our monthly overhead at our home, which we own, is less than $200," she says.
Lorelei's one "big" expense is healthcare. "But good care is readily available and insurance is very affordable. I pay $125 a month for full benefits." It was these benefits Lorelei just used to get knee surgery in Panama City.
"Very active people do well here," says Lorelei. "You have to be adventurous and easy-going. Our lifestyle here is so much more tranquilo than it would be if we were back home."
But don't mistake tranquility for boredom, says Lorelei. "Bocas is very social. There is always an opportunity for lunch, afternoon beach gatherings, or happy hours, and we take part in as much as possible. It's a vacation mecca and so everybody is in vacation mode."
Get Your Free Panama Report Here:
Learn more about Panama and other countries in our daily postcard e-letter. Simply enter your email address below and we'll send you a FREE REPORT — Panama: First World Convenience at Third World Prices. 
This special guide covers insider advice on real estate, retirement and more in Panama. It's yours free when you sign up for our IL postcards below.
Get Your Free Report Here