"You don't have a car? How is that possible?"
That's the usual reaction my wife Cynthia and I get when we tell attendees at International Living conferences that we haven't owned a vehicle since we moved to Cuenca, Ecuador, six years ago.
When we were considering the notion of relocating abroad, part of our strategy was to find some special place in the world where as many of the negatives as possible could be eliminated from our lives.That included having to climb into a vehicle every time we left our home. After too many years on the suburbia merry-go-round, we were more than ready for a change.
Our residence in Cuenca has been the perfect answer to our desires. Everything we need—grocery stores, dry cleaners, florists, cinemas, tons of great restaurants—is within a 15-minute walk of our front door. Ten minutes more and we're standing in Parque Calderon, the historic district's central square.
Health benefits of walking aside, we've discovered our pedestrian lifestyle opens up a wonderful world of spontaneity and surprises. An evening downtown a few nights ago serves as a perfect example.
We met friends for dinner at a beautiful restaurant in the enclosed courtyard of a restored colonial hotel. After enjoying a lovely meal and impeccable service, our plan was to attend a choral presentation in the nearby Old Cathedral. Arriving there after a short walk, the building was dark and the gates locked. Not a good sign…
Waiting around "just in case," we noticed well-dressed people going in and out of the building across the street from the church. Thinking perhaps we'd misunderstood the concert's location we all went inside to investigate.
A large group was standing around in the rotunda drinking wine and chatting. In an empty auditorium was a sign indicating a presentation for the Judicial Council (whatever that is) had concluded. We decided, "The concert isn't happening and we're here, so what the heck, let's have a glass of wine and chat too!"
Afterwards our friends needed to get home, but Cynthia and I realized there was time to attend a symphony performance a short walk away. On our way there we spotted a stunning new art gallery and just had to take a few minutes to check it out. The gracious owner invited us to his grand opening celebration the following week.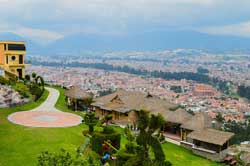 After getting the opening party details and saying our good-byes, we scooted down the street to our symphony performance and remarkably found two front-row seats in the balcony of the packed concert hall just as the lights went down. Since our decision to be there was so impromptu we had no idea what was to be performed. The full orchestra, guest violinist, four solo vocalists, and a 60-member choir treated us to an evening of moving Easter-themed music.
And it was totally free of charge.
Strolling home under a full moon we reflected on how many times delightful, unexpected experiences like this one fall into our laps simply because of being out and about on foot. And how the freedom experienced with our pedestrian lifestyle is denied with the driver's mentality of simply getting from Point A to Point B and back.
So, yes, foregoing vehicle ownership is not only possible here in Cuenca, from our point of view it's highly preferable.
Get Your Free Ecuador Report Here:
Learn more about Ecuador and other countries in our daily postcard e-letter.
Simply enter your email address below and we'll send you a FREE REPORT – Ecuador: Live Like Royalty on Your Social Security.
This special guide covers real estate, retirement and more in Ecuador and is yours free when you sign up for our postcards below.

Get Your Free Report Here