Eighteen years ago along with my whole family, I moved from Colorado to Ecuador. Most people thought we were crazy, but that decision opened my eyes to a beautiful world and changed my life forever…for the better!
It didn't take long for me to fall in love with Ecuador…especially with our new home town of Tena. There is a vibe about Tena, a feeling of youth, fun, and adventure. That atmosphere is contagious and impossible to shake.
It's rather like a hip beach town…except instead of the ocean we have rivers, instead of sand we have jungle, and instead of surfers we have kayakers. The laidback lifestyle is one of my favorite things about Tena and about Ecuador as a whole.
A lot of people, even many Ecuadorians, think that living in the jungle is primitive and crazy. But they're operating on a misconception. Once you've been to Tena, you realize it's not all dirt roads lined with grass huts like some people think but rather a modern city with plenty of amenities, including a supermarket, restaurants, clinics, and hospitals.
And the almost jungle climate is another unexpected plus about living here. Yes, it's hot, but only during the day, reaching highs of around 79 F year-round. At night things cool down, making for great sleeping weather.
Rain also keeps the temperatures from becoming unbearable. I love when it's been a hot day and then the clouds start rolling in, the breeze picks up, and sometimes it even begins to thunder. The afternoon rain is probably my favorite thing about living here.
With temperatures cooling down at night, that's when Tena comes alive with people taking an evening stroll, grabbing a snack at one of the many street vendors, and enjoying the pleasant evening air. It's one of my favorite small pleasures of living here.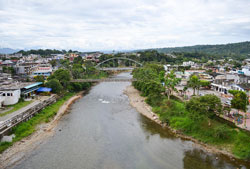 You're never short of interesting company in Tena either. Living here, I've met people from all over the world. As a popular tourist destination, there's always lots of activity. People come for the rivers and for the jungle. Rafting and kayaking are great ways for people to enjoy both, as you can get to untouched areas of jungle that most people have never seen. And on those really hot days, there are a variety of waterfalls, lagoons, and sandy river beaches to help you cool off.
The wealth of natural beauty in Tena has an unexpected effect on your pocketbook. Since most of our recreational activities are nature-based and we eat mostly fresh, unprocessed foods, our cost of living in Ecuador is naturally quite low. We live comfortably and contentedly.
There are a variety of restaurants here where you can eat at a low cost. We have lots of pizza and burger places, and a few seafood places that are good. The newest gringo-haunt, Guayusa Lounge, is owned by a lady from the States. She does pizzas, sandwiches, and cocktails. Expect to pay about $5 per person for a good meal—a little less for a burger and fries (maybe $4) and a little more for seafood (about $8).
It's a quiet, natural kind of life in Tena…and I wouldn't change it for anything.
Get Your Free Ecuador Report Here:
Learn more about Ecuador and other countries in our daily postcard e-letter.
Simply enter your email address below and we'll send you a FREE REPORT – Ecuador: Live Like Royalty on Your Social Security.
This special guide covers real estate, retirement and more in Ecuador and is yours free when you sign up for our postcards below.
Get Your Free Report Here