Living in San Pedro, on Belize's Ambergris Caye, I'm a bit spoiled. It offers spectacular Caribbean Sea activities and lifestyle options. So I don't typically need to take a vacation to anywhere else in Belize. But I recently spent a wonderful week checking out Placencia and it far exceeded my expectations. Each morning I woke to find a calm, glistening sea, it's surface smooth as glass…a delightful way to start the day!
Much has changed on the Placencia Peninsula in the last number of years, so if you're thinking of adding Placencia to your list of places to visit in Belize, I'm going to share some of my travel tips.
Getting there
Since the Placencia Peninsula is 17 miles long and rather spread out you'll need a car to get around. To save time, many tourists fly directly from Belize International airport to Placencia, rather than drive there, which takes an extra day.
If you do fly, my recommendation is to spend the first few days at a resort in or near Placencia Village. That way you can get around on foot, by bike, or a short taxi ride. As car rentals are expensive in Belize you'll also save on the rental costs this way. (If you do decide to rent a car, you'll get the best deal by renting from a company in or around Belize City and the international airport. They compete for service so offer better prices.)
Things to do in Placencia
You can easily spend a few days exploring Placencia Village on foot. There's also plenty of activities like snorkeling, diving, fishing, or boating tours. Your resort can help you set up whatever tour you are interested in taking.
You'll find plenty of appealing cafes, bars, restaurants, and gift shops worth checking out too. It's fun to explore this quirky, colorful village, parts of which can only be reached on foot. Favorite expat hangouts on the Peninsula include: Above Grounds Coffee House and the Barefoot Bar in the village, and Mango's at Maya Beach. So if you're looking to speak to some people and find out what it's like to live here, it's worth stopping by.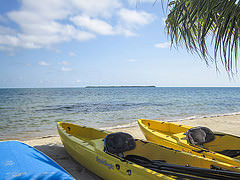 Take a stroll along the famous Placencia Village boardwalk and you can't miss the irresistible signs leading to the Tipsy Tuna and the Barefoot Bar, both of which are on the expansive beach. The vivid yellow, orange, green, purple, and blue arrows tempt you to leave the path and join the party.
Once on the beach, I opted for a late afternoon cocktail at the Barefoot Bar and indulged in a Blue Margarita… How can you resist a cocktail that perfectly reflects the hue of the Caribbean Sea?
For solid, reasonably priced, local Belizean specialties, try Omar's and Wendy's, both of which are in the village. If you'd like to splurge on an upscale gourmet meal, reserve a table for dinner at the Maya Beach Bistro.
Renting in Placencia
After spending a few days in the village, it's a good idea to try out a different area of the peninsula. If you are considering moving to the area, you may want to stay closer to Maya Beach, which is where many expats live.
Renting in Belize is one of the best ways to explore the many options this tiny gem of a country has to offer. And as always my recommendation is to rent for six months before buying anywhere.
All short-term vacation rentals are pricey when compared to rentals of several months or more. (The prices for long-term rentals managed by a Belize property management company are typically much lower.)
One place to start is by checking out the online companies that focus on international vacation rentals. These websites mainly focus on short-term vacation rentals. But some of their independent property owners are willing to offer lower rates for rentals of a month or more, especially in the off season.
Many real estate agents in Belize offer rental houses and apartments. Rentals can be had starting at $750 a month. But most rentals here run $1,000 a month or more.

Related Articles
Rent in Belize From $350 a Month
The 7 Best Reasons to Move to Belize