I moved to Cuenca 17 months ago from Canada on a pensioner's visa and in that time, my life has changed so much…for the better.
Twenty-three months before I made the move, I made a conscious decision to change my lifestyle, and to get away from the rat race, the pursuit of the almighty dollar, and its attendant stress levels.
I needed to find a place, somewhere on the planet, where I could live a happy, un-politicized and uncomplicated life.
I needed to slow down, find happiness and real friends, not just acquaintances.
I needed a new, less stressful environment, where I could immerse myself into a culture of living life to the full, experience temperate weather all year round, a low cost of living where my pension would stretch. I wanted good inexpensive healthcare. I also needed a place where there was opportunity, so that if I wanted, I could still "work" to satisfy my high energy levels and keep my brain active.
I found all this, and more, in Cuenca.
This beautiful, colonial heritage city is located in the Andes at 8,200 feet above sea level. The air and water are pure and the municipality keeps the city clean. They take pride in their city and have people every day sweeping and cleaning the streets.
If you ever want to go away and to experience a different environment or climate for a weekend, you're spoiled for options. Thirty minutes away, you'll find the Cajas National Park where you can go hiking and catch trout in natural small lakes.Take a three-and-a-half hour drive and you can reach Guayaquil (and its international airport). A five-hour journey will take you to both the coastal resort of Salinas and the Amazon jungle.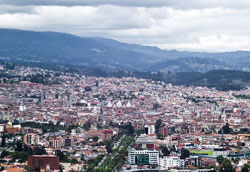 But really, everything you could want is in Cuenca:
You can walk everywhere in Cuenca easily so you don't need a car. It keeps most of us expats naturally fit and health. If you prefer or need to, you can take a bus for only 25 cents to anywhere in Cuenca.
And the healthcare exceeds expectation. A recent four-day IESS social insurance hospital stay, in a three-bed ward, clean, and as well-equipped as any I have ever experienced with doctors and interns in attendance twice a day, cost me just $3.45!
The local Cuencanos are family oriented, friendly, and welcoming. As a Cuenca expat, I've found a community of expats eager to make friends and to help each other. It's a small town atmosphere you don't find in every city.
In fact, I have made more real friends in Cuenca, in 17 months, than I did in 15 years living in Toronto. It reminds me of my previous life growing up in Central Africa.
For anybody wanting to change their lifestyle, enjoy a whole new more natural life and experience, Cuenca, Ecuador is hard to beat.
Get Your Free Ecuador Report Here:
Learn more about Ecuador and other countries in our daily postcard e-letter.
Simply enter your email address below and we'll send you a FREE REPORT – Ecuador: Live Like Royalty on Your Social Security.
This special guide covers real estate, retirement and more in Ecuador and is yours free when you sign up for our postcards below.
Get Your Free Report Here