Forget what the scientists tell us about the five happiness factors. I've lived in Nicaragua for eight years and I can easily explain why I am much happier here than I ever was in the U.S.
Don't get me wrong, my life was fine in San Diego, good even. But now that I see how life can really be for a retiree, there's actually no comparison. Here's why:
Living better: I paid $132,000 for a two-bedroom, two-bathroom house on almost an acre of land…with an ocean view. That would have been impossible in the U.S. with my middle-class salary. Today I wake up to the sounds of tropical birds and howler monkeys. It is so cheap to live here that I have enough money left over to go out to eat whenever I want, and travel around the country. I can take art, dance, or music classes. This affordability stretches my money and actually allows me to do much more than I could back in San Diego.
Having a more fulfilling life gives me a constant sense of well-being, which translates into happiness. Enjoying the small things in life. My friend Monica says, "We couldn't be happier or in such a great financial position anywhere else. Back home we'd both have to work just to maintain our house and care for the kids."
Having more time: You will never hear the complaint, "I can't, because I don't have enough time" in Nicaragua. With services like cleaning and gardening available for around $10 a day and full-time nannies who also cook for $225 a month, everyone has more time. Expat Sarah Fahey says, "We have much more time to be with our children. Justin and I set our own work hours and have the opportunity to explore our entrepreneurial sides. Justin even has time to head up a local rugby team, a lifelong passion of his."
Feeling free: I've never felt as free as I do in Nicaragua. The rules and regulations don't strangle me here. I can play my music with my windows wide open, I can walk up to the edge of an active volcano if I so choose, I don't have to keep up with the Joneses nor answer to anyone. I can make fruit liqueurs in my home and even sell them if I decide to. You can pretty much do anything you want here without anyone bothering you.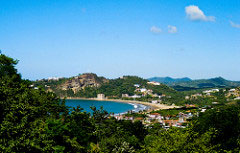 It allows you to appreciate the smaller things in life and not be so materialistic…because you don't have to. You don't need a fancy car or house. You sleep much easier at night not worrying about the million things you have to remember the next day.
Bobby Hottensen, owner of a craft brewery in San Juan del Sur says, "We love the slower pace of life and every day is interesting, never the same. We can't imagine that old life in the States anymore…driving in horrible traffic to work and back every day, eating dinner, going to sleep and doing the same thing again, day after day."
Feeling safe: I moved to Nicaragua alone, not knowing anyone. I travel on local buses and walk where I please. Yes, there are areas to avoid, but this is true everywhere. I feel much safer here than when I lived in California or when I go back to visit now.
Driving without freeways and road rage: We don't realize what a big stress factor driving is until we don't have it anymore. A traffic jam for me now is when I have to slow down for the oxcart in front of me, or a herd of cattle coming down the road. I just stop and smile.
Then there's the beautiful weather…the gorgeous virgin beaches where you can laze away your days…the fantastic coffee and chocolate that win international awards…I could go on and on.
Really, everything about living in Nicaragua makes me happy.
Get Your Free Nicaragua Report Here:
Learn more about Nicaragua and other countries in our daily postcard e-letter. Simply enter your email address below and we'll send you a FREE REPORT –  Start a New Life on the Beach in Nicaragua.
This special guide covers real estate, retirement and more in Nicaragua and is yours free when you sign up for our IL postcards below.
Get Your Free Report Here