"As the sun peeked over the horizon, I heard the bells of the cathedral ring out, welcoming in the day," says Pat Buff of the moment she fell in love with Granada, Nicaragua. "I went out onto the hotel balcony to enjoy my cup of coffee and watched as the city came to life. It was in that magical moment that I realized this is where I wanted to live."

But it wasn't just the city's beauty that enticed Pat and her husband Rich to leave the high costs of Austin, Texas, behind and move to Granada. Its affordability attracted them as well.
"We can enjoy a liter of the local beer or a cappuccino in a restaurant for around $1, or a soda for about half that price," says Rich. "A local restaurant meal for the two of us, including beer, sets us back less than $10."
They now live comfortably on $1,200 to $1,500 a month. "With the high price of healthcare in the U.S., we'd be paying that much just for insurance," says Pat. "Here we can see a private doctor for just $5 or go to the clinic and be treated for free."
Lying on the shores of Lake Nicaragua, Granada exudes colonial charm. The ornate yellow and white cathedral is the centerpiece of the main plaza. By day, the nearby park comes alive, with local vendors selling homegrown cashews, freshly baked breads, ice-cold treats, and clothing.
The cathedral also marks the entry onto the calzada, the city's most popular street. Its cobblestone walkway, lined with bars and restaurants, is the perfect place to enjoy a cold beer or a rum with friends, while watching the sunset over the lake.
For just $53,000, Pat and Rich bought a two-bedroom, two-bathroom home, with a loft they can use for storage or as an extra room. Their home features a large yard, with a bodega for additional storage, and sits just over a mile from the city center.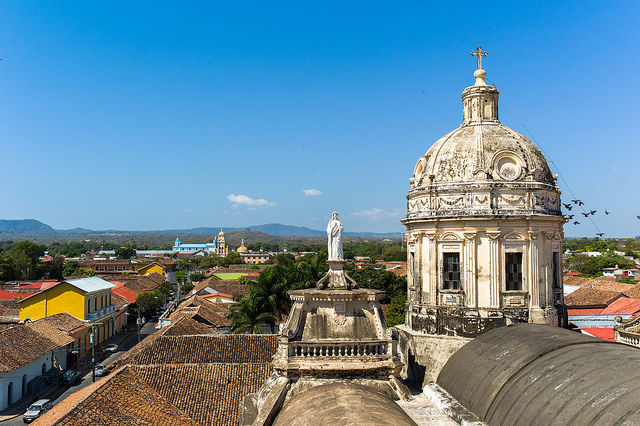 The couple grew up in Fair Lawn, New Jersey. Rich worked as a software engineer, a career that kept them moving around the States. Eventually, the two planted their feet in Austin and grew roots. But when the "Live Music Capital of the World" became too pricey, they began to look for greener pastures.
"The cost of living in Austin has become so expensive," says Pat. "We know we can never go back there. In Nicaragua we live on less money than we paid for just our monthly mortgage payment."
The high-school sweethearts began thinking of retirement outside the U.S. while on their first visit to Granada. Through savvy investments, they managed to put enough money aside to retire at the young ages of 54 and 55—but only if they could find a place to live for less.
On their very first visit to Nicaragua, they fell in love with the country, the people, and the culture. "It felt safe here and something just felt right," says Pat. "It felt like we were home."
The locals also endeared Granada to them. During one of many visits, Pat and Rich found themselves right smack in the middle of a parade. "It was during the observance of La Purisima, an eight-day religious celebration before Christmas," says Pat. "The Nicas celebrate with parades, dancing, music, food, and fireworks. Before we knew what was happening, we found ourselves dancing in the parade in the middle of the street."
They stumbled into a Friday-night expat mixer at a local restaurant and picked the brains of other expats, who later became their friends. Granada has a large expat community of people from all over the world. "It seemed like a good fit for us, with the right amount of expats, shopping, and ways to keep busy," says Pat.
"We absolutely love it here," says Pat. "There are a few things we miss from the U.S., but not much."
Get Your Free Nicaragua Report Here:
Learn more about Nicaragua and other countries in our daily postcard e-letter. Simply enter your email address below and we'll send you a FREE REPORT – Start a New Life on the Beach in Nicaragua.
This special guide covers real estate, retirement and more in Nicaragua and is yours free when you sign up for our IL postcards below.

Get Your Free Report Here