When I'm corresponding with one of my International Living editors on Friday's, he always ends his emails with "Have a great weekend!" I invariably chuckle at this because for me as an expat in Cuenca, Ecuador, every day is the weekend.
Not by usual time measurements, of course. Expats don't have special calendars filled with only Saturday's and Sunday's. It just feels that way.
I have a confession that may seem strange to you. Maybe I'm the only expat guilty of this, but I rarely know the date of any given day (as in November 25th). When an important date is approaching—like my wife's birthday—I make a special effort to keep up. But honestly, most of the time such information just doesn't matter. It's today and I'm going to enjoy it doing whatever I please.
Now I'm not so bad that I don't even know what day it is. As I write this I'm fully cognizant that tomorrow is Saturday. Why? Because I'll be watching college football. Like I said, I steadfastly keep up with the important aspects of my life.
You know, now that I think of it, not only are all my days like the weekend. It also feels like I'm on permanent vacation. Being on vacation doesn't necessarily mean a trip to the beach (although my wife and I did exactly that last week). Lots of folks with J-O-B's use some of their vacation days to just relax and putz around the house.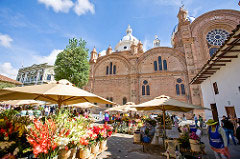 Imagine getting up each day and owning every single minute of your waking hours. No commutes…no work…no schedules and appointments. In fact, no obligation to do a darned thing you don't want to do.
Sound good? Trust me, it's beyond good—it's fabulous!
Tired of the "same old same old?" The old cliché is true: if you keep doing what you're doing you're going to keep getting what you're getting. Why keep postponing your happiness? If you're thinking about retiring abroad, it's never going to be the "perfect" time, and there's always going to be another dollar to earn.
Do the research to find a great retirement destination that suits your needs. Plan a visit to see if that place truly speaks to your heart. Then summon up the courage and go for it.
You've worked hard your entire adult life and richly deserve the luxury of annual 52-week vacations. Make a worthy New Year's resolution this year…to stop settling and take control of your destiny. Expat life can be a grand and glorious adventure. Maybe you'll even be like me and have so much fun you forget what day it is!
Get Your Free Best Places to Retire in the World Report Here:
Learn more about the best places in the world to retire in our daily postcard e-letter.
Simply enter your email address below to sign up for our free daily postcards and we'll also send you a FREE report on The World's Top 10 Retirement Havens.
Get Your Free Report Here