Earl and Gail Johnson have lived in the Corozal District, a retirement haven in northern Belize, for eight years. Corozal is a small town, set on the vast Corozal Bay and just nine miles from the Mexican border. It has a close-knit expat community, with plenty of clubs and social activities.
The town itself is fairly low-key, but with everything you need for day-to-day life. "My wife always wanted to retire in a foreign country," says Earl. "Corozal is retiree-friendly. You can't say any place is crime-free, but it's certainly safer than Fort Worth. When we came here it was probably the best-kept secret, but not so much anymore. There are lots of expats here."
The Johnsons can make their retirement dollars stretch much further here. They have a house on the water on Four-Mile Lagoon, which is 10 minutes from Corozal town. They have a maid who
comes in one-and-a-half days a week, a yard man who comes three days a week, and a gardener for five hours a week. They could never have afforded this luxurious lifestyle in Texas, says Earl.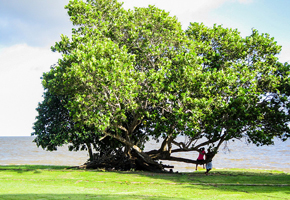 Along with saving on their expenses, they saved by joining the QRP program, too. They brought in $12,000 in household goods duty-free, for example. The QRP program was also ideal for Earl's situation when they first moved down. His father was seriously ill at the time. As a QRP visa-holder, Earl was able to leave for home and return to Belize at will. QRP members are only required to stay in the country for one month a year to maintain their visa status.
"The application for QRP residence was easy," says Earl. There is a $150 application fee, as well as a one-time fee to join the program, which is $1,000 for the visa-holder and $750 per dependent. There is also a $200 fee to obtain your QRP residence card from the government. For couples, one spouse can be an "official" QRP visa-holder, with the other as a dependent. Children under 18 can also be dependents. QRP status must be renewed annually.
"Every year we get the bank to write another letter saying we meet the income requirement, and submit it. It's easy. And they've streamlined the process over the years," says Earl.
Gail and Earl have a busy calendar in Corozal, with social events, clubs, and more. Overall, they feel they've achieved a great quality of life.
"We are busier than when we were working. I'm in the local Rotary Club. I have been president four times; now I'm the treasurer. We are in the Corozal Bay Sailing Club; the club is involved in teaching local kids to sail. We are members of the Garden Club—we have a lot of orchids. Gail is a member of the Corozal Women's Forum, a women's club. These activities keep us pretty busy," says Earl.
Get Your Free Belize Report Here
Learn more about Belize and other countries in our daily postcard e-letter.
Simply enter your email address below and we'll send you a FREE report – Belize: The Top English-Speaking Retirement Haven in the Caribbean.
This special guide covers real estate, retirement and more in Belize and is yours free when you sign up for our postcards below.
Get Your Free Report Here