Enjoying a creamy café con leche (white coffee) on a busy pedestrian street, I watch the world go by. Well-dressed business people, smartphones in hand, walk purposefully. School kids joke with each other as they head to class. Older couples walk hand in hand. The backdrop is a mix of old and new: glass-fronted modern buildings and centuries-old Baroque and neoclassical structures.
This is Arequipa, a city of 1 million in the southern end of Peru, with a charming colonial district (a UNESCO World Heritage site) surrounded by a bustling metropolis. It has a lot to recommend it.
The weather is mild and comfortable—in the mid-70s F during the day, almost year-round, dipping into the 60s F at night. It has modern services and amenities like international restaurants, high-speed internet, and well-stocked grocery stores. But one of the biggest draws for expats, is the low cost of living. Food is inexpensive; the local plato del dia (dish of the day) is usually around $2 to $3, and even a gourmet meal will be about $10 for three courses. Medical care is extremely reasonable, at about $50 for a visit with a private doctor. But the biggest savings come with housing.
When you're ready to try out life in Arequipa you can find many top-notch rentals (two or three bedrooms) starting at $400 per month (sometimes even less) in the most desirable neighborhoods.
You want to be close to the historic center. It's full of colonial-era homes, churches, a cathedral, and other buildings made of sillar (a type of volcanic rock). The original Spanish settlers found this volcanic rock easy to carve into blocks, and it was plentiful in the region. It's off-white, and glistens in the right light, hence the city's nickname: The White City.
It's a nice place to take a stroll, day or night. Pedestrian-only streets lined with restaurants, shops, boutiques, and cafés snake off the showcase Plaza de Armas, the site of a charming, well-kept park and cathedral.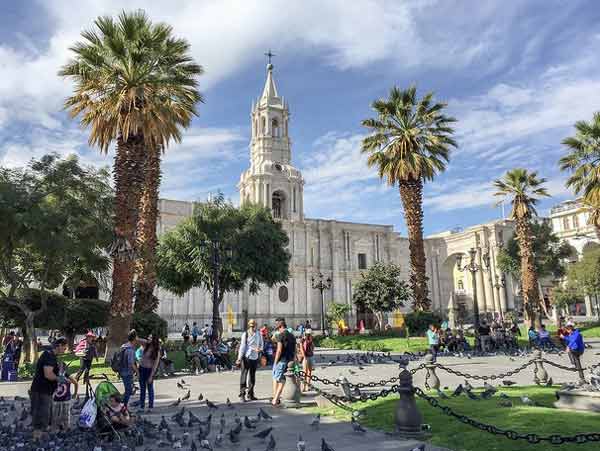 The Yanahuara district, just across the river from the historic center, has a mix of modern and colonial architecture and is one of the most popular with locals and expats. There, you can find a three-bedroom home, furnished, with a small yard, for $800 a month. A three-bedroom apartment is listed at $480, and it comes fully furnished.
Cayma, a high-end district just outside the historic area and next to Yanahuara, has plenty of affordable rentals, too. For $446 per month, you get a three-bedroom unfurnished apartment in a modern building. A fully-furnished, three-bedroom apartment is available for $615 a month. A furnished one-bedroom is listed at $287.
What about utilities? Because there's no need for heat or air conditioning, electricity will run $50 to $60 a month. Water is $10, and a high-speed internet/cable TV package about $70 a month.
There are a few things to keep in mind when seeking out rentals in Arequipa (and elsewhere in Peru, for that matter). Most real estate agents are independent, and most of the websites listing apartments are in Spanish. So, it can be tough to find a place. It's a function of this being a more "up-and-coming" expat destination. The lack of an established expat market means lower prices, and owners are willing to negotiate.
Networking is key to finding a rental. Chat with expats you meet in town, scan the websites (often with an online translator), ask local expat business people at their shops or restaurants, and ask around on online expat forums and Facebook groups.
Get Your Free Peru Report Here:
Learn more about Peru and other countries in our daily postcard e-letter.
Simply enter your email address below and we'll send you a FREE report: Peru – The Land of Incas…and Adventure.
This special guide is yours free when you sign up for our IL postcards below.
Get Your Free Report Here
Related Articles
Enjoy a Low Cost of Living in Peru
What Does It Cost to Retire in Peru?