There are a lot of people in the States today who think they'll never have enough money to retire comfortably. But there are places overseas where you can still own your own property outright…where world-class healthcare won't send you to the poorhouse…where the cost of living is much lower than back home. I was able to retire 11 years early by moving to Nicaragua.
Matagalpa, a city in Nicaragua nestled in the mountains with a year-round springlike climate and a low cost of living, is a great place to retire and is worth your consideration. It's fresh, clean, sophisticated and with a population of over 150,000, it offers a lot.
The city's entire infrastructure makes it easy to move and live there. All the modern amenities are here: high-speed Internet, modern supermarkets, elegant coffee shops, theater, and more. For hardware and home decorations you can visit the local SINSA, where you'll find surge protectors, modern lamps, and anything else you may need to make your new house a home. Meanwhile, La Colonia supermarket has all kinds of cheeses, barbeque sauces, almonds and walnuts, spices, fresh mushrooms, as well as all your preferred brands of soap and shampoo.
Excellent Healthcare for a Fraction of the Cost
Modern clothes and shoe shops can be found everywhere. One store specializes in beautiful shoes and styles from Brazil, at a fraction of the price you'd pay in the U.S. or Canada. Alternative medicine shops abound and carry all the vitamins, extractions, and health products you'll ever need. Great healthcare is also here, right at your doorstop—with a general hospital, many public and private clinics, and specialists, you have your choice of medical and dental care…at about 1/10th the price it would cost back home.
There are between 250 and 500 expats living in Matagalpa—and you'll find them in the several barista coffee shops around town or at El Gran Café, a modern café with elegant décor, air-conditioning, and WiFi. Matagalpa is in the heart of coffee country and coffee is one of its most lucrative industries. Not only can you sample the best coffee the country has to offer, you can also visit and explore any of the hundreds of coffee plantations, large and small, that dot the countryside.
If you're looking for a great place to eat you'll find Cuban, Chinese, Mexican, and Italian restaurants, as well as a California-style restaurant that's particularly popular with expats—it's called Happy and you'll find great home-style food, such as spaghetti carbonara, breakfast burritos, and quarter-pounder hamburgers with grilled onions, mushrooms, and avocado.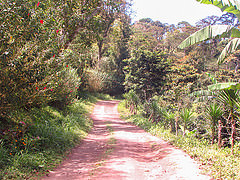 Family Homes From $200 a Month
Houses for rent and to buy are affordable. One expat just moved into the first "housing development" in Matagalpa. For just $200 a month, she has a new single family home with three bedrooms, two bathrooms, a patio out front, and a backyard where she can grow a nice herb garden.
If you're looking for a colonial home, look no farther than the downtown area. One huge home on a corner lot was purchased two years ago for less than $100,000…and it just sold for $260,000, after being refurbished for around $50,000.
Matagalpa sponsors many activities for its citizens, like the Híppica, a traditional horse parade that helps celebrate the city's anniversary every February. Proud ranchers mount their steeds and show them off in a four-hour march around the town where these coiffed and shined horses "show their stuff" by dancing to music as they strut down the road.
Explore Nature Outside the City
Just outside the city, there's an abundance of nature reserves to explore. La Selva Negra, an ecolodge and coffee estate, offers beautiful cabins, walks and tours of their coffee farm, and boasts a vibrant ecosystem of wild life—all for only $45 a night, including breakfast. Why not hike up to the cross at Cerro Apante Natural Reserve for a breathtaking view of Matagalpa, or visit the dynamic waterfall at St. Emilia and swim in the cool waters in the pool below it? There's plenty to do in Matagalpa.
So maybe you have decided that it's not possible to retire for at least the next 10 years. Or, you can pack your bags right now and go to Matagalpa and enjoy your days doing anything you want. Relax, paint, read, take classes, learn Spanish, start a cooking class, enjoy glorious cups of coffee, meet new people, and make new lifelong friends.
You can live in Matagalpa for $1,500 a month or less. All this in a city with the climate of San Diego year-round, surrounded by beautiful green forests, fresh air and mountain views.
Get Your Free Nicaragua Report Here
Learn more about Nicaragua and other countries in our daily postcard e-letter. Simply enter your email address below and we'll send you a FREE REPORT – Start a New Life on the Beach in Nicaragua.
This special guide covers real estate, retirement and more in Nicaragua and is yours free when you sign up for our IL postcards below.
Get Your Free Report Here