In their 30 years of marriage, John and Vickie Kendall had often talked of living abroad. But their work as nurses in the Pacific Northwest kept them occupied and tied to the U.S. They began formulating a plan to retire and then move overseas in the summer of 2013.
"We had been to Thailand and were looking at that as a possibility. And we were looking at Panama, Uruguay, and then Ecuador came up, so we were considering all different places," says John. "But when we got down to it, we realized we wanted to be in the Western Hemisphere so that we weren't too far away from home."
Originally John and Vickie planned to visit Ecuador and from there explore Panama. "But once we got to Cotacachi, we just decided this was it. We liked this area and we didn't need to go to Panama," says John.
In this comfortable little Andean town, the couple is able to live more affordably than they could back home. "We would not have been able to retire in the U.S. the way we're doing it here. We haven't yet started collecting Social Security, so we're just living off savings right now," John says.
In fact, John and Vickie live a comfortable life on about $2,200 a month. Their three-bedroom, two-and-a-half bathroom, furnished apartment in a quiet neighborhood runs $500 a month—and that includes electric and water. About $400 goes to groceries and another $120 goes toward dining out and entertainment.
With their low day-to-day expenses, the Kendalls have found that they can take advantage of traveling to explore Ecuador. They just returned from a two-week trip to Cuenca, where they explored the city and took advantage of the international restaurants there.
The couple has also found that the minor medical care they've required has lightened their pocketbooks only slightly. John cut his finger and sought help at the local hospital. "It was great. The nurse cleaned it up, numbed it, stitched it up, gave me some ibuprofen to go home with, and the whole thing was free," he says.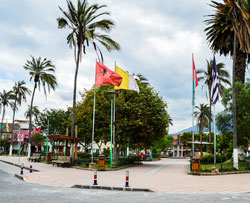 John also went to a clinic in Ibarra for an ultrasound when he developed a chronic pain in his side. The technician went ahead with a complete abdominal ultrasound. The total cost came to $60. "In the United States that would've cost probably $400 to $500 at a minimum, and that's if you had insurance," John says.
When not traveling, the couple spends time taking Spanish lessons. "Spanish is something I've always wanted to learn," says Vickie. "I took classes in high school and got my feet wet when we traveled to other countries. Now I've been taking lessons for 11 months," she adds.
"We walk through town a lot, stop at the market for a few items, and we always see people we know, which is fun. We both love to cook, and the longer we're here, the more we learn about what's available and how to cook in high altitude," Vickie says.
"We're social people and we like to get together with friends on weekends to just play games or have dinner," Vickie says. Cotacachi's expat population provides a nice, familiar feel: just another bonus to the couple's retirement abroad.
Get Your Free Ecuador Report Here:
Learn more about Ecuador and other countries in our daily postcard e-letter.
Simply enter your email address below and we'll send you a FREE REPORT – Ecuador: Live Like Royalty on Your Social Security.
This special guide covers real estate, retirement and more in Ecuador and is yours free when you sign up for our postcards below.
Get Your Free Report Here