"What's a typical day in Cuenca like for you, now that you've retired?" It's a question I often get asked.
All I can say is that just about every respect of retired life in Cuenca is better than I could have imagined.
Needless to say, I get up when I feel like it. Morning always begins with a cup of coffee on my terrace, enjoying the view of Cuenca's el centro and the array of colors of all my plants. I have no idea what kind most of them are, with the exception of my orange and lemon trees, but they look great. I know absolutely nothing about horticulture, but have managed to keep all of them alive with a little water and occasional fertilizer. And I've found that my favorite plant nursery in Cuenca is up the mountain in the Racar area, where plants can be bought for $1 or $1.50 each.
After my coffee I usually head into town. From my apartment it's an easy walk…I go to the bank, do some errands, or just have an espresso, usually at Goza Cafe on Calle Larga, a popular hangout for expats and Cuencanos alike. With their outdoor seating, it's a great place to watch the residents of Cuenca go by, children hand-in-hand with their parents and siblings, sometimes checking out the "gringos" as they pass by, always with big smiles.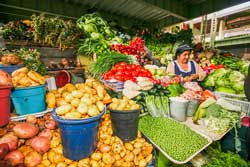 I will then head up the street to Mercado 12 de Agosto, where you'll find an amazing array of fresh fruits and vegetables, as well as meats, poultry, and seafood. This is also a great spot for almuerzo (lunch). Chancho (pork) is a popular option, served with rice and choclo (white corn). It is tasty, filling, and best of all, very inexpensive…usually $3 or less.
I have my "regular lady" at the Mercado, from whom I buy my produce. Recently, after I had been on vacation, I stopped in to see her and with her hands on her hips, she demanded "Where have you been?" A pound of strawberries, a couple of avocados, some red onions, and a pineapple usually cost me about $5 or $6.
For me, being involved with the community is the best, and most important, part of living in Cuenca. I work as a photographer and often take photos (free of charge) for the Cuenca Symphony Orchestra. Doing that has some great benefits; just the other day I went on yet another road trip with them to a small town called Jima (about 30 miles from Cuenca) for a special concert celebrating the anniversary of the town being named a heritage site. I had the opportunity to meet and interact with many of the local residents…all of whom were friendly and welcoming. The local church was the venue for the concert and it was packed with families enjoying the music, both classical and Ecuadorian.
There is much more to do in Cuenca. Even as I approach four years here, I still love to visit the museums, with their ever-changing presentations and wander around the Pumapungo ruins. These are located behind the Museo Banco Central and, in addition to Incan ruins, offers beautiful gardens (where I have shot photos for a few weddings), an aviary, and some grazing llamas. It is a peaceful place to bring a book and relax.
My biggest suggestion to anyone coming here is to start learning some Spanish. Not only does it show respect for the local people, but it can be of immeasurable help in many basic areas, like asking prices or directions. I have become fairly fluent as a result of spending most of my time with my Cuencano friends.
So, come and visit…discover all that Cuenca has to offer…the beautiful architecture, delicious and affordable food, and the nicest and kindest people you could ever meet.
Get Your Free Ecuador Report Here:
Learn more about Ecuador and other countries in our daily postcard e-letter.
Simply enter your email address below and we'll send you a FREE REPORT – Ecuador: Live Like Royalty on Your Social Security.
This special guide covers real estate, retirement and more in Ecuador and is yours free when you sign up for our postcards below.

Get Your Free Report Here