Yesterday my wife Cynthia and I discovered Greek yogurt in our grocery store for the first time.
We can almost hear your collective response: "So what? Big deal."
We get it. Whenever visiting our family in the States, we invariably go to a humongous supermarket stocked with everything one could possibly need or want. In the U.S., grocery shopping is a chore to be squeezed in with all the other activities that fill life.
But being retired and living in Cuenca, Ecuador, we look at going to our local grocery store as more of an outing. With a bit of adventure thrown in…you just never know what's going to happen.
After exchanging greetings at the entrance with a Supermaxi employee and getting our shopping cart, surprises invariably await. Sometimes, as with the Greek yogurt, we are delighted to find a new treasure to take home. In the years we have lived here, we've been delighted to find rotisserie chicken, microgreens, Gruyere cheese (at least a version of it), and Hunt's barbecue sauce on the aisles. Cans of cranberry sauce even show up around Thanksgiving.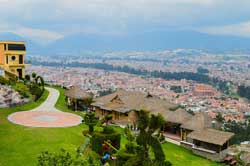 A small discount has always been offered for produce purchased on Wednesday and meat on Friday, but until recently nothing else in the entire store has ever been "on sale." Now the aisles are peppered with marked-down items, and there's even a deep discount section set up near the exit that sometimes features enticing selections. Last visit we were happy to snag a half price bag of Pepperidge Farm cookies. (Why were they on sale? Probably too expensive with our high import taxes. Sure, they are near the expiration date but, whatever…they're just cookies.)
On the other hand, we can never be sure from one visit to the next what might be missing from the shelves. A favorite cereal may go AWOL for months. The usual size bottle of Pepsi that fits so well in our refrigerator isn't available. The solution we've painfully learned is to stock up on such items (although we feel the guy who bragged of having over 30 jars of Jif peanut butter in his pantry went too far).
"Expect the unexpected" when entering the produce section. Restaurant owners often sweep in and clear out entire sections of broccoli, iceberg lettuce, or whatever else their daily menu is lacking. If our shopping list includes such a missing item, we don't get upset about it. We simply substitute something else.
It's probably rare for you to run into someone you know while grocery shopping. Our visits to Supermaxi almost invariably turn into a social occasion as we never know which friends we may encounter from aisle to aisle. How enjoyable to catch up while exchanging tips on a new Malbec wine we've discovered.
While we are always blown away by the overwhelming variety and selection in U.S. supermarkets, and sometimes inconvenienced when our little store is out of something on our list, grocery shopping is much more interesting and a microcosm of life here…rarely dull, usually fun, and always an adventure.
Get Your Free Ecuador Report Here:
Learn more about Ecuador and other countries in our daily postcard e-letter.
Simply enter your email address below and we'll send you a FREE REPORT – Ecuador: Live Like Royalty on Your Social Security.
This special guide covers real estate, retirement and more in Ecuador and is yours free when you sign up for our postcards below.

Get Your Free Report Here