My wife, Cynthia, and I moved to Cuenca, Ecuador, almost five years ago with no plans other than to have fun and look for interesting opportunities.
Retirement had kind of taken us by surprise. The "Economic Tsunami of 2008" slapped us pretty hard, so that retirement had arrived sooner than expected. Still, we had for years been envisioning what it would look like: a life where we were free to pursue the activities and interests we wanted to and not be held hostage by busy careers and hectic schedules.
Honestly, though, Cuenca was not part of that vision. In fact, when we first discovered this small colonial city online (through International Living) we didn't even know how to pronounce it!
But an exploratory trip confirmed that Cuenca met all our criteria—a temperate climate, an affordable cost of living ($1,500 to $2,000 per couple will afford you a comfortable lifestyle, including rent), a pedestrian lifestyle, and quality, affordable medical care (doctor visits are only $25 to $30). No surprise it holds the top spot in International Living's Global Retirement Index.
After that exploration trip we were free to create the kind of existence we wanted. Stepping off the plane as two wide-eyed gringos, we realized the rest of our lives were a blank canvas.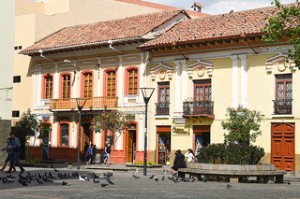 For a long time, "fun" had not been a big enough part of our lives, so early on in Cuenca we adopted a slogan that continues to serve us well—Porque no?, which in Spanish means "Why not?" By saying "yes" as often as possible we have been blessed with so many incredible friendships and adventures.
We've headed out of town on buses not even sure of our destination, gone to so many amazing parties, and met so many interesting people. It's all been such a blast.
Living abroad has taught us to get out of our own way and not futilely attempt to be in charge of every detail. By knowing what we want yet being open to all possibilities, people, events, and circumstances have regularly yet unexpectedly made our lives more fun and enjoyable.
For example, 10 years ago, while attending the Toronto Film Festival with our daughter, Cynthia and I saw a group of people doing Tai Chi in a beautiful park. Cynthia said, "I'm going to do that someday." Flash forward to Cuenca, where during a "random" conversation, an acquaintance mentions she's about to start a morning Tai Chi class—in Parque de la Madre, just minutes from our home.
Example #2: I graduated with a degree in journalism but never pursued it as a career. I never lost my desire to write and started blogging while still in Las Vegas. After I'd made the move, an email from a friend that came "out of nowhere" followed by a phone conversation resulted in my current position as IL's Cuenca correspondent…as well as Cynthia and I and both speaking at conferences in several countries. (Details of the next one to happen are here—and it's a great one.)
What will our lives look like in another five years? If we had to predict based on the last five, we'd say—amazing!
Get Your Free Ecuador Report Here:
Learn more about Ecuador and other countries in our daily postcard e-letter.
Simply enter your email address below and we'll send you a FREE REPORT – Ecuador: Live Like Royalty on Your Social Security.
This special guide covers real estate, retirement and more in Ecuador and is yours free when you sign up for our postcards below.
Get Your Free Report Here