"Hey, where do you want to go eat tonight?" was not a question we asked each other much when we moved to Cuenca, Ecuador five-and-a-half years ago. It wasn't that we weren't hungry. You see, while our hometown had other outstanding attributes you've possibly read about—great weather, low cost of living, excellent medical care—interesting dining options were few and far between.
Choices back then swung from formal, stuffy high-end restaurants in the city's finer hotels to hole-in-the-wall joints serving inexpensive almuerzos (fixed menu lunches). Surprisingly, the whole concept of casual dining had not yet caught on here, and like the U.S. back in the 50's, going "out to eat" was mainly done after church and on special occasions.
We're happy to report that Cuenca's restaurant scene is now exploding! New eateries seem to open every week, offering cuisine as varied as American, Chinese, Thai, Italian, French, even Swiss!
What happened?
Two things. Since the global economic meltdown in 2008 many Cuencanos who were working abroad in the United States and Spain have returned home, often bringing with them money, restaurant experience from employment in major cities, and a taste for cuisine beyond Ecuador's borders that has translated into new dining ventures all over town.
Second, Cuenca's robust economy has generated a growing middle class with disposable income and a desire to spend it. More automobiles, the latest smartphones, and, yes, eating out are visible examples of this trend.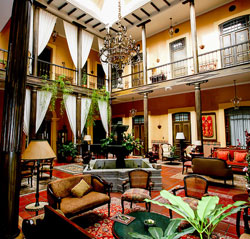 So amid all these choices, which restaurants are our favorites in Cuenca? When only the best will do, dress up and pamper yourself at Casa Alonso in the city's finest hotel, Mansion Alcazar.
Start with a cocktail in the elegant lobby accompanied by music from the grand piano. Then allow uniformed waiters cater to your every need as you sit before a beautifully set formal table with flowers, crystal and fine china while viewing lovely manicured gardens just outside. Top notch service, gorgeous surroundings, gourmet international cuisine plus a thoughtful wine list equals heaven.
It was big news a couple of years ago in culinary circles when Noe, a small chain of excellent sushi restaurants based in Quito, entered the Cuenca market. Their location is a large home just outside of downtown that was completely renovated into the city's most visually exciting dining space.
Noe's menu is literally a glossy four color magazine, chock full of photos showcasing its extensive creative and visually artistic presentations, features on key personnel, even ads for BMW and other luxury brands. It's easy to get carried away, order too much food, and gasp at the total when your check comes to the table. We avoid this mistake by choosing our selections from the online menu before arriving, leaving us free to relax and enjoy the evening.
Our favorite restaurant in Cuenca is Salvia, owned and operated by Gavin and Karen Quinn from the U.K. Billed as a "modern European kitchen," Salvia offers a limited menu that changes completely each month in addition to a traditional English Sunday Roast with platters of meats, veggies, and desserts served family style.
Head chef Gavin ran the kitchen for St. Paul's Cathedral in London and has served the likes of the Royal Family and the Dalai Lama. What a privilege it is to savor his fresh and wonderfully prepared food here in Cuenca. Everything on the menu is priced at less than $13, including a daily lunch special that we often enjoy for less than seven bucks apiece.
Cuenca's emerging foodie scene is yet another reason to visit or live here. By the time you arrive even more exciting spots will be waiting to take your order. Yum!
Get Your Free Ecuador Report Here:
Learn more about Ecuador and other countries in our daily postcard e-letter.
Simply enter your email address below and we'll send you a FREE REPORT – Ecuador: Live Like Royalty on Your Social Security.
This special guide covers real estate, retirement and more in Ecuador and is yours free when you sign up for our postcards below.
Get Your Free Report Here