Yesterday, I told you that in Nicaragua I've found breathtaking ocean-view lots for as low as $30,000…and bargain colonial homes in the $125,000 range.
These aren't hypothetical deals. They're available right now. In February, I visited Nicaragua to scout them myself, and I was blown away by the bargains on offer.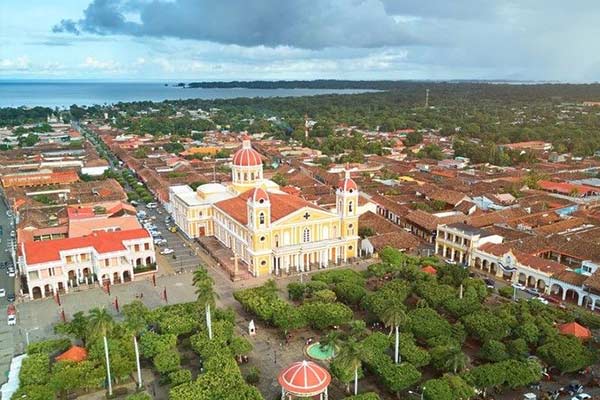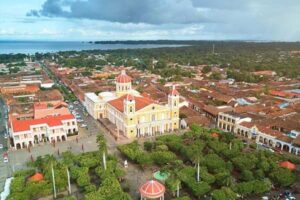 However, deals like these are not without risk. Buying in Nicaragua is only for those with the stomach for periods of uncertainty and even unrest.
If you're looking for a straight-up investment play, a place to grow your savings securely, consider this your warning. There are more stable places than Nicaragua.
However, if you're looking for somewhere to buy a bargain home where you can spend some time and enjoy yourself, then Nicaragua is where you'll find some amazing deals.
For example…
Two weeks ago I brought RETA members the opportunity to lock down a three-story house with incredible ocean views, a pool, and six bedrooms.
Located in the premium neighborhood of San Juan del Sur, on the southern Pacific coast, it originally listed for $789,000.
I told members that an offer of $220,000 could snag it. (I hear from my contacts that someone made such an offer.)
With a deal like that, you are buying for 50% less than the cost of construction alone. Never mind the cost of the premium ocean-view lot the house is on.
But for any deal in Nicaragua, you need to go in with your eyes open and your head screwed on…
You need to take a cold hard look at the socio-political situation there right now…
In 2006, former Marxist revolutionary Daniel Ortega was elected to power. He left foreign business alone. And he supported and became very actively involved in the domestic economy. His social programs expanded and did good work. His cronies joined the middle and upper socio-economic groups. His benefactor was Venezuela's Hugo Chavez who sent him oil.
Each time I visited Nicaragua I'd poll the business community on their views. Almost everyone had the same reply: "Ortega leaves us alone, he makes money from every cent that flows through Nicaragua and has more incentive than anyone to keep things moving."
But, Ortega was losing his constituency. Their man was no longer their man. Their movement no longer their movement. In 2018, protests about pension reforms were violently crushed by Ortega partisans. This was the spark for all those disgruntled with Ortega. Hundreds were killed and thousands injured in the ensuing nationwide protests.
Despite pressure from the opposition, international sanctions, and a growing economic crisis, Ortega's government still maintains control over the country.
The question now is: What happens next?
Ortega is 74 years old and is said to be in ill-health. Elections are due in 2021. But events have shown that his cabal of family and cronies won't give up power easily. Maybe not at all.
Rumors were that Ortega was willing to get on a plane and leave once he got to keep his ill-gotten fortune and so long as he and his inner circle were granted immunity from prosecution. Word is, the student opposition and Ortega's inner circle opposed this deal. This makes me fearful. Take Ortega out of the equation and things could get worse in the ensuing power vacuum.
Still, when I visited last February to take the temperature of the crisis, all seemed relatively normal.
Nicaragua was showing green shoots…hotels were filling for next Christmas…a slow trickle of tourists were returning.
In San Juan del Sur, new roads were being built around the beach town. A new hospital, new police station, and a new fire department. Granted, tourism wasn't booming as before. The once teeming streets of Granada were empty of foreign visitors, but buildings were being repaired following damage from the recent troubles.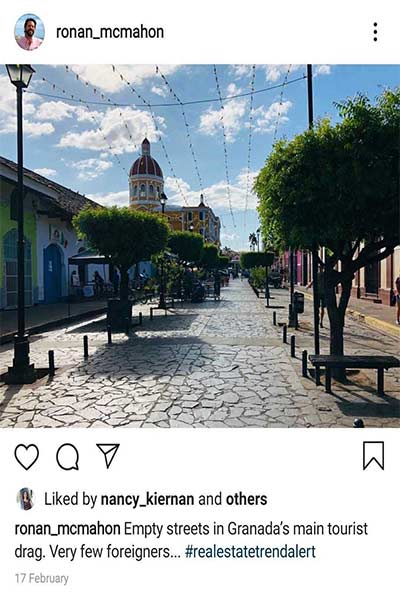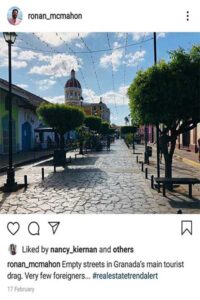 But now COVID-19 has hit…adding crisis to crisis.
Normally, this is just the type of situation I look for. A crisis is the time to snap up an asset cheaply…extremely undervalued. Then, when the crisis is over, and the true value is recognized, you have an asset that's worth many times more than you paid.
But only if the crisis comes to an end…
Like with any opportunity, having an exit strategy is just as important as finding a good deal in the first place. And with crisis investing, that means waiting for a recovery.
However, in a situation as uncertain as Nicaragua's, there are no guarantees. A post Ortega Nicaragua is very uncertain.
That's why I ask that you profile yourself seriously before you consider any deal. You need to pinpoint the reason why you're making the investment…know what your expectations are…and determine your tolerance for risk.
Like I told you earlier, if you're just looking at the investment angle, Nicaragua might not be for you…unless you have an appetite for risk, and are happy to speculate with money you could lose, or take a very long time to recover.
I saw amazing ocean-view lots in San Juan for $33,000. In RETA my expectation is that we can double our cash invested within five years. Could we resell these lots for $70,000 within this time frame…? Maybe is the answer.
But, things need to go well. There's still a lot of downside risk. With a RETA opportunity I expect us to double our cash invested even if things only go okay…
Even though we are in the midst of a crisis we still are well on track to double our cash invested in the recent RETA deals on the Riviera Maya in Edena, and Santamar, and in Panama in Surfside.
However, if the resale value isn't a big factor when you buy…if your plan is to use and enjoy the property yourself…then Nicaragua has some stunning real estate opportunities. That's stunning with a capital S. Insane bang for your buck if you are looking for awesome Pacific views. And a low, low cost of living.
When I was there in February, I found some screamers. And even as I write, deals continue to cross my desk from contacts on the ground.
If you're feeling adventurous, stay tuned…
Tomorrow, I'm pulling back the curtain and showing you some of the hottest deals I've come across.
Connect with Ronan on Instagram  or Facebook 
Get Your Free Real Estate Report Now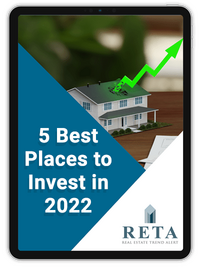 Sign up for our free daily Postcard e-letter and get a valuable free report on the The 5 Best Places to Buy Real Estate In 2022.
Related Articles
The 10 Best Places to Invest in Real Estate
Flight to Safety and Our Buying Moment