One of the many great things about living in Ecuador is that flights to the U.S. are frequent and easy. You can fly nonstop from Quito to Miami in four hours and from Guayaquil to New York in less than seven hours. I've just returned to Cuenca after spending some time visiting family back in the U.S. Being in the States got me thinking about how much I spend on everyday items like food here in Ecuador.
Here at International Living, we often tell you how affordable Ecuador is…for example, you can rent in Cuenca from $300 per month for a basic two-bedroom, unfurnished apartment. We pay $700 a month for our gorgeous two-story, four-bedroom penthouse.
Top-notch medical care is readily available for a fraction of what we used to pay in the States. My wife Cynthia and I belong to the country's social security healthcare system and pay a total of $86.09 per month for 100% coverage. If you're paying out of pocket, a doctor's visit will set you back just $25 to $35 and medications are cheap and usually available over-the-counter.
But a really good way for you to see exactly what things cost in my hometown is to join me on a trip to the grocery store. Having been away from Cuenca for a few weeks, I returned to an empty refrigerator and kitchen cupboards, so needed to restock.
So, let's start with a trip to Supermaxi, our local grocery store. Full disclosure—I spent a lot on this trip. In fact, because our cupboards were completely bare and the inside of the refrigerator was as empty as a floor model at Home Depot, my bill was the most ever: $194.62.
I know what you're thinking—"I thought the cost of living there was low!" Don't panic, this was by no means a regular visit. Our normal weekly grocery expenses average $85.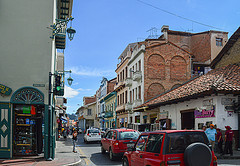 Looking over the bill at the most expensive items, a whole beef tenderloin, which I cut into eight thick filet mignons, was $31.08 (that's less than $4 per steak). A bottle of rum was $10.77. A jumbo package of Kleenex toilet paper cost $10.53. And the price of a rotisserie chicken was $8.23. So just those four items accounted for almost one-third of the entire bill.
On the other hand, a bunch of lovely asparagus was $1.33; six apples were $1.95; a ripe papaya cost only 41 cents; and a head of broccoli set me back 54 cents. And a tip for you…Supermaxi produce is discounted 10% on Wednesdays.
Keep in mind all of these produce prices would have been even lower had I gone to one of the local markets (my favorite is Tres de Noviembre Mercado in El Centro, a three-story extravaganza filled with meats, a bounty of fresh fruits and vegetables, dry goods, and even baby chickens).
When my wife Cynthia and I return to Cuenca after a trip, visiting favorite restaurants helps us feel like we're back at home. Yesterday we enjoyed an almuerzo (fixed menu lunch) at a little restaurant near our apartment. The meal started with a hearty bowl of barley soup and a glass of fresh-squeezed juice, followed by an entrée of beef tips, rice, and a small salad. There was one tempting piece of chocolate cake left that I immediately claimed. Our bill came to $7.50—$2.75 each for the lunches, $2 for the slab of cake, and complimentary coffee.
After the meal we strolled through our tree-lined neighborhood on a bright, warm afternoon. The luggage was unpacked…food and supplies had been replenished. Maybe we would take a long nap before meeting friends for dinner.
It's true that the cost of living in Ecuador is low. Housing, food, medical care, even gasoline are a fraction of comparable prices in North America. But many of the very best parts of our expat life here—time, freedom, zero stress, fun activities with great friends—cost absolutely nothing…yet are priceless.
Get Your Free Ecuador Report Here:
Learn more about Ecuador and other countries in our daily postcard e-letter.
Simply enter your email address below and we'll send you a FREE REPORT – Ecuador: Live Like Royalty on Your Social Security.
This special guide covers real estate, retirement and more in Ecuador and is yours free when you sign up for our postcards below.
Get Your Free Report Here