I'm often asked about life in Ecuador and what it might be like to live or retire here. And I'm not shy about sharing my opinion on that topic.
I've lived in Ecuador off and on for 13 years now. We spent a year in Quito beginning in 2001 and returned here in 2008. So yes, I think Ecuador is one of the best places on the planet to live.
Here's why:
The people are wonderful. For the most part, they love foreigners and will go out of their way to help us discover how to fit into their culture and life here. (And they do it all with a warm smile.)
The weather is superb. I'm from Nebraska so I am used to frigid temperatures in the winter and steamy hot summers. Here in the Andes Mountains where I live, temperatures hover around 75 F every single day of the year. I don't need heat or air conditioning, keeping my monthly utility bill at about $24 every month total.
There are retirement perks for those over 65, such as discounts on public transportation and some services…and official residents can file to have the sales tax they pay each month returned to them (up to a certain amount).
Health care is excellent in the major cities and hospitals and is also very affordable, as is a comprehensive health plan. Property taxes are negligible. (Ours were a wee bit more than $53 this year!)
All these cost savings translate to a lifestyle here that is very affordable. A couple can live very comfortably, as we do, on about $1,500 a month if they own their own home, and on $1,800 to $2,000 a month if they rent. I know people who spend even less. Lunch or dinner typically costs $5 or less, you can have your home cleaned from top to bottom for $10 to $20, depending on its size, a bus trip to a neighboring town costs just 25 cents (half that for those over 65), and a taxi anywhere in our little town is rarely more than $1 or $2. By the way, the U.S. dollar is the official currency in Ecuador—no confusing conversions required.
And the scenery? Whatever you desire, you will find it in Ecuador, from the magnificent Andes to the lush Amazon rainforest to wide tranquil stretches of Pacific coast beaches. With some diligence, you can buy a city apartment, an ocean-view condo, or a very nice home in any of these locations for less than $100,000.
These are just some of the reasons I love living in Ecuador. But when it comes to your retirement, it's not about me or my preferences—it's all about you.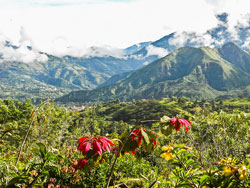 Only you can decide if Ecuador is a good fit for you. You definitely need to do some research as there are far more issues to consider than just those I have mentioned here. (And keep in mind that information on the Internet can be outdated or misleading, so check several sources.)
There are many communities in the country, for instance, that you may want to explore, each with their own unique personality and offerings. There are several different types of resident visas, and certainly one will make more sense than another for you, depending on your personal circumstances. There are health care issues and language issues and personal comfort and safety issues…
And of course, there are cultural differences. Plain and simple, Ecuador is not the U.S. or Canada. It helps to come here with a flexible attitude and to keep an open mind about why some things are done the way they are. ("Our ways" are not always the "best ways.")
And yes, there are challenges to living in Ecuador. Not insurmountable for most people, but challenges nonetheless.
Life is good in Ecuador, believe me. But is it for you? Only YOU can decide. And the more reliable information you can obtain before making that decision, the better off you will be.
Get Your Free Ecuador Report Here:
Learn more about Ecuador and other countries in our daily postcard e-letter.
Simply enter your email address below and we'll send you a FREE REPORT – Ecuador: Live Like Royalty on Your Social Security.
This special guide covers real estate, retirement and more in Ecuador and is yours free when you sign up for our postcards below.
Get Your Free Report Here