If you are considering a move to the Mediterranean island of Malta, you'll undoubtedly read about its year-round sunshine, crystalline waters, and the fact that English is an official language. However, there is so much more to love about this historical gem.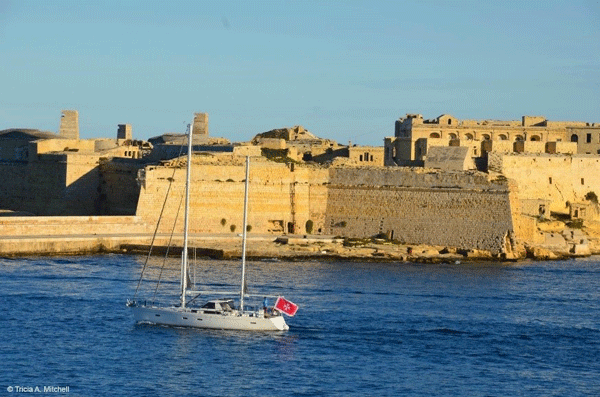 Eager to experience life in the Mediterranean, my husband, Shawn, and I decided to spend one year in Malta. In the stunning capital city of Valletta, we rented a modern, one-bedroom apartment. We chose Valletta because we wanted to be surrounded by Old World charm, while also being within walking distance of Malta's mass transport hub.
With utilities and high-speed internet factored in, our rent averaged $875. However, you'll find that rent is even lower in Malta's villages and towns.
Despite being a small country, we had an array of grocery stores to choose from—everything from family-owned shops, to large Maltese and European chain supermarkets. On average, we spent $125 per week on groceries and household supplies.
I instantly appreciated Malta's plentiful sunshine and mild winter months.
Since it can be a challenge reading contracts and medical documents in a foreign language, I also valued how Malta's paperwork is often written in both Maltese and English.
While confirming the most common accolades about the country during our year living there, I also discovered additional endearing characteristics about Malta. Here are the five that stayed with me the most:
Reasonable Healthcare Costs
Surely the most practical item on this list is Malta's affordable charges for medical consultations. For example, a walk-in visit to the hospital for a muscle strain cost my husband $22, and a routine dental exam and cleaning ran us each about $40.
All of the physicians we encountered spoke English well, and had attended medical school in the European Union.
A Multitude of Day Trip Possibilities
Malta is a bit less than twice the size of Washington, DC. Despite being small, it offers numerous exploration opportunities to keep you busy.
Every week, we journeyed to a new spot. We sailed to Malta's sister island of Comino, walked through the countryside to a 17th-century chapel built into a cave, and sunned ourselves on one of Malta's 12 beautiful beaches.
Traffic can be thick on Malta. However, if you plan your travel times around rush hour, you should be able to mitigate this. And with bus passes at bargain prices, you can affordably explore using Malta's extensive public transportation system.
Fascinating History
Malta's strategic position in the Mediterranean means it's long been at the crossroads of civilizations. If you're a history buff, you will love visiting the country's historic temples, some of which are thought to be more than 5,500 years old.
The Phoenicians, Arabs, Ancient Romans, Knights of Malta, Napoleonic French, and British have also left their mark on Maltese history. They left behind mosaics, opulent churches, baroque palaces, red telephone booths, and extensive World War II fortifications.
Festivals Galore
Whether celebrating olive or strawberry season or a village's patron saint, the Maltese are a festive bunch. During summer, religious festivals take place nearly every weekend. These legendary festas are characterized by food, marching band performances, and elaborate fireworks.
My favorite special event was the Citrus Festival, held on the elegant grounds of the presidential palace. There, we purchased four-and-a-half pound bags of luscious oranges for a few dollars and enjoyed a picnic among ornate fountains and baskets overflowing with citrus.
Delightful Architecture
Mostly-baroque Valletta and the walled city of Mdina are undoubtedly two of Malta's gems, but attractive architecture prevails in even the tiniest towns. Golden-limestone homes are often adorned with radiant wooden balconies called galleriji, and brass door knockers resembling fish, lions, or the Maltese cross. Also, nearly every village home bears a unique name given to it by its occupants.
Whether planning a visit or considering a more long-term option, Malta is certainly worth getting to know.
Get Your Free Malta Report Here:
Simply provide your email below to receive this Free report. You'll also receive a free subscription to our International Living Postcards – a daily e-letter that explores living, traveling and investing in Malta and other exciting countries from around the world.

Get Your Free Report Here